Paper Doll's NAPO2016 Recap: Samsill's Duo & Trio & Pop…Oh, My!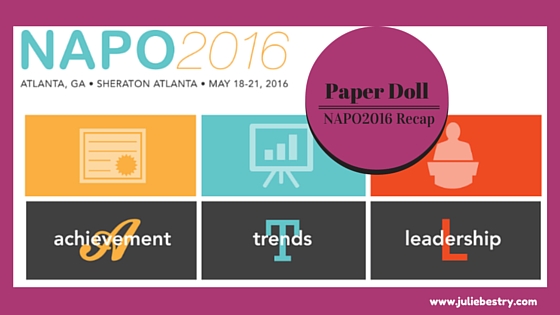 Last time, we covered the conference aspect of NAPO2016. That's the part that's a mixture of college courses (education), class reunions (networking), and cocktail parties (food, beverages, and entertainment). But Paper Doll knows that you come here for the expo talk — you want to know about the shopping!
This year, we start with a newcomer, a vendor we've not seen before at NAPO conferences, Samsill. If Samsill were a person, it would be almost old enough to collect Social Security, but it's not as well-known as some of its competitors in the world of office supplies.

Samsill showcased three products that really got attention at this year's NAPO Expo.
Duo 2-in-1 Organizer

The Duo is the first of two hybrid products from Samsill. It combines a seven-pocket expanding accordion file with a 1″ three-ring binder. The accordion file portion holds up to 225 sheets of paper, while the accordion-style expanding portion includes blank write-on index tabs so you can customize your labels.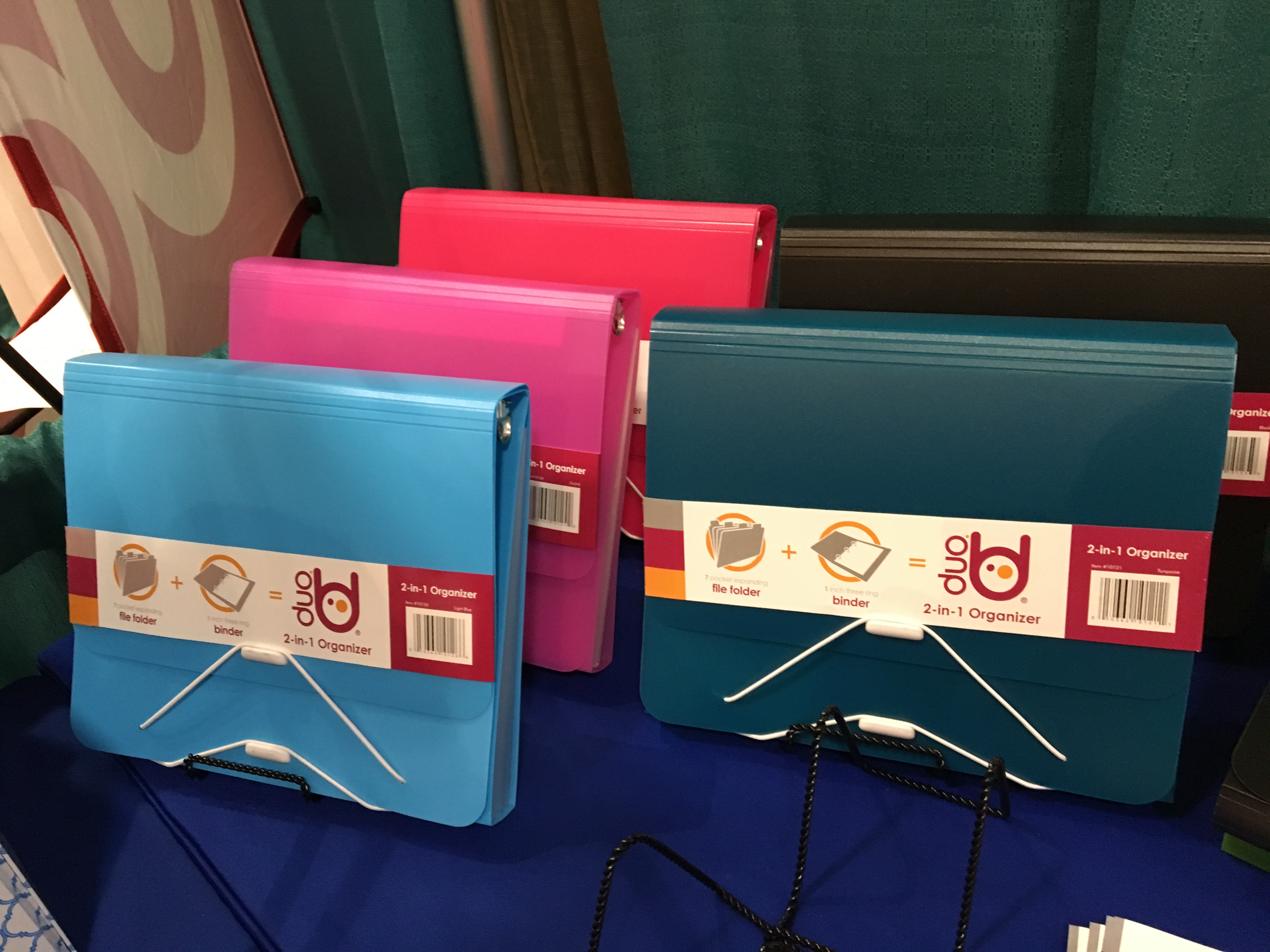 The Duo has a dual elastic clasp and cord closure to provide access to each portion (pockets or binder) individually while maintaining a secure closure to either or both sections. The Duo weighs 14.6 ounces and measures 9.8″ x 1.5″ x 11.8″.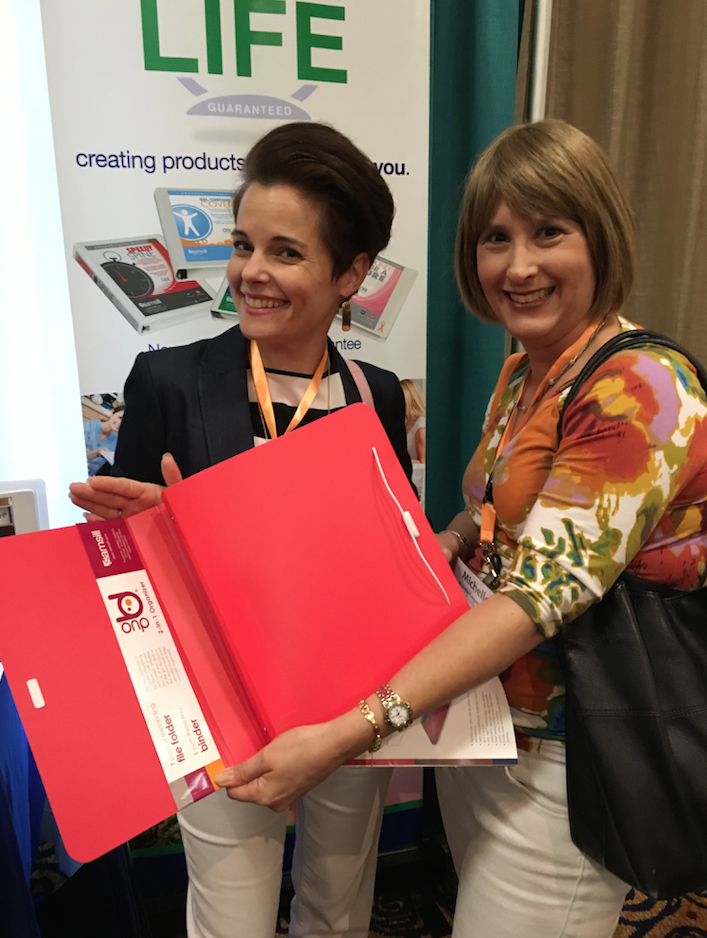 Here, we see Paper Doll friends and colleagues Nanette Duffey and Michelle Cooper modeling the flexibility of the Samsill Duo.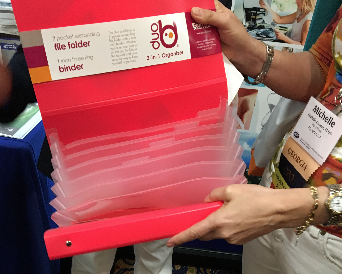 Think of the Duo as a grown-up Trapper Keeper in which you can store tax prep or financial information (budget, bills, coupons, and shopping lists), family medical files (with categories for tests, prescriptions, and dietary rules), or household plans (with sections for decorating, monthly upkeep, garden plans, etc).


The Samsill Duo is lightweight and flexible, but durable and water-resistant, and is made of PVC-free, acid-free, archival-safe environmentally flexible polypropylene. (Paper Doll fans know that while I am a paper doll, I do love my poly products!) The Duo comes in Hot Pink, Turquoise, Green, Burgundy, Orchid, Black, Light Blue, and Coral.
Find Duo 2-in-1 Organizers at Amazon for about $10.79.
Trio 3-in-1 Organizer
With the Samsill Trio 3-in-1 Organizer, you still get:
the seven-pocket expanding accordion file folder (which holds up to 225 sheets of paper)
the 1″ three-ring binder with blank write-on index tabs so you can customize your labels
the dual elastic clasp and cord closure which allows you to open or close the areas independently of one another
PVC-free, acid-free, archival-safe environmentally flexible polypropylene
the same weight and measurements
BUT WAIT, THERE'S MORE!
The Trio also has retractable hangers which turn the TRIO into a hanging file, so you can store it conveniently in a file cabinet, desktop file box, or filing drawer in your desk without fearing that it will sink below the visibility of other files or worrying that the poly will make it slide to the bottom of the drawer.

Store your ringed notes, sort and organize your handouts, bills, and paperwork, closed it all, secure the binder, and safely file away your Trio when you're not using it.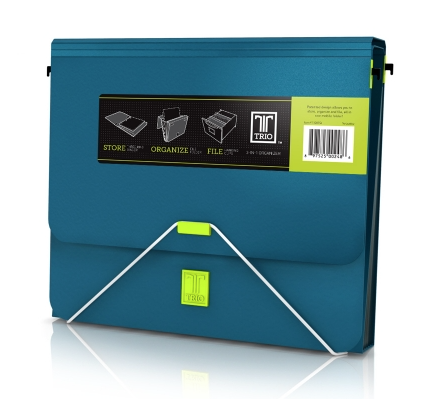 The Trio currently only comes in only two colors, Black (sometimes labeled Dark Grey) and Turquoise, but I'm sure if you all let them know how much I'd like them in Hot Pink and Burgundy, the people at Samsill would be happy to oblige. Find the Samsill Trio for about $9-11 on Amazon.
Both the Samsill Duo and Trio are eminently designed for durability, portability, and storage. They — particularly the Duo versions — are bright and colorful. However, there is significant "floppyability" about this combined binder/accordion file when open, and poly can be slippery, so these are probably more suited to office supply use than for younger school-aged kids (or adults, I guess) without sufficient fine motor control.
Pop N' Store
The Belle of the Samsill Ball was definitely their line of Pop N' Store boxes, which offer innovation, practicality, and aesthetics. The Pop N' Store's space-saving folding-box system is sold flat-packed, but POPS from flat to popped up in five seconds. Samsill's patent-pending locking system holds the boxes' bottoms in place, so they are entirely suitable for stacking.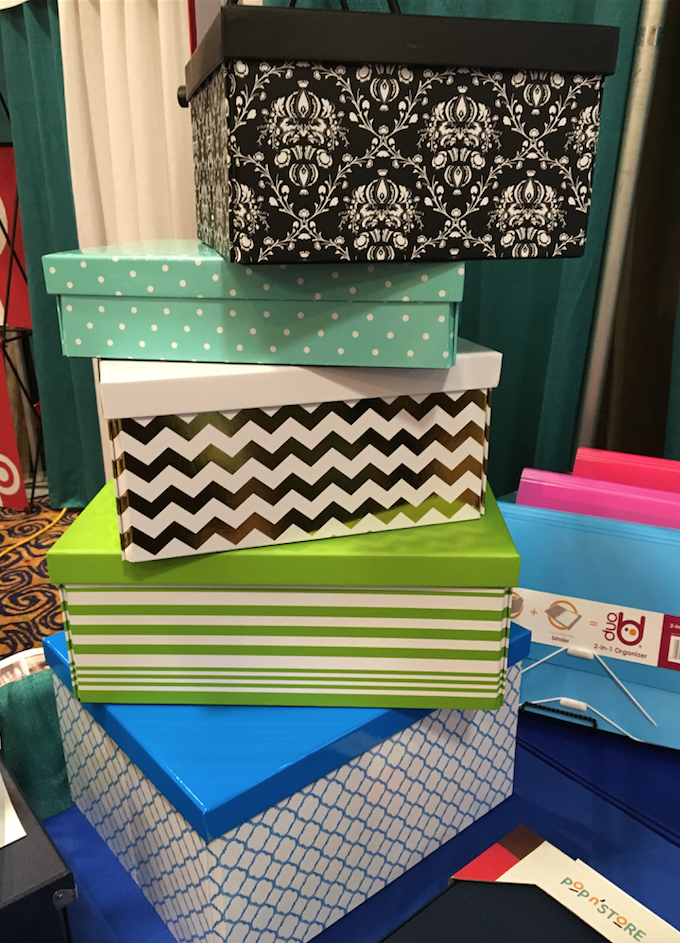 The double-thickness walls of the boxes are made of heavy-duty chipboard and are covered with
Lotus Seed™ textured paper, and the box bottoms are covered in scratch-resistant fabric to protect delicate surfaces in your home or office and offer a touch more support for the contents of any box. And the box corners are metal-reinforced to add durability and smart accenting.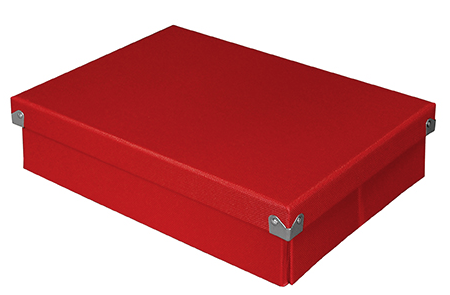 The boxes are made of 100% recycled material and 70% post-consumer material.
These lidded, decorative storage boxes come in five sizes with the following (internal) dimensions:
Document Box (12″ x 8.5″ x 3″)
Essential Box (14.625″ x 7.5″ x 5.34″)
Medium Document Box (12″ x 8.625″ x 5.8″)
Medium Square Box (9.75″ x 9.75″ x 5.75″)
Mega Box (14.625″ x 11.875″ x 7.34″)
The boxes currently come in Black, Navy, Red, Brown, Grey and White. (At press time, Paper Doll was awaiting word on the availability of the colorful, patterned versions shown above, but we have learned that these are prototypes for future line extensions.)
Pop N' Store lets you organize everything from linens to office supplies, gifts to crafts, toys to CDs, to whatever you want to store: tucked away, stacked, shelved, and shown off. Find them at Amazon from $11.99 to $16.99.
The Due, Trio, and Pop N' Store are just a few of the items Samsill had on display at NAPO2016, and just a small subset of their wares. Samsill is best-known, for example, for their traditional three-ring binders in traditional and D-style rings. Above, Samsill's Drew Bowers with my NAPO and BCPO® colleague Helene Segura are showing off the Speedy Spine, which purports to let you insert spine labels five times faster than other types of binders.
Samsill also makes Heavy Duty Clean-Touch Anti-Microbial binders (to keep you germ-free in a medical setting or around jam-handed colleagues), value-priced storage binders, Earth's Choice™ Biobased + Biodegradable Round Ring View Binders, traditional poly round-ring binders (suitable for schlepping to Social Studies), truly enormous 6-inch capacity binders, and a collection of 1″ Fashion Print round-ring binders.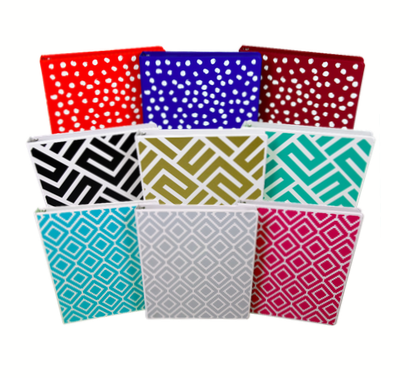 Samsill also makes padfolios, business card holders, laptop cases, tablet sleeves and a variety of other office supplies, and I'm looking forward to what they will be displaying at NAPO2017. From their website, it appears their retail locations are primarily in Kansas and Oklahoma, but you can find all of the above products on Amazon.