Paper Doll's NAPO 2017 Recap: Schooling the Organizers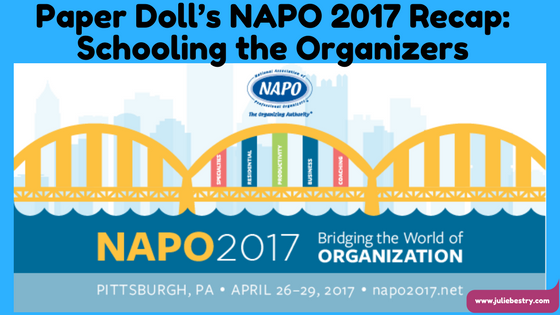 What do professional organizers do at a conference, you may wonder. Do we rearrange the hotel room furniture, tell the housekeeping staff how to declutter their carts, and roam the halls looking for dysfunction we can set right?  (Maybe, no, and sorry, but I've been sworn to secrecy.)
Each year, Paper Doll takes time out to share the delights of the National Association of Professional Organizers (NAPO) annual conference and expo. Sure, the focus here on the blog is generally on the goodies at the expo — the products and services that delight and surprise us (so I can delight and surprise you) — but I always like to take time out to share what happens with the rest of the conference.
Today, before we settle in for multiple posts on the wares displayed at NAPO2017 in Pittsburgh, I'd love to tell you about what we learned.
EDUCATIONAL TRACKS
Some professional organizers are Certified Professional Organizers or aspire to do so, and our conference is one of the many ways we earn some of our Continuing Education Units (CEUs). But all of the professional organizers attending our conference, no matter how little or great their experience, travel far and wide for the exemplary educational opportunities available.
This year's NAPO conference had six educational tracks:
Business Operations & Growth — These sessions focused on topics like getting media attention, hiring teams to grow your business, speaking professionally, leadership concepts, and some behind-the-curtain discussions about the profession.
Client Interaction — I always tell clients that the difference between cleaners and professional organizers is that cleaners focus on the stuff, and professional organizers focus on the person who owns the stuff. In this track, we covered working with clients in mourning, non-verbal communication skills, eliminating "brain clutter," building rapport via listening skills, and understanding our clients with ADHD.
Niches — There are more than 40 sub-specialties within the professional organizing field. During NAPO2017, educational sessions covered ADHD (including improving communication when one spouse has ADHD and empowering those with ADHD), working with estates, organizing academic professionals, and offering virtual organizing services.
Residential Organizing — From organizing overwhelmed families and understanding our clients' unspoken concerns, to smart space design and appraising household possessions, attendees had multiple options for investigating new niches for their residential-oriented organizing services.
Technology in Organizing — Technology sessions provided knowledge about eliminating email overwhelm, technology tools for productivity, time management and technology strategies for the home, and using Evernote to capture and organize clients' memories.
Workplace Productivity — From business consulting and corporate productivity and organizing sessions to How to Prioritize When Everything is Important to an introduction to QuickBooks, this track improved attendees' ability to expand their expertise in productivity issues for themselves and their clients.
PAPER DOLL GETS SCHOOLED
I like to mix things up and take offerings from all of the tracks. Some years, I lean more toward one theme, like technology or productivity, but this year, different mini-themes began to emerge. For example, on the first full day of the conference, I noticed that I was focusing on death. It may sound maudlin, but it was actually a very enlightening day.
First, I attended Empowering the Grieving Client to Organize with Joy, presented by Dorothy Clear, CPO®. In the residential side of my organizing practice, I'm called in to help clients who have been stuck, either unable to process grief or find themselves dealing with the detritus of the fugue state in the aftermath of a loss. Western society tends to think of mourning and grief as finite — measured in eight days or six months or a year — by which time people are expected to be "whole" again, but anyone who has suffered grief knows that it comes in waves. Thus, grief is less like having the flu and more like having a chronic illness — there are good days and bad ones, and a small thing can cause the day to turn on a time.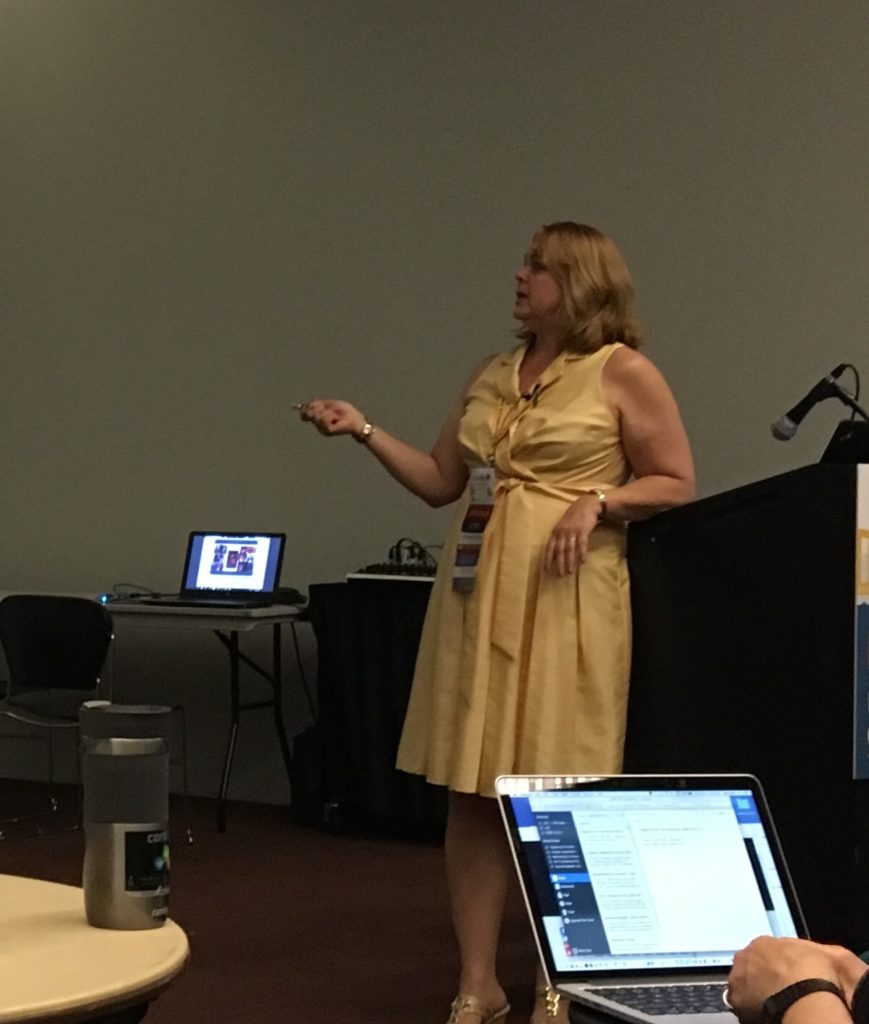 In Dorothy's excellent session, we learned how to recognize the physical manifestations of grief, and delved into the differing types of grief, including anticipatory grief, unanticipated grief, ambiguous grief, and complicated grief. Dorothy also taught us strategies for working with our clients to create bonding and rapport, witnessing their tales, counteracting negativity, and managing backsliding — all of which will help us support our clients' goals and processes in a more compassionate, customized way.
As my "Death Day" continued, I attended Organizing Dead People, a session presented by NAPO superstar (and my friend) Judith Kolberg. Only our Judith could take a topic so potentially depressing and imbue it with such lightness, with a sense of humanity and humor, to make it bearable and educational.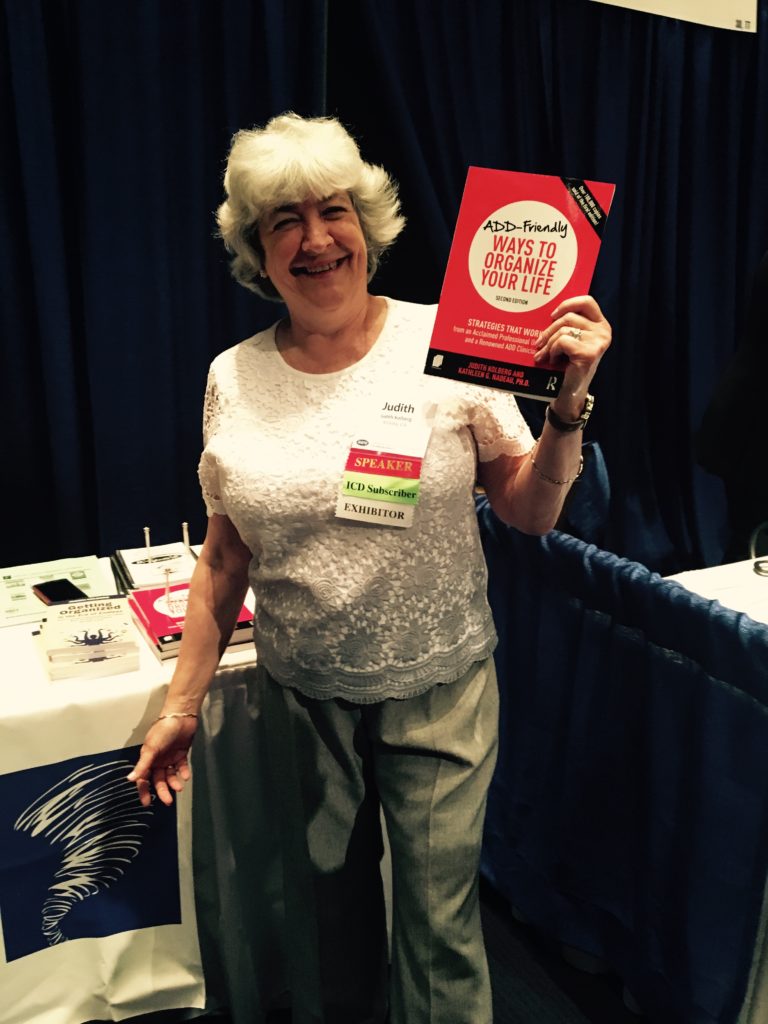 From Judith, we learned how to ease the burdens of grieving families and survivors by eliminating laborious and time-consuming decluttering, identifying essential documents, and providing expertise about local resources. From creating a plan with the executors, to clearing clutter, to helping with the disbursal of possessions, Judith provided a wealth of expertise and strategies for organizing those who have gone on to their reward.
The next day of the conference saw me focusing on technology and productivity, two intertwined topics. I began with Nine Technology Tools to Skyrocket Productivity, presented by the twin geniuses friend-of-the-blog Brooks Duncan and fancy-shoe-wearing Amy Payne, CPO®.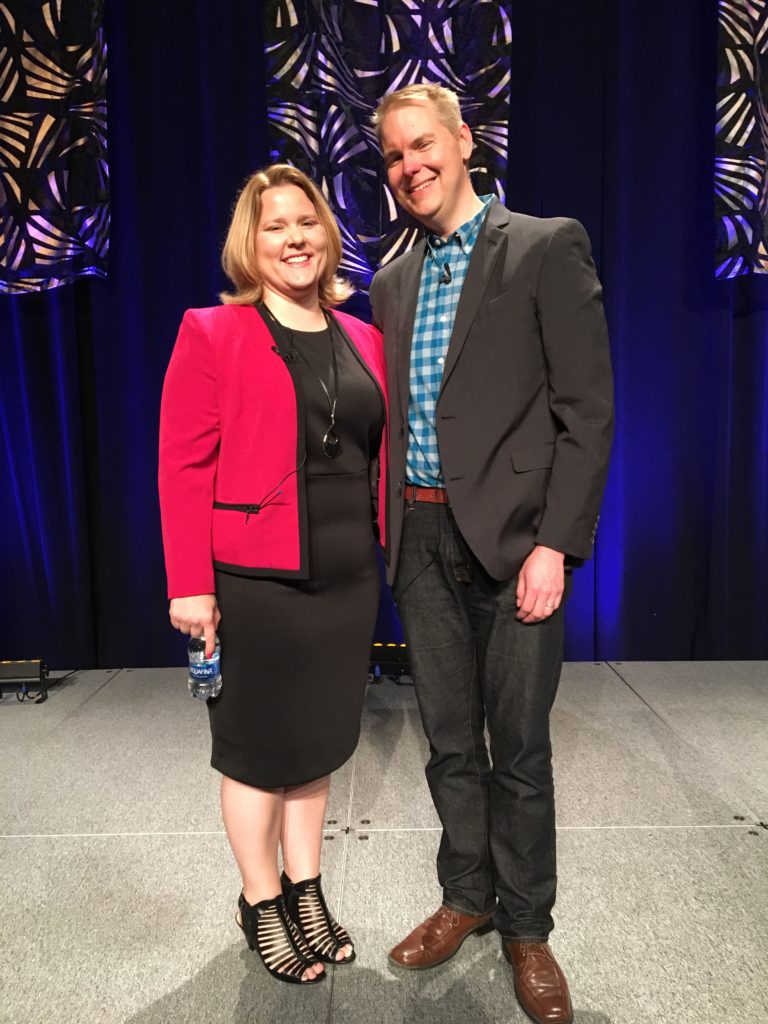 From tools for maintaining contact with, and organizing information about, our current and prospective clients and vendors, to password management software, to text expansion tools for saving yourself the headache of writing the same phrases millions of times, this session was a gem. (And I'll be sharing some deeps secrets they imparted over the coming weeks.) There were well-beloved tools like Evernote (which I used to prepare my conference posts), and Hazel (automated organization software for Mac about which I've heard Brooks talk for years but haven't yet managed to start using). But there were also surprises, like "quick capture" video tools Jing and Snagit (I usually use Quickcast), and a fascinating diagram/flowchart-maker called LucidChart. I'm giving myself the advice I'd give clients, and blocking time on my schedule this month to learn how these newer tools can help me help my clients.
In the afternoon, I was excited to finally meet podcaster and productivity coach Zachary Sexton in person after so many tweets. His session on being Busily Unproductive was like a personalized coaching session crossed with a refresher course in counteracting the unproductive "stuck" feeling we often face. I left this session with a brainstormed (and now, prioritized) list of things that will move me forward toward my goals.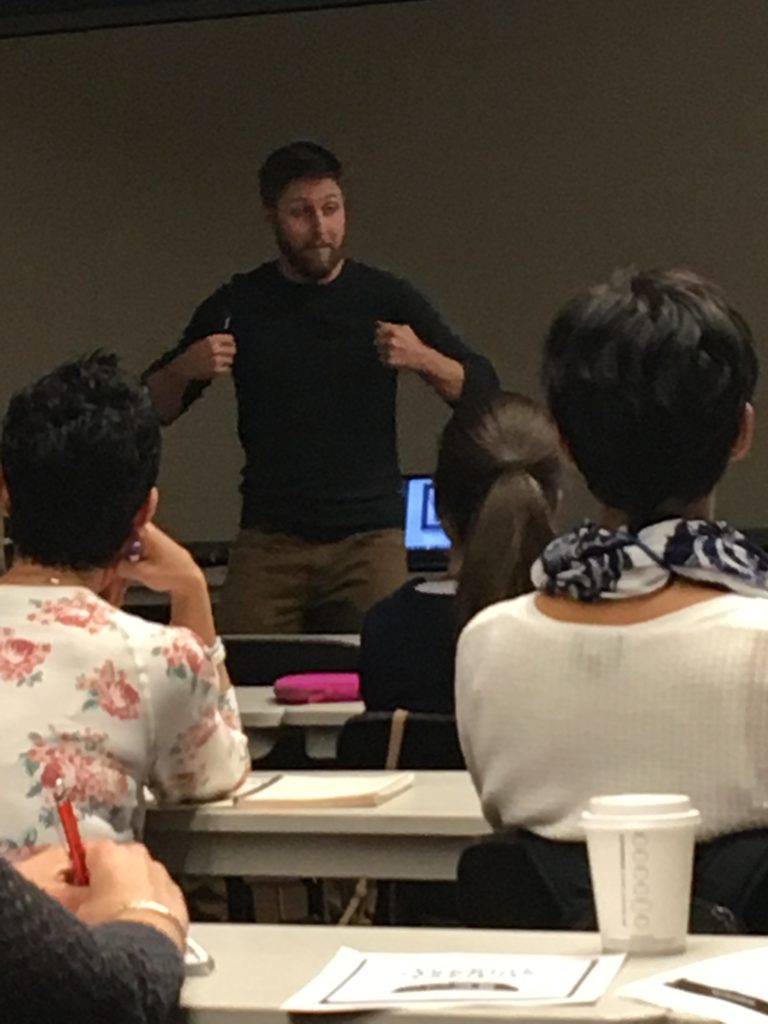 By Saturday morning, I was ready for a deep dive into psychology, and nobody shares knowledge about ADHD better than Dr. Ari Tuckman, author of More Attention, Less Deficit, and whose repeat performances at our NAPO conference are the stuff of legend.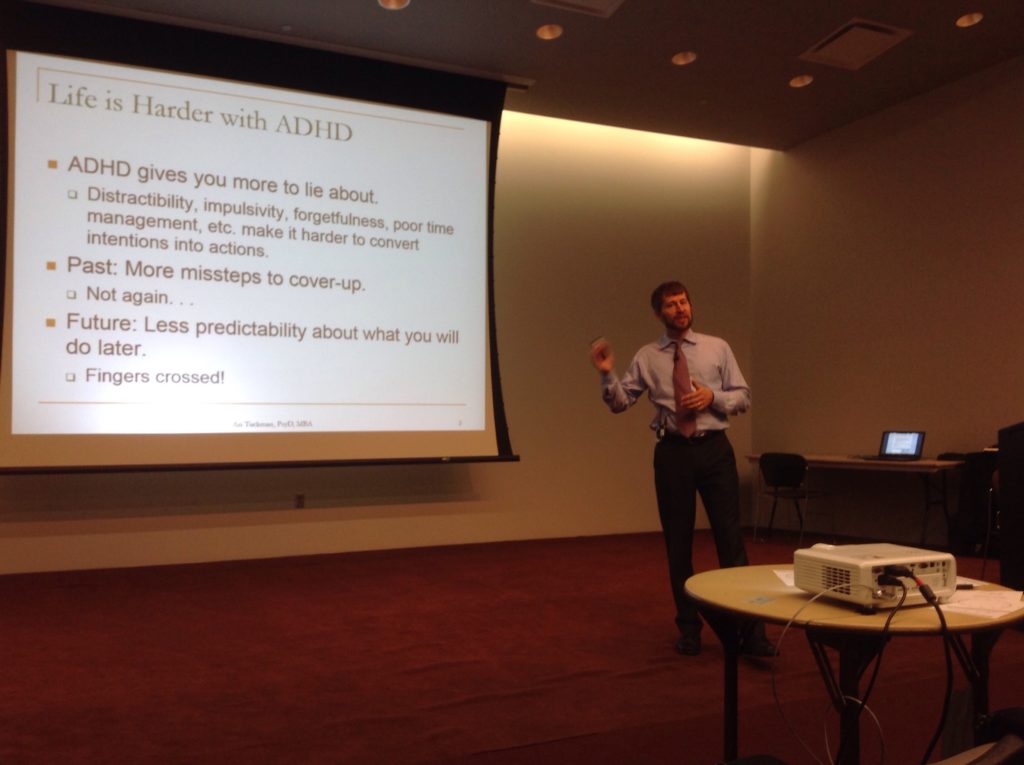 This year, Dr. Tuckman spoke on What Are Your Clients' Favorite Lies? — and anyone who has ADHD (and many of us who don't) will recognize the falsehoods we tell ourselves, from "This will just take a minute," to "I don't need to write that down — I'll remember it!" Dr. Tuckman walked us through strategies to help all of us understand and defend against these mindsets.
To close out the major educational sessions, my friend and Nashville colleague Liz Jenkins, just up the road from Paper Doll HQ in Chattanooga, shared Beyond the Label Maker: Tools of the Trade. Unfortunately, Liz moves so quickly around the stage, that the adorable shot of her trying on a headlamp for our amusement is just a blur — perhaps she's a superhero? — but here's Liz, on the left, with LA's John Trosko and New York City's Amy Neiman.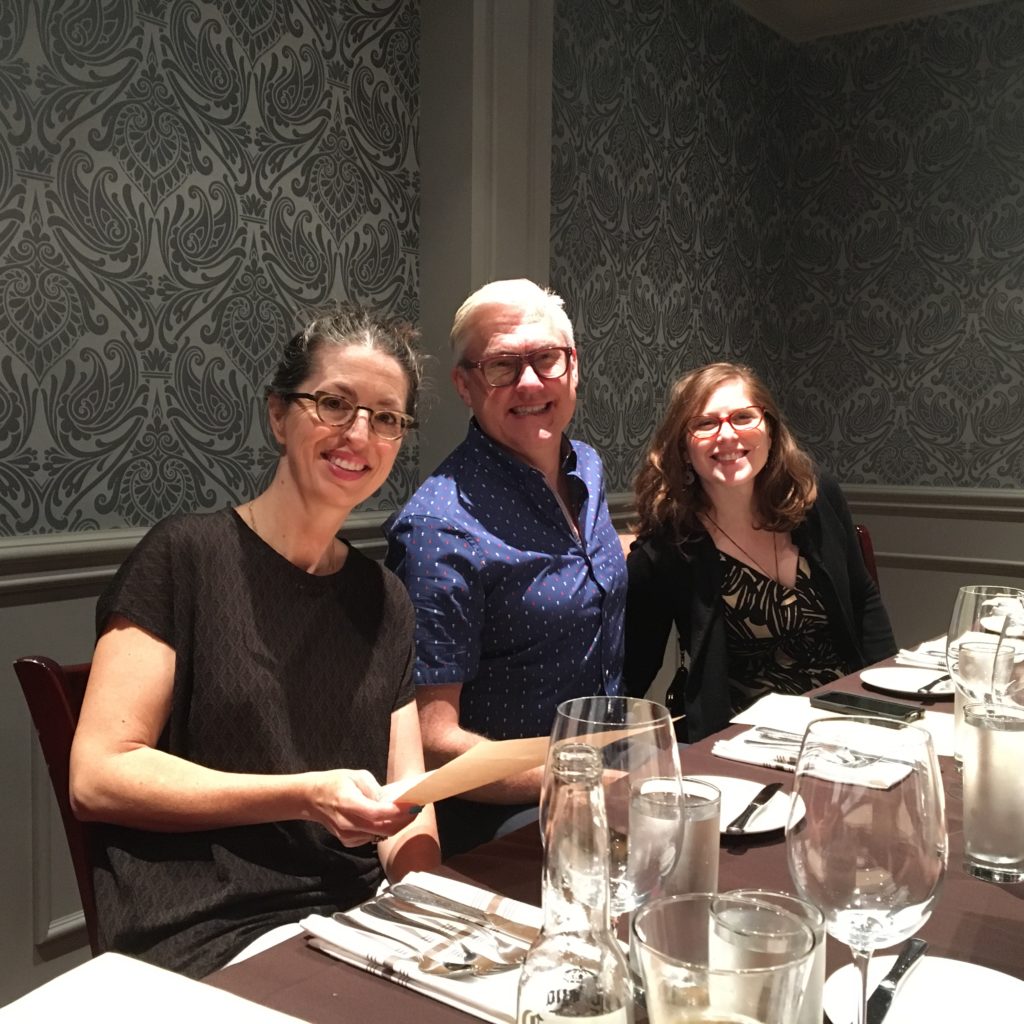 After 15+ years in the business of organizing, it may be surprising but there's still a wealth of resources (and tactics) to be learned from our colleagues and the way they organize, but Liz floored us with her "BoBs" (kits) of essentials. And now I've learned about Zott's adhesive dots.
EXTRA CREDIT MATERIAL
In addition to formal educational sessions, our conference attendees heard a keynote from Jones Loflin entitled Grow, Cultivate, Prune and Harvest: How to Blossom Even in Times of Change. (And who among us doesn't struggle with change? I've been known to say that I love novelty, but hate change, so I suspect that mean I was ripe for what Jones had to share. Meanwhile, organizing superstar Monica Ricci (my chapter president when I joined NAPO more than fifteen years ago), led two star-studded business leadership panels.
By far the most popular aspect of the conference this year was the addition of three concurrent discussion sessions during which attendees watched TED Talks and delved into the issues in a hearty round-robin of discussion.
NEXT LESSONS
In the upcoming posts, I will be sharing the highlights of the NAPO2017 expo — the most intriguing products and services. Check them out here:
I'd like to leave you with two thoughts.
First, thousands of professional organizers around the world commit to expanding our education and expertise so that we can help our clients reach their goals. Whether our clients are new parents or students or office managers, people with ADHD or physical disabilities or anxiety, or those seeking to straighten out their homes or workspaces or their tasks or their thoughts, there are professional organizers working to learn and grow to help them. If you or someone you know would like to be more organized or productive, please visit NAPO's provider search tool.
Second, Paper Doll has been covering NAPO conferences for a long time. Just type "NAPO Conference" into the search box on the left side of the blog, and you'll have quite the organizing adventure.
SaveSave
8 Responses