Paper Doll's NAPO2016 Recap: Smead Takes On Coloring, Minis, and Corners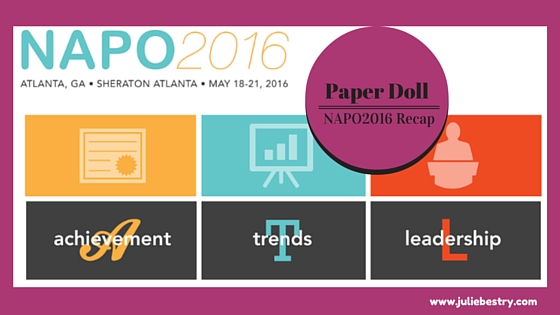 As we discussed in last week's Paper Doll post on Samsill's new products, there's a particular delight to the pseudo-shopping aspect of attending the NAPO Expo. For me, there's a specific magic in the air when I get to see exciting new products from our industry stalwarts, and nowhere is that more true when I get to see new paper management products.
Yep, I'm an office supply fangirl. Particularly a paper-related office supply fangirl. That may explain why, although I love all my NAPO Corporate Associate Members and NAPO Conference Expo vendors, I have a special place in my heart for my friends at Smead, who have been kind enough to have me on their Keeping You Organized video podcast twice, once to talk about small business organizing, and again to discuss organizing-related fears.
So, of course, as soon as NAPO President Ellen Faye cut the Expo ribbon with those giant scissors, I made a beeline to my Smead buddy, Leiann Wright.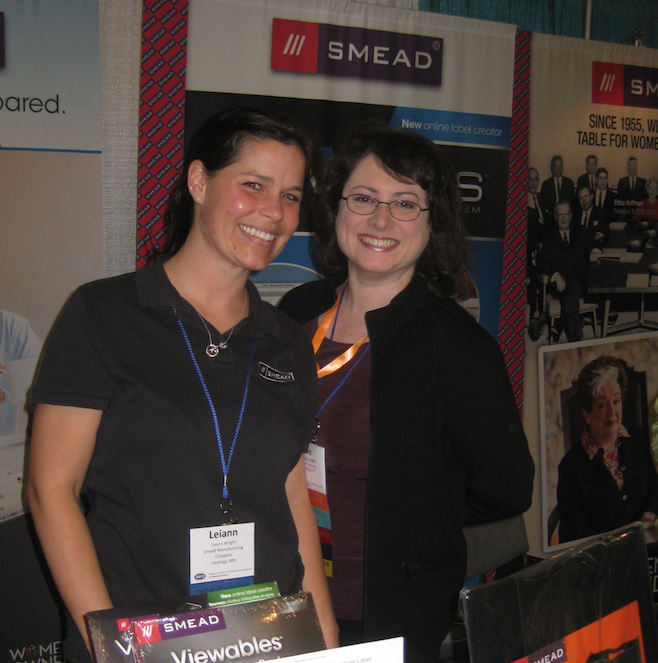 With file folder aficionados (say that three times, fast) crowding around the booth, it took three visits over two days to learn everything about the new offerings, and I'm still finding items in the 2016 New Product Guide that I missed in person!
Today, we will focus on just a few of the new products that had conference-goers talking.
SuperTab® Coloring Folders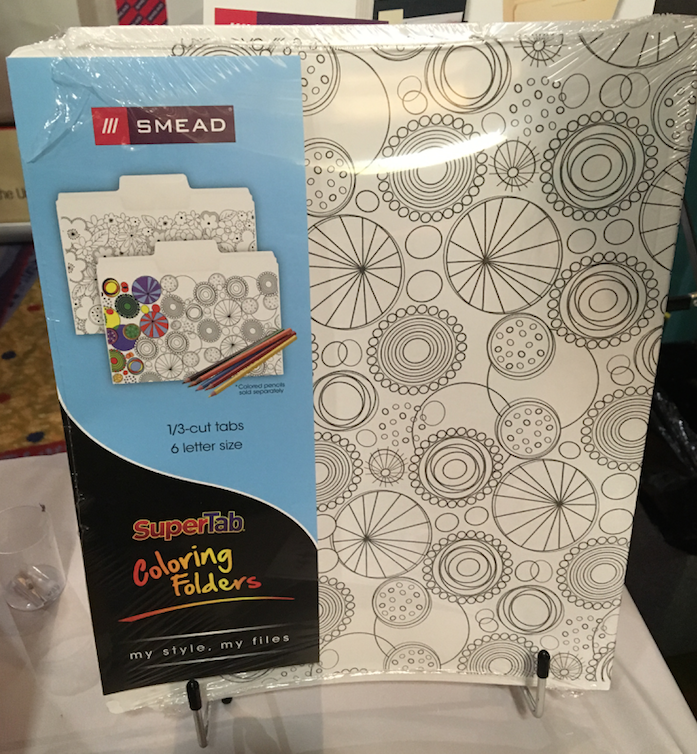 Smead's SuperTab® folders aren't exactly new. I originally reviewed them back in Paper Doll Dishes Out the Super Goodies back in 2011. Back then, I explained that with larger tabs, one could:
1) Use Larger Text — This makes it easier to see labels from across the room, assists those with all variety of vision issues from aging eyes to macular degeneration, and ensures that offices with files bearing many similar-appearing labels (Johnson/Jonson/Johnsen) can be discerned with relative ease.
2) Use Multiple Lines of Description — Although brevity is the soul of wit, and although we professional organizers usually advise keeping file folder labels as simple as is serviceable, sometimes a label just has to say more. 
3) Use Icons — In addition to labels, colored dots, stickers and other icons can be used to help categorize the content of a folder, and the larger the tab, such as with SuperTab® folders, the more expansive the available space for adding definition and clarity. 
This new product takes the practicality of the 90% larger tab of the original SuperTab® and combines with a colorful new trend.
As Paper Doll doesn't have any artistic inclinations (and recently went into anxiety-mode at a recent visit to one of those paint-the-pottery places), I have long wondered what it was about these best-selling and highly coveted adult coloring books I was missing. So many of my high-profile colleagues, including Deb Lee, Janine Adams, and Danielle Liu, enjoy this pastime that this year's NAPO conference planners added a lounge area with oversized coloring pages at which my friends could be found doodling in spare moments, when in prior years, they might have chugged coffee or returned phone calls.
If you're unfamiliar with this latest habit of adults pulling out crayons and markers to color, I direct you to A Neuroscientist Patiently Explains the Allure of the Adult Coloring Book from New York Magazine. My favorite aspect of this article notes:
Our prefrontal cortex is responsible for coordinating thousands of decisions each day, from which socks we should wear to life-altering relationship and career choices. As an unconscious response to this so-called daily "decision fatigue," making a series of small, inconsequential decisions (teal or mahogany for this squiggly line?) may give us a refreshing sense of self-control after a long day of big, important ones.
Smead SuperTab® Coloring Folders are letter-sized and come in geometric and floral designs. The tabs are 1/3-cut and constructed of 11 pt. (reinforced) paper stock, which works with colored pencils, crayons, and markers. The bottoms of the folders are scored for up to 3/4″ expansion, and all folders are made of 10% recycled content with 10% post-consumer material.
I should note that 11 pt. paper stock is a little less robust than the 14 pt. heavyweight folder stock I prefer, but I suspect that for typical office work, aesthetic appeal may outweigh (pardon the pun) sturdiness for those who are visually focused or inclined to reduce stress with conference call coloring.
Find the Smead SuperTab® Coloring Folders at office supply stores and Amazon, in packs of 6 or 12, with a dozen running about $12.
Mini Stadium® File
Fans of the original Smead Stadium® File, which we reviewed in our NAPO 2010 Conference Expo Recap, liked the fact that it was portable, lightweight, and (surprisingly) sturdy. It had 12 pockets, could hold up to 900 sheets of paper, and most importantly, was stepped like a riser or stadium to ensure that nothing could be hidden.
The Mini Stadium® File has many of the same features as the original, but is more compact, so it's suitable for correspondence and small projects you need to keep on your kitchen counters, dorm room desks, and small offices. As always, the idea is that if you clear your paper clutter, categorize it, and contain it, you'll get your space and sanity back. Smead has taken this approach to the desktop file box and made it fun-sized.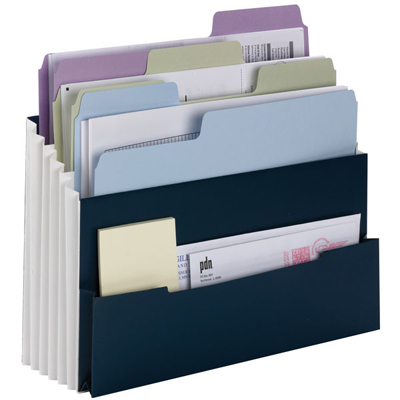 The three pockets are tiered and fixed so the papers don't fall to the bottom of the organizer, and is suitable for holding both papers and folders. There's also a small, low-profile, flat outer pocket. Like its predecessor, the Mini comes in Navy with fully lined Tyvek® gussets to allow for expansion. The Mini also includes labels for alphabetical (A-Z), monthly (Jan-Dec), and daily (1-31) filing, as well as household subjects and blank indexing.
Right now, the Smead Mini Stadium® File seems to be sold primarily at smaller online office supply stores and at Amazon, where it costs $19.95.
Corner Organizer File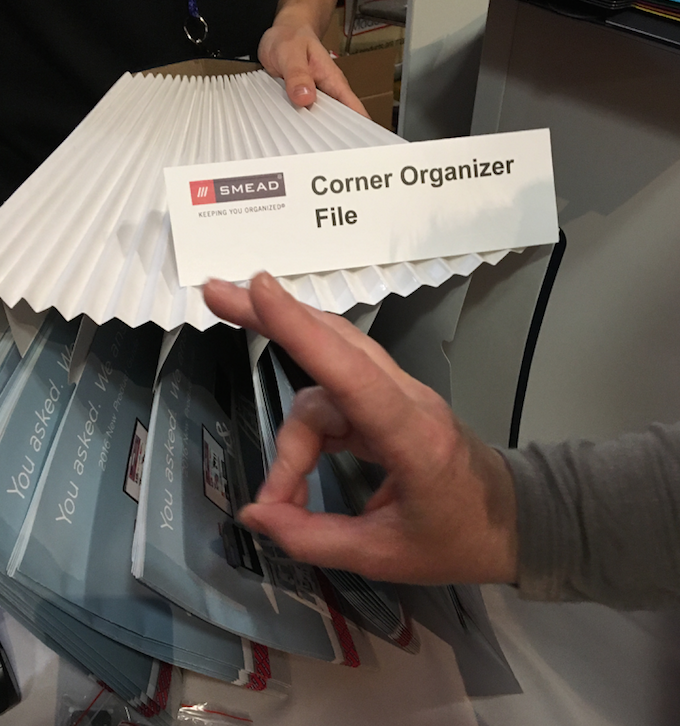 Smead Corner Organizer, with Bunny Ears
While the two prior products are updates of popular Smead products, the Corner Organizer File seems to turn a product on its head, or at least its side. Picture if the traditional Stadium were turned 90° and cut on an angle to provide accessible storage in a corner, where two walls, a desk/wall edge, or the top of a filing cabinet meets a cubicle divider. Paper Doll's first thought was that it worked to make typically dead spaces more accessible much like Lazy Susan kitchen cabinets allow you to store food or small appliances in the netherworld where two cabinets meet at right angles.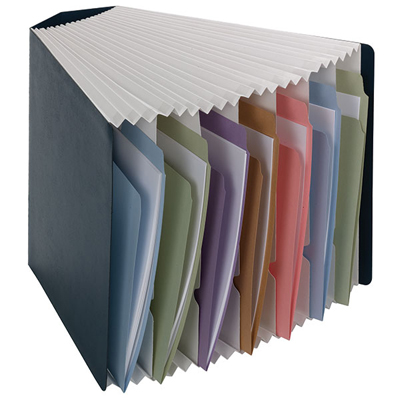 Smead's Corner Organizer is letter sized, Navy with a white interior, and has seven expanding pockets. It's suitable for storing top-tab and side-tab folders. Like the Mini Stadium® File, the Corner Organizer File doesn't seem to be distributed by the major office supply big box stores, but you can find it at a variety of smaller and online stores, as well as Supply Geeks and aAmazon for about $28.
These are just a few of the Smead products that caught my eye at NAPO2016. Be assured that after our recap series, I'll be circling back to discuss some of their fun new poly products — poly expanding files, poly file boxes, and poly pockets — as well as new document wallets, line extensions for Viewables, and soooo much more about folders. Until then, enjoy this photo of professional organizer Lita Daniel showing of her grown-up approach to today's moment of Zen.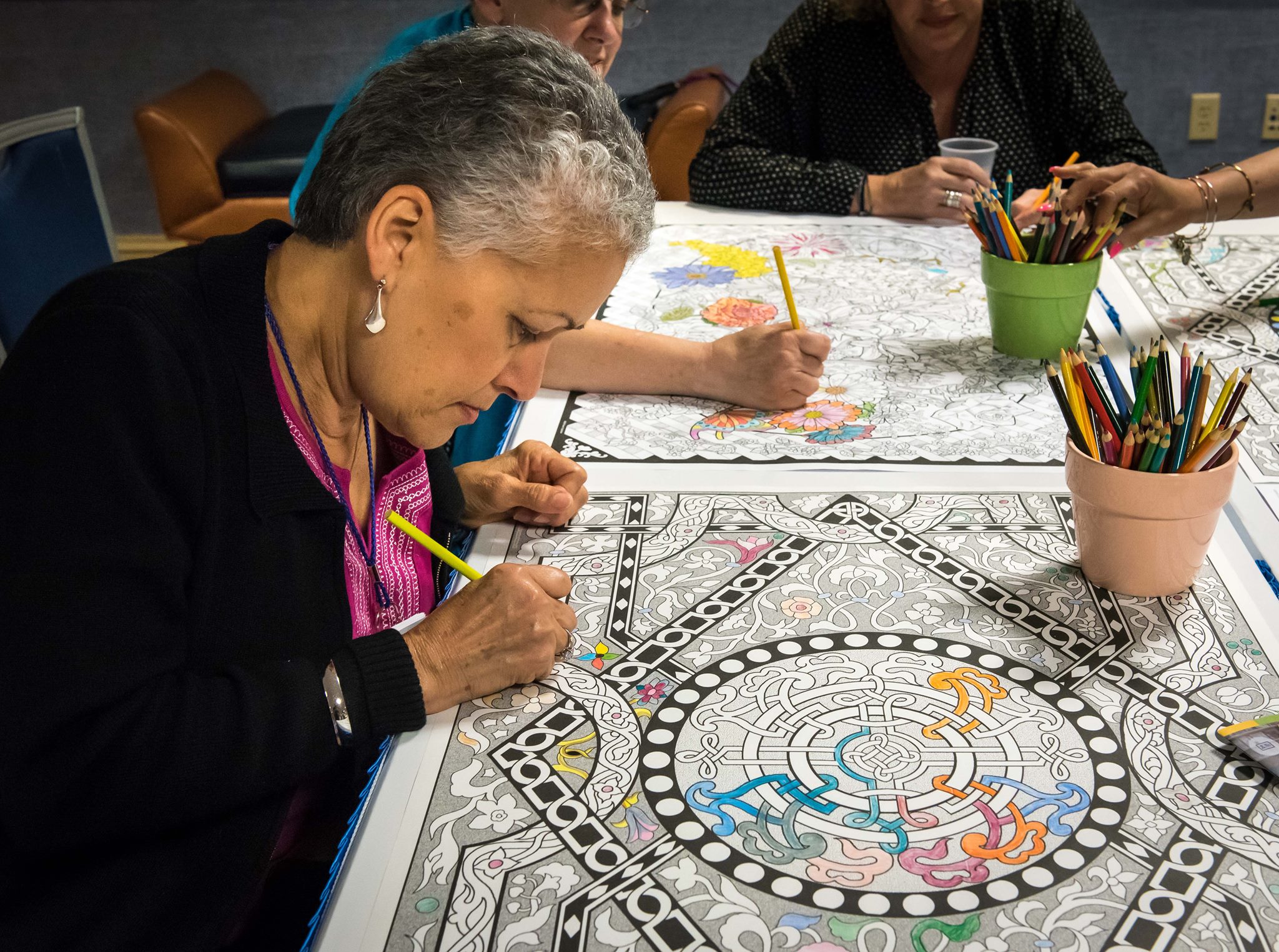 Photo courtesy of Dan Slutsky, NAPO Photographer Extraordinaire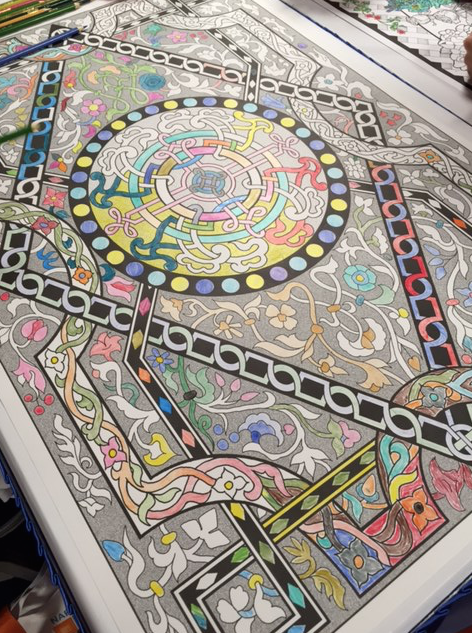 Photo courtesy of Ellen Delap, NAPO President-Elect