Paper Doll's NaNoWriMoMo(nday): Writing Challenges, Dictation Tools, & Organized Writing Advice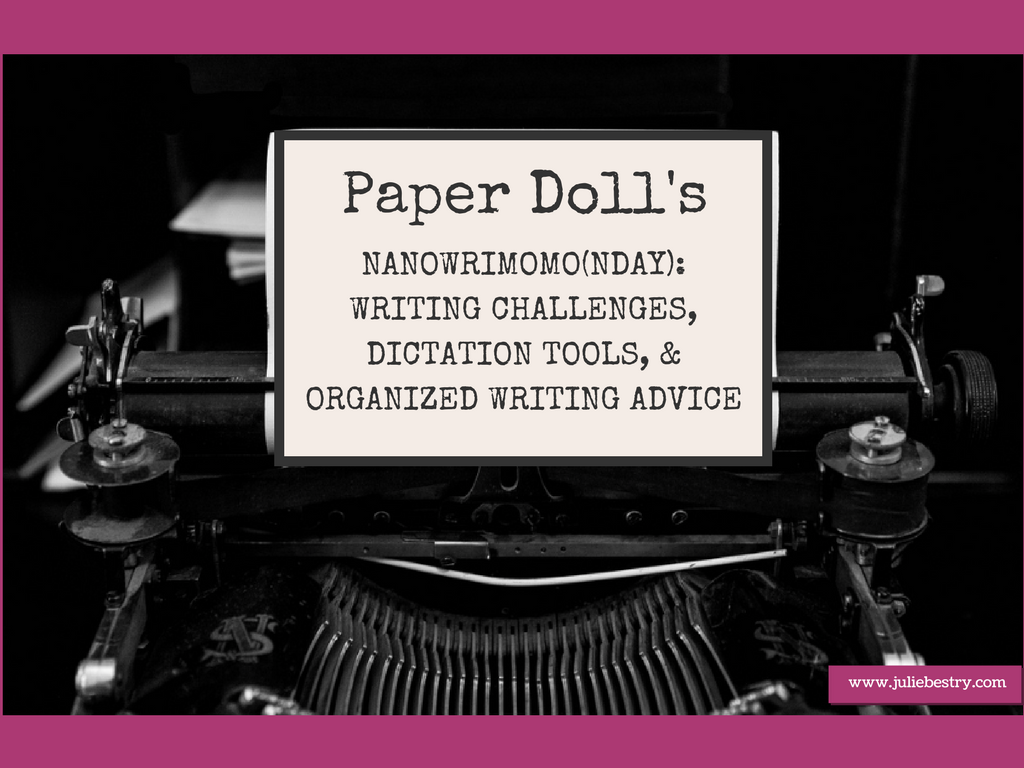 Today is the first weekday after a long holiday weekend. If you traveled or entertained, you probably have a pile of laundry to deal with and an aversion to one more bite of turkey. If you've been participating in NaNoWriMo and working on a novel (or, as a rebel, on something else), you may have just realized that you have about 3 1/2 days in which to hit your 50,000 words. If you're back at your desk for work or school, you're probably feeling pressure to produce reports and emails and all manner of communications when you'd really rather be snuggling under a blanket. I empathize.
Just as your meals this weekend were leftovers – hopefully not too pejorative a term – today's post is full of leftover bits of appetizers and side dishes and desserts that couldn't quite fit in all of this month's overstuffed Monday posts. From motivation to productivity to time management to resources for organizing your content, there will always be new things to say about organizing yourself to write. (Ah, well, there's always 2018!)
HOW TO ORGANIZE YOUR WRITING PROJECTS WHEN IT'S NOT NOVEMBER
The November NaNoWriMo experience is motivating, but sometimes we're not ready to jump in with both feet, especially in November, a month with holiday travel and shopping and enough tasks to bump creative writing off of the schedule.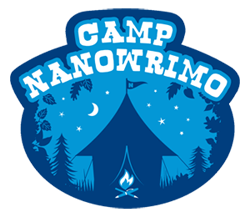 Luckily, NaNoWriMo has an official alternative for you called Camp NaNoWriMo. The official word:
Camp NaNoWriMo is a virtual writer's retreat, designed for maximum flexibility and creativity. We have Camp sessions in both April and July, and we welcome word-count goals between 30 and 1,000,000. In addition, writers can tackle any project they'd like, including new novel drafts, revision, poetry, scripts, and short stories.
If you're already registered for NaNoWriMo, you just use the same (free) account. Otherwise, it's a quieter version of the big event, with support and prizes, including discounts on software, tools, and classes, including, recently, writing classes taught by Aaron Sorkin and Shonda Rhimes.
One major difference between National Novel Writing Month and Camp NaNoWriMo is that there's no obligation to write a novel. Everyone's a rebel at camp!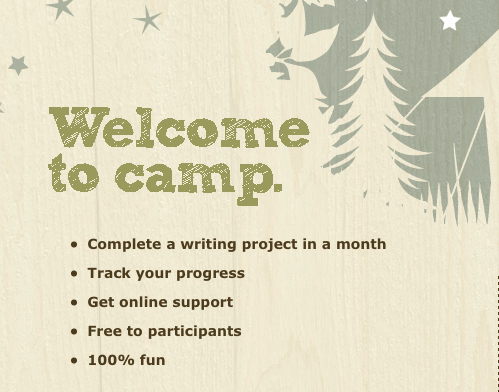 Another difference is that while there are myriad discussion forums for NaNoWriMo, Camp NaNoWriMo assigns you to a cabin with approximately 20 other campers, in virtual writing groups. You can choose to be sorted into a cabin randomly or according to your age group, genre, and/or word-count goal. Alternatively, you can create (or be invited to) a private cabin with friends or project partners. As we've discussed many times, from an organizing perspective, having accountability partners is a huge boon to reaching your goals.

But be assured, for those of you who write for pleasure (or aspire to fame), NaNoWriMo isn't the only game in time. There's also 85k90, which bids you to write 85,000 words in 90 days with a simple motto: Write. Edit. Prep. Publish.
Originally, the writing challenge formed to help writers use January through March to get a major writing project completed. Unlike NaNoWriMo, it could be fiction or non-fiction (Master's thesis, anyone?). But the project grew, and now offers guidance for the whole writing-to-publishing process. Starting each January and going through December, the year-long 85K Writing Challenge moves through a series of five types of productivity cycles. It starts with the original 90-Day Write cycle (AKA: the 85K Writing Challenge), a 60-Day Edit cycle, a 60-Day Prep cycle, a 60-Day Publish cycle, and three strategically scheduled 30-Day Finish cycles to allow you time to catch up rather than falling further behind.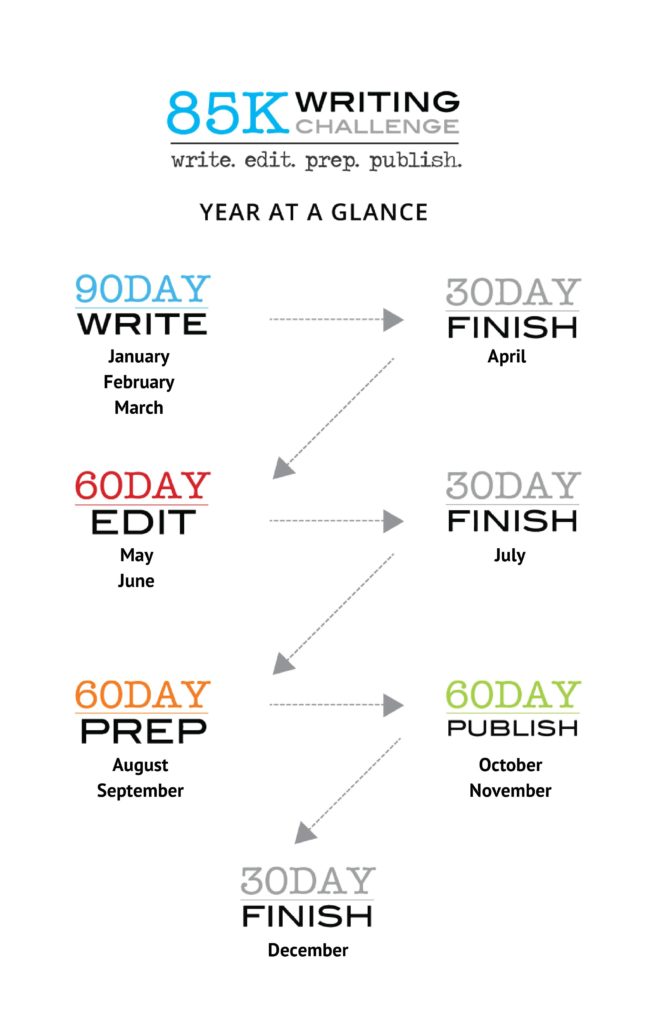 Think of a Finish cycle like the buffer you allow yourself when trying to get to an appointment. That extra time relieves you of worry when obstacles are placed in your path. Now, you can confidently address any challenges and then return to your area of focus.
So, if my posts this month tempted you to try a writing challenge like NaNoWriMo but the notice was just too late and you couldn't get started until you saw all of my November resources, here's a chance to regroup. Arm yourself with what you've learned this month, and then start fresh in January with 85K90's main blog posts:
85L90: 60 Things to Do Before Publishing
If you're not sure why participating in a group challenge may be for you, head back to the first post in this NaNoWriMoMo(onday) series to see what motivational advantages (for your writing, as well as the rest of your life) this might bring.
SPIT IT OUT: TRANSCRIPTION AND DICTATION
Last week's post, filled to the brim with writing, editing, and proofreading resources was pretty popular with the student and office-worker crowd, as well as the aspiring and professional writers among you. More than a few of you requested tips for writing with clarity when you think (or talk) faster than you type and can't get it all down.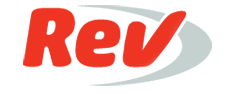 Rev.com is a transcription service with a 24-hour turnaround time. You can record a file of yourself (or a group of people) speaking and then upload the file via the web or provide a link if your file is hosted on the back end of your site, in Dropbox, or wherever. The Rev folks then transcribe your audio (or video) from MP3, MP4, WMV, AVI, OGG, WAV, or a number of formats of which Paper Doll had never even heard, and they send you back your transcription in a Word document. The fee? $1/minute.
Rev will also do captioning for the hearing impaired at the same $1/minute, captioning of videos for $7.50/minute, and translations for 10 cents/word. Although Rev uses technology to help improve the transcriptions, the work is transcribed by a team of hand-picked freelancers, so you don't get a garbled Google or Siri-style transcription of what you really, really didn't say.
One of my organizing clients conducts interviews with business representatives all over the world. During these interviews, they explain how they make use of his company's software products, and my client molds their stories into case studies presented by his company's marketing department. A lot of ground is covered, often with interviewees with accents that are not always easy for my client to parse. When I told him about Rev, he may have been dubious that a company offering services at such a low price could deliver what he needed, but decided that a short test-run would be a worthwhile investment. Once he saw the results, my client was sold!
Rev is not an inexpensive option if you're trying to dictate your entire novel, but if you've got limited time (or need to write for work during your commute), it's a good option to get you started, and if you need transcriptions for your podcast, board meeting minutes, or anything you can't get down on paper (or bytes) without losing momentum, it's worth considering.
Obviously, there are other local and national/international transcription services out there, including:
However, Rev is the only non-local service I can vouch for. Whatever you write, you want to inspect the sites, check their reviews, make sure there aren't different rates for "first-draft" transcriptions vs. polished ones, and clarify the privacy and security policies of the individual services.
What if you don't want to trust someone else with your stories, interviews, podcasts, or other material that needs to be set in written form? There are always human-free technology options.

Dragon dictation software – Nuance makes Dragon NaturallySpeaking software for professionals, attorneys, medical practitioners, law-enforcement officials and a wide variety of others. For personal use, check out Dragon Home for PC users ($75); Dragon for Mac ($255), Dragon Anywhere (from $15/month to $150/year) with apps for iOS and Android.
I'm sure you've noticed that your computers, tablets, and phones all have dictation functions. For example, if you hit the fn (function) key twice in rapid succession on an Apple keyboard, you may dictate directly to your Mac. On a PC, select Windows Speech Recognition from the Ease of Access accessory in Windows.
On iOS and Android apps, you'll generally find a microphone icon to the left of the spacebar, and clicking it will allow you to dictate. And within software and apps, dictation options are becoming more common. For example, in Word, select "Start Dictation" from the Edit menu (on Macs) or select "Speech" from the Tools menu on PCs; in Evernote, select the microphone icon from the tools options.
Generally, though, I wouldn't recommend dictating your novel into a text field on your phone! Save dictation for when you have a rush of ideas and have to get them out of your head faster than your fingers could keep up.
MIXED BAG TIPS TO ROUND END NATIONAL NOVEL WRITING MONTH

The Evernote blog often has great tips for organizing your writing, and writers of all types sing Evernote's praises. Consider the following:
And finally, in addition to the advice I've offered throughout this series, you might want to peek at the thoughts here for getting started, keeping going, and finishing up:
As today is the last Monday of NaNoWriMo, this will be our final NaNoWriMoMo(nday) post. If you've missed what I've shared so far, please catch up anytime at:
Paper Doll's How To Organize Yourself to Write for NaNoWriMo 2017
Paper Doll's NaNoWriMoMoMo (Novel Writing Month Monday Motivation)…Even for Non-Writers
Paper Doll's NaNoWriMoMo(nday): Organize Your Writing Platforms for Maximum Focus
Paper Doll's NaNoWriMoMo(nday): 10 Tools to Organize Your Writing, Editing, and Proofreading
Whether you're writing novels or holiday newsletter, I hope your writing experience is a little more organized!
One Response