Back-to-School Organizing News You Can Use: 3 Solutions to Save Time, Money, and Serenity
Wait, it was just Independence Day! Why are we talking about back-to-school organizing? In ye olden days, when I grew up in Buffalo, New York, where kids still don't go back to school until after Labor Day, talking about back-to-school so soon after the 4th of July would be like stores putting up Christmas decorations right after Halloween. (Oh…right.)
But there's a method to the madness. In many parts of the country, students go back to school in the middle of the summer. In my county in Tennessee, the public schools start on August 3rd, and mere miles from me in Georgia, students go back on the first of August. But even for kids going back to school in September, that's only about eight weeks from now. Instead of rushing to get everything done, here's a roundup of ways to organize your approach to the back-to-school season.
ORGANIZE YOUR ADHD STUDENT – FREE WEBINAR
Paper Doll's colleagues (and longtime friends), Michelle Cooper and Michelle Grey of Student Organizers of Atlanta will be presenting a free, live webinar entitled Practical Organization and Time Management Strategies for Middle and High Schoolers with ADHD on July 20, 2017, at 1 p.m. ET.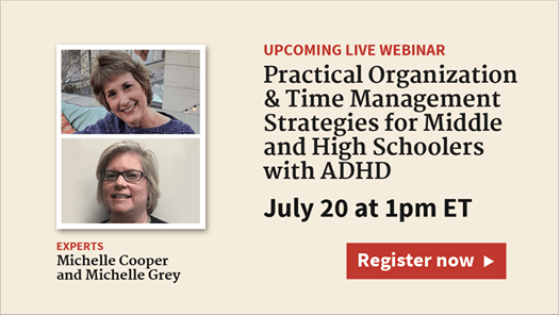 Presented as part of ADDitude Magazine's ongoing webinar series, the webinar will provide strategies for:
Managing the day-to-day organizational challenges facing students both inside and outside of the classroom
Understanding your child's "thinking style" and finding organizing methods and tools that fit his or her style
Using organizational systems that will improve his or her chances of academic success
Collaborating with your child and the teachers to support his or her efforts at organization
Using products, books, and websites to ease the process of organization for your student
Register for the webinar and take it live, or you can use the replay link to watch (or rewatch) the webinar for free, any time up through next January 20, 2018.
Learn more about ADDitude and check out the other webinars in the series. If your child is heading to college, both of you might want to watch the webinar on July 11, 2017, entitled The College Transition Guide for Teens with ADHD.
ORGANIZE YOUR FINANCES – TAX-FREE HOLIDAYS
Over the four weekends from July 21 through August 13, sixteen states will be having tax-free holiday weekends. In general, these states allow retailers to sell clothing and footwear, school supplies, computers, and sometimes backpacks, books, and other "tangible personal property" without charging sales tax. In my state, that's a savings of 9.25%. Combine that with various 10%-25%-off sales, and that's a great opportunity to stock up on necessities.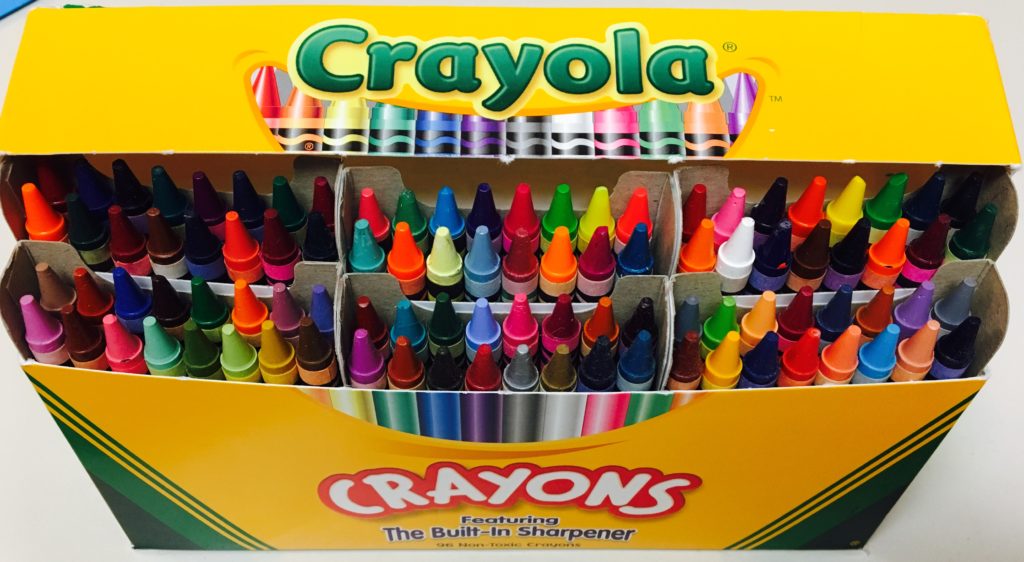 Note: Some states, such as Georgia, have discontinued their tax-free holidays, so be sure to check out states adjacent to yours.
Click on the name of your nearest state to be directed to that state's official tax-free holiday page.
Alabama (July 21-23, 2017)
Tax-free: Clothing (up to $100), Computers (up to $750), School supplies (up to $50), Books (up to $30)
Arkansas (August 5-6, 2017)
Tax-free: Clothing and footwear (up to $100), Clothing accessories and equipment (up to $50), School and academic art supplies (no dollar limit)
Connecticut (August 20-26, 2017)
Tax-free: Clothing and footwear (up to $100)
Florida (August 4-6, 2017)
Tax-free: Clothing, footwear, wallets, and bags (up to $60), School supplies (up to $15/item), Computers (up to $750)
Iowa (August 4-5, 2017)
Tax-free: Clothing and footwear (up to $100)
Louisiana (August 4-5, 2017)
Tax-free: Tangible Personal Property (3% tax rate up to $2,500; a 2% state sales tax exemption applies, so qualified purchases are subject to only 3% state sales tax)
Maryland (August 13-19, 2017)
Tax-free: Clothing & footwear (up to $100)
Mississippi (July 28-29, 2017)
Tax-free: Clothing & footwear (up to $100)
Missouri (August 4-6, 2017)
Tax-free: Clothing (up to $100), Computers/peripherals (up to $1,500), Software (up to $350), Graphing calculators (up to $150), School supplies (up to $50)
New Mexico (August 4-6, 2017)
Tax-free: Clothing and footwear (up to $100), Computers, tablets, and e-readers (up to $1,000), Computer equipment (up to $500), Book bags and backpacks (up to $100 per item), maps and globes (up to $100 per item), Calculators (up to $200), School supplies (up to $30)
Ohio (August 4-6, 2017)
Tax-free: Clothing (up to $75), School supplies (up to $20)
Oklahoma  (August 4-6, 2017)
Tax-free: Clothing and footwear (up to $100)
South Carolina (August 4-6, 2017)
Tax-free: Clothing (no limit) School supplies (no limit), Computers, printers, peripherals, and software (no limit)
Tennessee (July 28-30, 2017)
Tax-free: Clothing (up to $100), School and art supplies (up to $100), Computers (up to $1,500)
Texas (August 11-13, 2017)
Tax-free: Clothing, backpacks and school supplies (up to $100)
Virginia (August 4-6, 2017)
Tax-free: Clothing (up to $100), School supplies (up to $20), Energy Star products (up to $2,500) and a variety of hurricane-preparedness items.
Tax-free holiday tips:
The price limits generally refer to the price-per-item cost, not your entire purchase. However, if a store is placing limits on entire purchases and you have a large family, you might want to have your older, more responsible children stand in line and pay with cash.
Make a list of what each child needs before you get to the store. (Check with your school to see if a grade-appropriate list has been posted online.) It's tempting to buy anything that seems like a bargain, but acquiring what you don't need just because it's a "deal" is the fast track to clutter.
Set a budget for each shopping category.
Shopping with smaller children will stress you (and your kids) out, so consider trading shopping and babysitting time with a friend or split babysitter costs while you and your friend hunt for bargains together. Let older children participate – use it as an opportunity to practice math skills ("How much is this shirt if it's marked as 15% off?") and encourage them in finding good deals on high-quality products. The more responsible they are, consider rewarding them with the amount by which they came in under budget to apply toward something fun.
Remember to keep your receipts in case you find that you need to return something; note each retailer's return policy.
ORGANIZE YOUR STUDENT'S SCHEDULE – A NEW KIND OF PLANNER
As mentioned a few weeks back when I was talking about Time Timer, many people, especially students, can have trouble mastering the concept of the passing of time, which makes it difficult to properly plan academic and life tasks. When I was in middle and high school, almost nobody used a planner or a calendar. These were the days when Trapper Keepers were the height of organizational technology and pocket-sized assignment notebooks yielded the best option for academic time management. Somewhere during the <mumble mumble> intervening decades, schools started providing and/or requiring student planners to help keep up with homework assignments, projects, and tests.
These planners give students the opportunity to mark down what they must do. It's not clear, however, that students get the time management skills and system-training they need to master the intricacies of juggling academics, extracurriculars, part-time jobs, and familial obligations, or learn when to complete it all. That's where Leslie Josel comes in.
Professional organizer Leslie Josel of Order Out of Chaos, is not just a colleague and friend; she's also a fellow Cornell University alum, so when I first heard about her product line for students, I paid particular attention.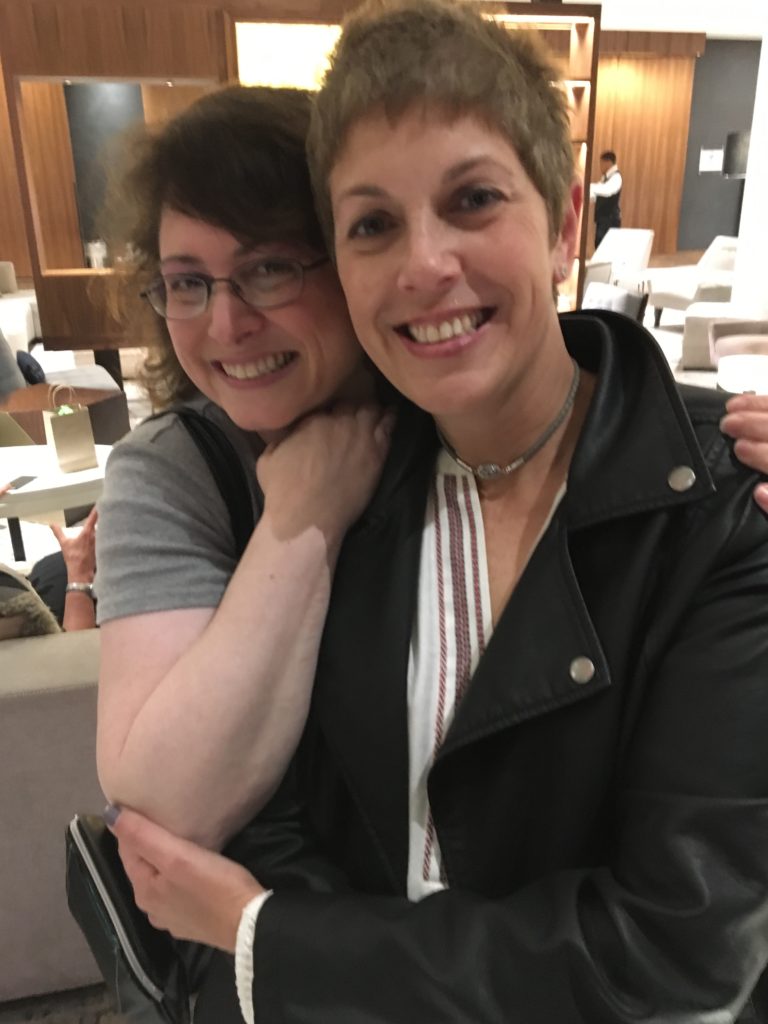 Paper Doll with Leslie Josel, © 2017 Best Results Organizing
At first, Leslie's organizing practice concentrated on working with chronically disorganized clients, people with ADHD, students with learning challenges, and clients with hoarding behaviors. Eventually, (like Michelle and Michelle, above), she expanded her offerings to include coaching services for both students and parents. In 2016, Leslie expanded her company's product division and officially launched Products Designed With Students in Mind.
Leslie's big idea was the Academic Planner: A Tool for Time Management®. The 2017-2018 Academic Planner comes in two sizes: letter-sized (8 1/2″ x 11″) and personal-sized (8 1/4″ x 8 1/2″), both for $18.99. Based on an academic year calendar, the planners run July through June. They're spiral bound, but also three-hole punched to allow students to pop them right into their binders.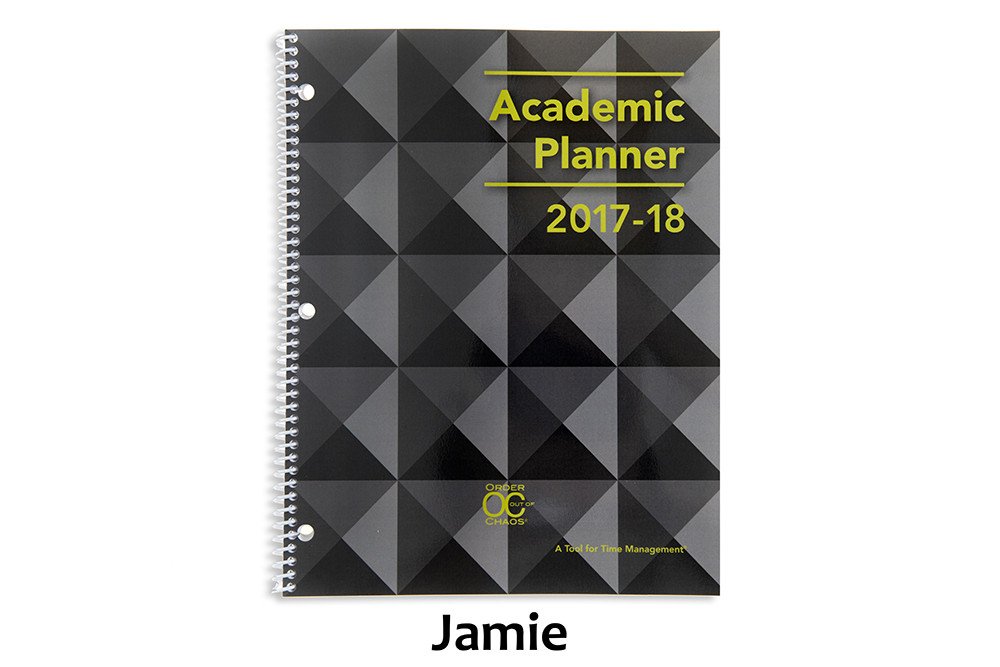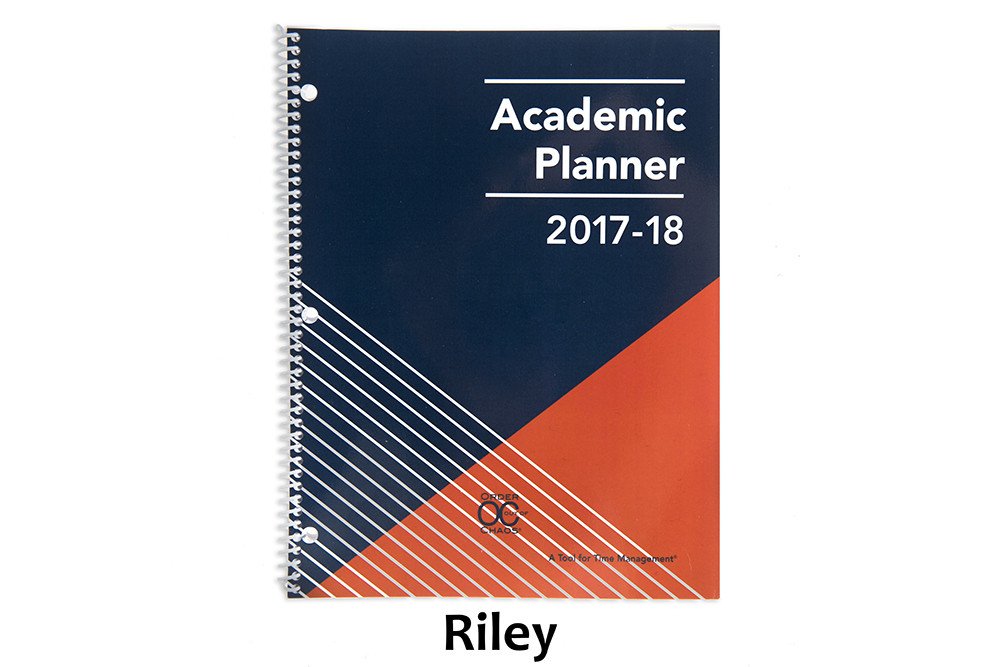 Each size is available in four styles of planners: Jamie (black), Riley (orange/blue), Taylor (white) and Paper Doll's personal favorite, Violet (pink/purple). The interior pages measure 7" x 11", offering up more than the typical space for writing down assignments and activities.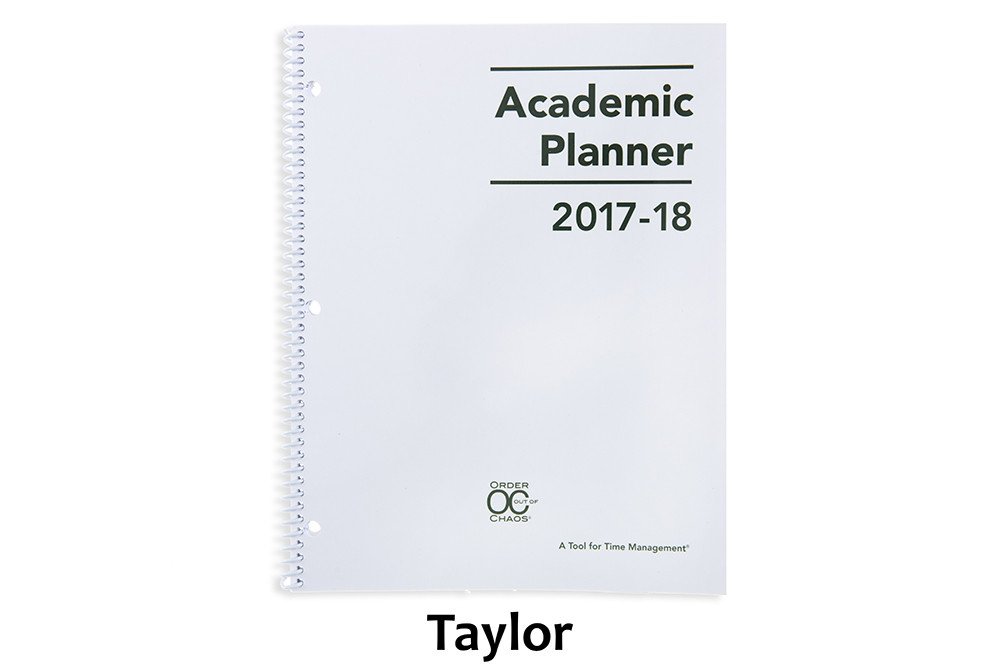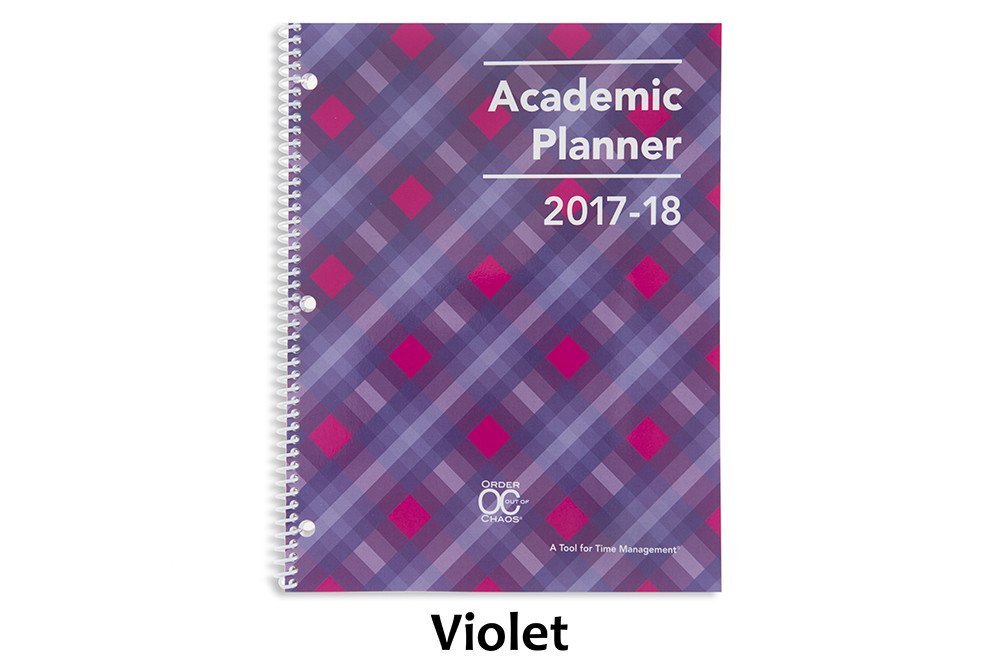 Introductory Pages
The front pages, measuring the same size as the front and rear cover of the planner, include:
a contact information section so a lost planner can be easily returned
a class schedule (subject, period, instructor, room #, days) to quickly acclimate students for the new year (and give a fellow student, armed with the contact info, an easy way to find the owner at the right classroom and return a lost planner)
a Welcome Letter from Leslie to parents
a detailed set of Planner Pointers, providing excellent guiding tips for making smart use of the planner. (My favorite? Writing "No Homework" if none was assigned so the student never has to wonder if he or she just forgot to write something down.)
a two-page Planner Use Guide, showing the planner in action — noting assignments, reminders ("Get permission slips signed!"), after-school activities and previews for the next week
Homework Helpers, tips that could only come from a professional organizer experienced with helping students gain control of their work.
a sample Project Planning Guide to help plan long-term assignments (Students can download more guides for future projects.)
a two-page School Year at a Glance
Planner Pages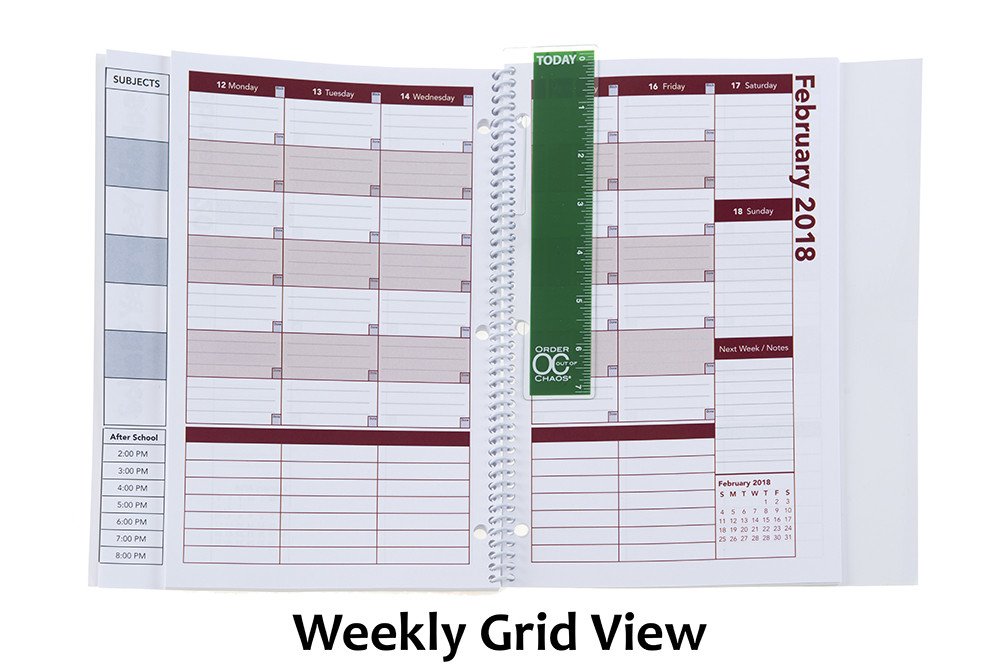 On the last (extra-sturdy) full-sized front page, the Academic Planner has a vertical index page that peeks out from behind (and to the left) of the actual planner pages. This index page means that students record their class subjects (in up to 7 subject boxes) only once. Then everything on the upper calendar sections of the planner pages lines up with the appropriate class subjects, course by course, horizontally (with days of the week arrayed, vertically) across a two-page layout. (You can download a sample planner page.)
The next row (in the personal-sized planner, only) is for To Do items.
Below that, there's an hour-by-hour schedule from 8 a.m. until 8 p.m. Typical student planners only cover the academic day and don't take into account post-school activities, like doctor's appointments, tutoring, clubs, rehearsals, sports, and jobs. This planner provides oodles of space for all of those activities and recognizing conflicts (just like in the best calendar planners for adults). This really helps students see the forest and the trees of weekly time management.
Other Features
At the start of each month, there's a left-side full-page monthly calendar with space to note major events, holidays, and vacations, and adequately plan longer-term projects.
The right-side Notes page facing the calendar offers up ample room for planning, notes, and the kinds of serious thoughts only people between 12 and 18 can understand.
There's a clear poly pocket at the rear of the planner for safely keeping notes, permission slips, and other documents too small for a student's binder.
A bonus Academic Planner Accessories Pack (sold separately, for $8.97) includes a plastic page marker that clips into the spiral binding, so it's easy to find the current week in the planner, a set of monthly tabs, and a really bright, sunny set of useful stickers.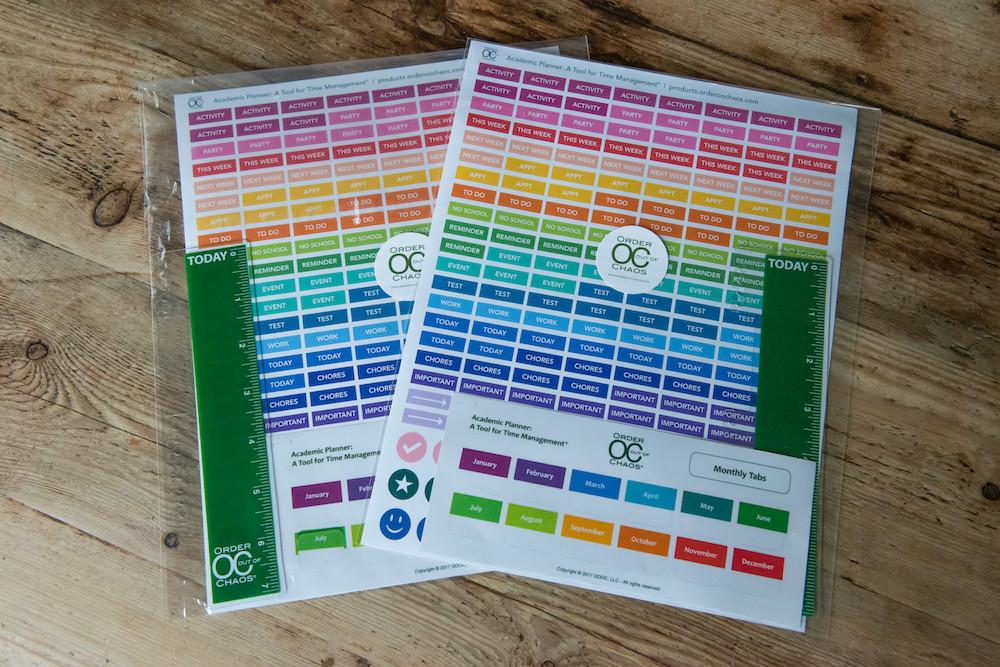 But of course, measurements, styles, and features don't give credit to what the 2017-2018 Academic Planner: A Tool for Time Management® can actually do to help students. For that, let's go to the video!
Enjoy your summer, but remember that a little organizing now can make back-to-school the most wonderful time of the year!
Disclosure: Some of the links above are affiliate links, and I may get a small remuneration (at no additional cost to you) if you make a purchase after clicking through to the resulting pages. The opinions, as always, are my own. (Seriously, who else would claim them?)
3 Responses