Paper Doll's NAPO 2017 Recap: A Sneak Peak at Smead's All-in-One® Organizer Kits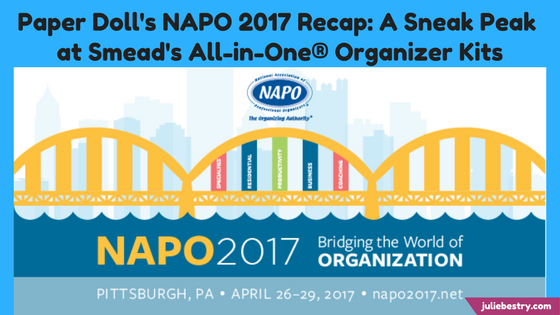 Paper Doll doesn't like to play favorites, but it's hard not to love a company whose heart and soul is helping you keep your paper organized, so we have more than a few post's worth of post-NAPO2017 news from our friends at Smead. Today, we're looking at their direct-to-consumer line, myOrganized.life, designed to help you keep your personal and family documents safe, secure, accessible, and organized. But Smead's NAPO Expo showing was bountiful, so watch upcoming posts for some nifty innovations.
###
In an emergency, could you find your will? Your Power of Attorney documents? Your life insurance policy? Approaches to general filing systems vary. Some people have very specific, well-labeled, color-coded filing systems that they maintain religiously. Others have one drawer for important documents and one hip-high "stack" earmarked for paid bills, and assuming no strong gust of wind (or a playful puppy or child) gets near, they're satisfied. Most people, and especially most of my clients, fall somewhere in the middle of the spectrum.
DIY vs. Made-For-You Filing Systems
Often, what holds people back from developing filing systems is perfectionist procrastination. Rather than creating a wrong system, they won't get started at all. Others, fearful that their system isn't good enough (measured against some arbitrary benchmark or guideposts), up-end their files and folders and binders, starting from scratch every few months or years, not because their system wasn't working, but because they'd never committed to it in the first place, and the appeal of a magical solution was more compelling than the reality of having to make decisions and apply rules.
It's not as though there aren't multiple ways to contain papers and documents — we have tabbed file folders, hanging folders, ringed binders, accordion-style folders — and they are all fine, depending on your resources, your space, and your willingness to maintain your system. By and large, there is no wrong system — as long as the system works for you!
Longtime readers of this blog know that Paper Doll isn't going to drink the Koolaid and tell you that you have to buy a pre-existing filing system with pre-made categories, like FreedomFiler. I have many colleagues who love, respect, and recommend that particular pre-made, "self-purging" filing system, with the categories all laid out, and even year/odd year purging and shredding schedules. I see the value, but unless one of my clients asks for something like that during our sessions, it's my professional experience that people with disorganized (or non-existent) filing systems learn more when, together, we create their entire filing system from scratch. This way, clients learn the why behind the what and the how. I think naming each file something that works for you (Vet: Fluffy vs. Medical: Cat, or Elantra vs. Auto vs. Car vs. Roxanne) helps inspire you to actually file your documents away.
That said, most people don't have the opportunity (or haven't taken the opportunity) to work with a professional organizer to get their papers in order, so if people are in a situation where "they don't know what they don't know" and don't have a sense of all the documents they should be creating, collecting, and organizing, a pre-ordained system template can eliminate confusion and stress. For my clients (and readers of this blog), my Family Files approach generally works well as a starting point for getting the whole kit and caboodle in order.
It's one thing to try to finesse an entire system to pay your bills, and track your daughter's orthodontia plan, and keep your life running, but sometimes, you want to make sure that your super-essential information is available in case of an emergency. Friend-of-the-blog John Hunt, Smead's Senior Manager of Digital Marketing and host of the Keeping You Organized video podcast, has written previously about the emotional and financial pitfalls of not having essential records available when necessary.
Life Documents Organizer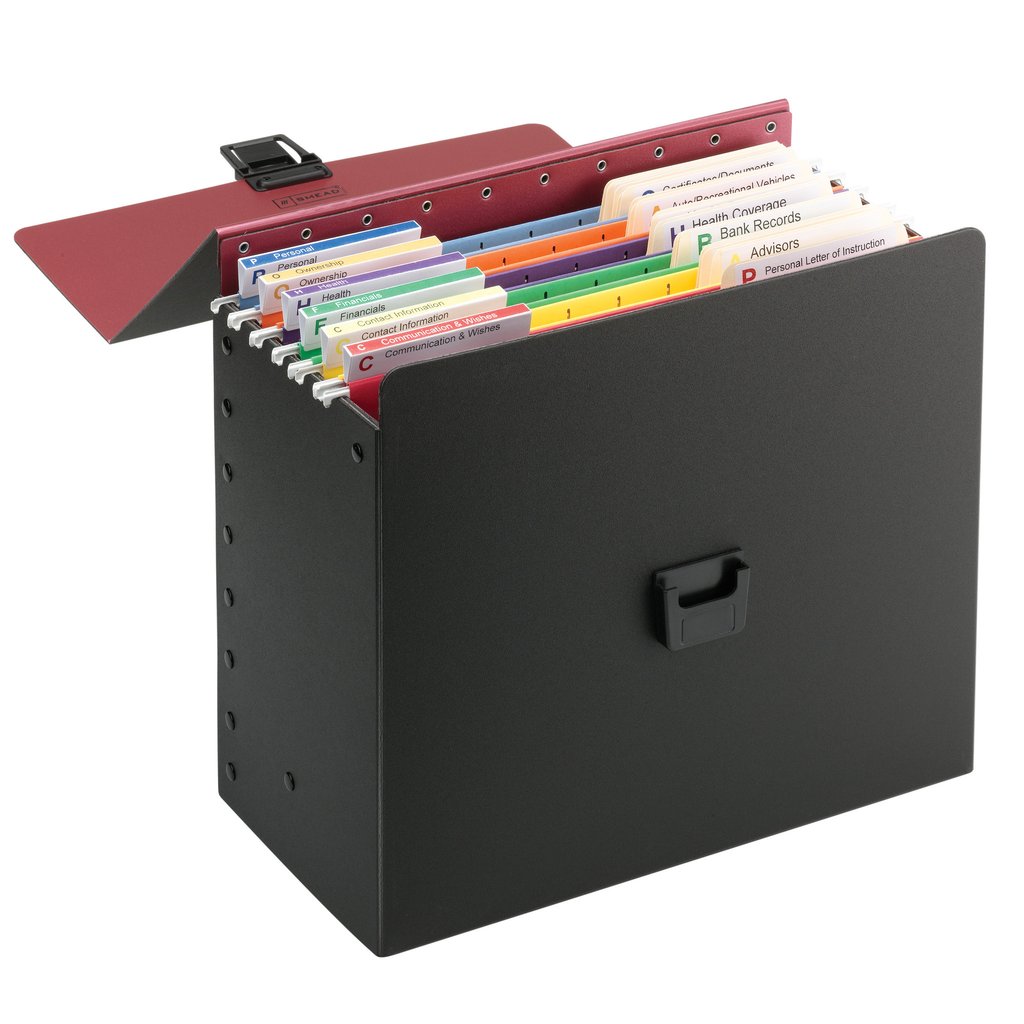 A few years ago, Smead launched its own self-contained filing system called the Life Documents Organizer to help consumers organize and store what they call "key life documents" — what Paper Doll refers to as VIPs (very important papers). These include wills, trusts, health care directives, investment documents, retirement plans, marital and adoption paperwork, and contact information.
Each Life Documents Organizer kit centers around three elements:
The container — one black polypropylene file box
The interior essentials — 6 colored hanging folders, 24 SuperTab® file folders, and 1 sheet of Viewables® Quick-Fold tabs, and 3 label sheets with pre-printed labels
The philosophy — a detailed instruction sheet, based on The Wheel of Organization
Smead's philosophy behind The Wheel of Organization, and how it's put into use, is that the hanging folders represent each of six major, overarching "life-essential" categories, and each tabbed folder is used for a document or types of documents in those categories. The kit spells out what those documents are that you should be seeking to plop in there.
The Wheel of Organization includes categories for:
Financial — essential account information
Health — medical records and contacts
Ownership — essentials documents regarding real estate holdings, valuables, insurance, etc.
Personal — key VIP documents like birth and marriage certificates
Communication and Wishes — key directive documents and end-of-life instructions
Contact Information — names and contact information for key advisors
While Paper Doll's own Family File categories (financial, legal, medical, household, and personal) are designed to figure in every personal/family document that might be necessary, the Life Documents Organizer kit focuses on just the key documents, the ones that are most likely to be needed in a particular situation, like a healthcare emergency, catastrophic event, or other life-changing circumstance. Smead notes, "Having your key life documents organized helps to ensure that your wishes and assets are managed, retained and distributed as needed while being less stressful for you and your loved ones."
The Life Documents Organizer Kit runs $39.95 on Amazon and in office supply stores. For more in-depth information, be sure to check out myOrganized.life's dedicated Life Documents Organizer page.
All-in-One™ Organizing Kits
Sometimes, you want or need your documents to be quickly accessible, portable, and/or self-contained, separate from your regular files. Certainly, you could use a traditional red rope accordion folder, the type attorneys have been using for generations. However, they're a bit drab and hard to tell one from the other without using a label maker to help identify the contents. This is where the new myOrganized.life line of kits comes in.

All-in-One™ Emergency Kit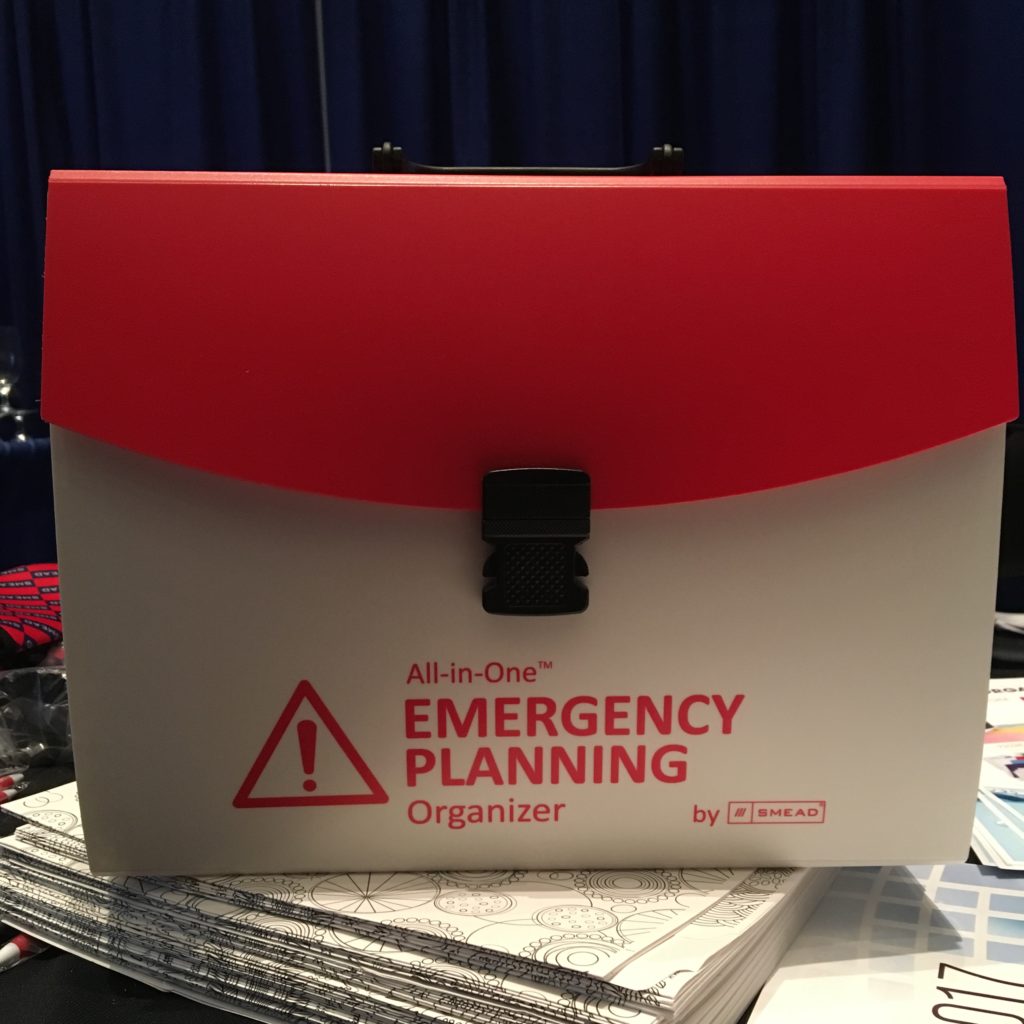 This snappy red-and-white (First Aid-themed) durable poly organizer has 12 interior pockets and includes Viewables® labels. The kit has a plastic handle for portability and a latch closure for security.
All-in-One™ Healthcare & Wellness Organizer
For healthcare, there are two versions of the kit: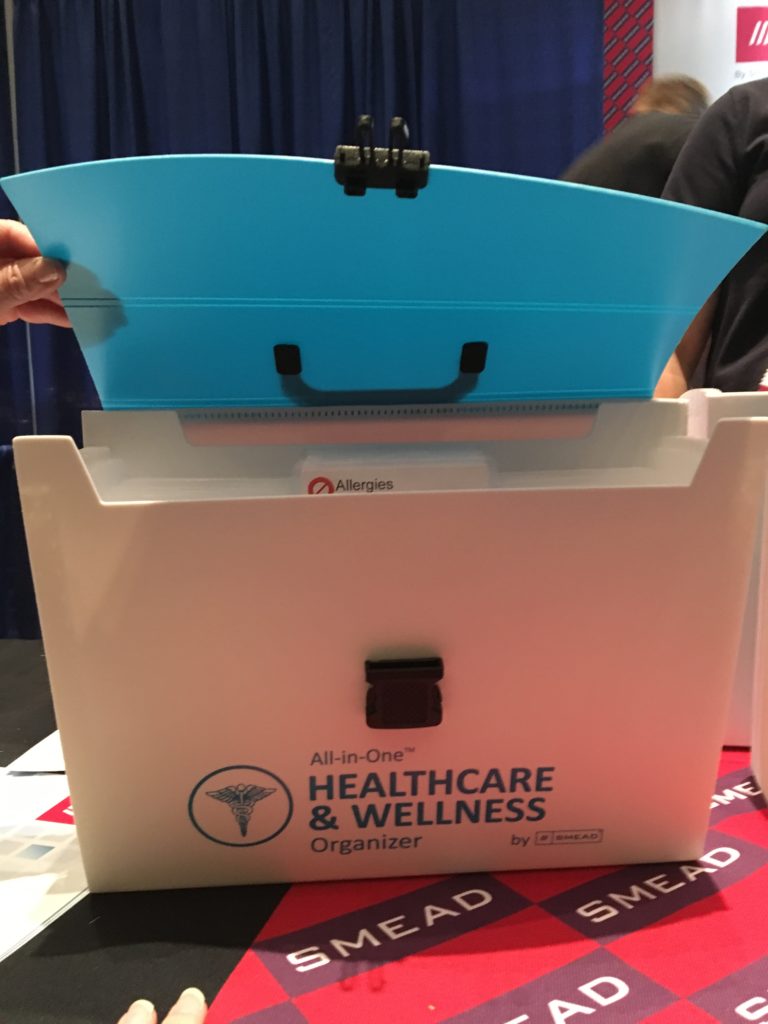 The boxier durable poly organizer is identical in design to the Emergency Organizer Kit, but with a soothing blue and white theme, and has a plastic handle and latch closure, 12 interior accordion-style pockets, and Viewables® labels.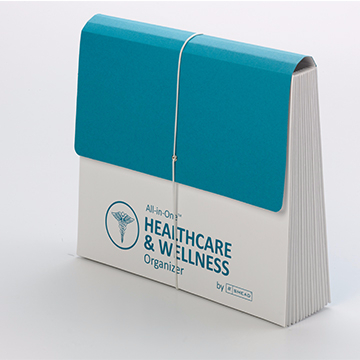 For those who prefer paper to poly, there's a durable paper Healthcare & Wellness accordion version, with an over-the-top paper flap and elastic band closure. There are 12 expandable pockets with one large pocket in back, and it also includes Viewables® labels.
All-in-One™ Financial Planning Organizer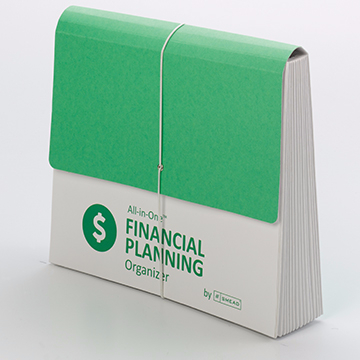 All-in-One™ Income Tax Organizer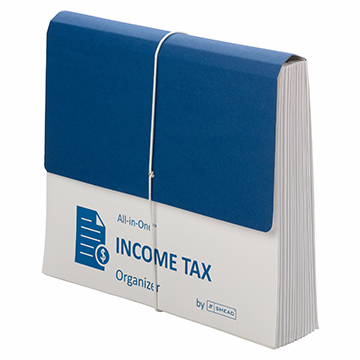 Both the green and white Financial Planning Organizer and the navy blue and white Income Tax Organizer come in the durable paper version, with an over-the-top flap and elastic band closure, 12 expandable pockets with one large pocket in back, and Viewables® labels.
The Financial and Income Tax organizers, as well as the paper Healthcare & Wellness Organizer, contain 10% recycled content and 10% post-consumer material.
The All-in-ONe™ Income Tax Organizer is currently available at Amazon and office supply stores, and runs about $18. The remainder of the All-in-One™ Organizer Kits are branded COMING SOON, so pricing information is not yet available.
Create a DIY Kit With the Smead Poly File Box
Sometimes, you have a clear idea of what you want to create, but you don't want to have to go in search of putting all the pieces together. I wasn't surprised to find that myOrganized.life has an option for that, too. You could start with the Smead Poly File Box (suitable for desktop or in-drawer use) and add your own hanging folders and tabbed interior folders, in whatever color schemes you prefer, using whatever labels fit your needs.
It's a sturdy poly file box and holds up to 3″ of files, directories, or similar materials, and can be used with hanging files and interior folders, or just folders, depending on your needs and preferences. The Smead Poly File Box is harder to find in brick-and-mortar stores than online, and runs from $8.95-$10.55.
Conversely, you could opt for the Poly File Box with SuperTab® Folder and Viewables® Labels Kit.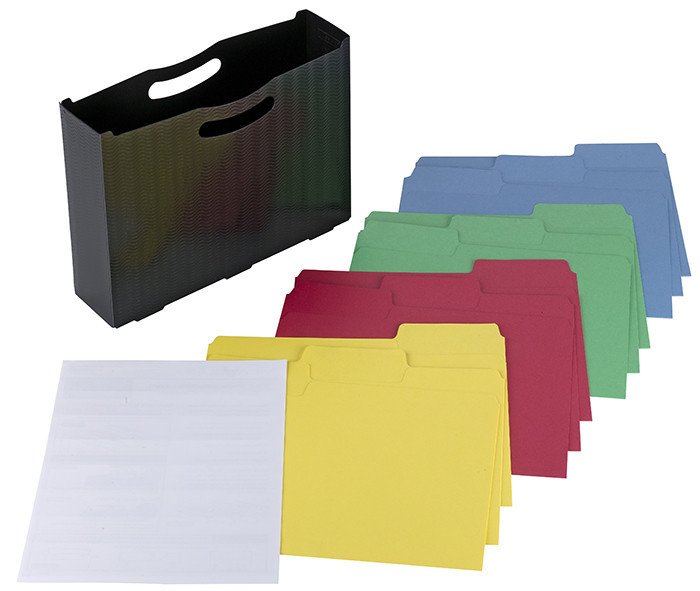 The kit comes with one black poly file box, 12 colored one-third cut SuperTab® file folders (three each of yellow, red, green, and blue) and 16 Viewables® labels. The SuperTab® folders have a 90% larger labeling area than standard folders, so you can use larger text or more lines of description. The file box is lidless, so you'll want to make sure that if you need it to be portable, you're holding it securely and upright. The Poly File Box with SuperTab® Folder kit runs upwards from $11.95.
And that's the straight talk on Smead's organizer kits. No caboodle!