Paper Doll and the Very Inspiring Blogger Award
Blogging can be exciting (when you see the "shared" count go up, up, up on a post over which you labored), as well as disheartening (when the comments are few and there's no hubbub, Bub). But blogging is also a passion. For me, as Paper Doll, I am so full of words — of advice about organizing, opinions about products and services, of remnants of songs and snippets of commercials and bits of popular culture — that I don't think I could refrain from blogging.
Because of this, I was delighted and humbled that friend-of-the-blog Janet Barclay of Your Organizing Business honored me with the Very Inspiring Blogger Award, which recognizes bloggers "who work hard to keep the blogosphere a beautiful place."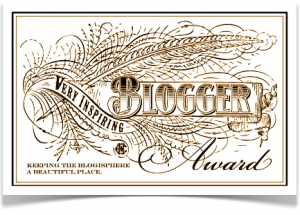 It was especially meaningful to me that it came from Janet, whom I've known for most of my organizing career. A former professional organizer who served on the National Board of Directors of Professional Organizers in Canada (POC), Janet moved on to become an international star as a virtual assistant specializing in professional organizers and their unique technology needs. Because Janet writes and speaks about blogging, and helps her clients turn their thoughts into sites and blogs, her words in honoring me were especially heartwarming…and funny:

That's literally the nicest way anyone has ever told me that I talk (and write) a lot, and truly an honor.
LESSER KNOWN THINGS ABOUT ME
It's suggested that VIB winners share up to seven things about ourselves that most people likely do not know. Given that I'm made of words, I'm dubious that there's much of importance that one couldn't garner from reading this blog. However, here's a taste of what Paper Mommy would want me to share:
Like Janet, I've now been self-employed longer than I've worked for anyone else. (Advice to college students: you never know where you'll end up. Take business classes!)
When I was three years old, I had an imaginary husband. (What can I say? I was advanced.) His name was Mr. Parker. One day, while my mother was unavailable, I answered the phone — imagine booming self-confidence from a Cindy Brady voice — and the client calling for my father identified himself as Mr. Parker. I told him, in all seriousness, "I have a husband by that name," and proceeded to take a take a message. Poor, confused man.
I'm originally from Buffalo, New York, but have lived exactly half my life in the north and half in the south. Do not ask me to debate the merits of bagels vs. grits. It won't be pretty.
When I was about five years old, I was waiting at the bus stop when a chow chow dog approached. I was terrified of animals, in general, but this dog bore a striking resemblance to a wild animal. I tried to run home, but the school bus was coming in one direction, and the dog in the other, both headed toward me, and I apparently went running a few steps in each direction, back and forth, screaming, "Help! Mommy! A lion!"Perhaps now, my colleagues who opine that they are "at one" with nature may understand why I say that I am "at two" with nature.
Prior to becoming a professional organizer in 2002, I worked as a television program director, which is much like being an organizer for a TV station. I met the casts of Seinfeld, Mad About You, Living Single, and The Garry Shandling Show (Jeffrey Tambor rocks!), as well as Dr. Ruth, William Shatner, Mark Wahlberg (the game show one, not the Marky Mark one), David Hyde Pierce and Henry Winkler.
Organizing is my passion, and I truly want my clients and readers to benefit from whatever I learn and can share. I invite you to read not only the Paper Doll blog, but also the variety of general organizing articles and be aware of my special reports and books. Speaking of which, if you've got paper clutter (and you probably do, if you're reading this blog), I think you'll get a lot out of 57 Secrets for Organizing Your Small Business.
I couldn't survive without Jane Austen, The West Wing, Gilmore Girls, old black-and-white movies, Billy Joel, Elvis Costello, and Coffee Crisp candy bars (which come, incidentally, from Canada, as does Janet Barclay).
PAYING IT FORWARD
I'm always proud to be considered an expert in organizing and productivity, particularly with relation to paper management. But nobody becomes an expert without learning from the brilliance of others, and I'm eager to pass along the Very Inspiring Blogger Award to the bloggers who inspire me to learn more every day.
Jeri is a triple-threat. First, she writes her own blog, the eponymous Jeri's Organizing & Decluttering News, where she mixes organizing wisdom with reviews of resources that are functional, aesthetically pleasing and downright nifty. From surfboard storage to kitchen organizing, from clutter avoidance to superior staplers, there is simply nobody with better search skills than Jeri, and she turns that research into clean, clear, useful writing.
But Jeri doesn't limit her genius to her own pages. Jeri also blogs weekly for the design web site Core 77, where she finds and shares the most gorgeous and well-designed organizing products and lends her insight to how, when, where, and by whom these products are best used. And Jeri's also a weekly blogger from the hub of the organizing blogosphere, Unclutterer*, where she dispenses advice on topics as wide-ranging as recycling, photo scanning, aging in place, and coping with inherited possessions.
If there's something to be known in the organizing world, Jeri will find it and share it in a comprehensive and comprehensible way.
*I could write a whole other post about Unclutterer and its Editor-in-Chief, Erin Doland, who is, to my mind, the funniest person on Twitter.
Janine's Peace of Mind Organizing Blog is a gem! Janine, a Certified Professional Organizer, may not be quite as prolific as Jeri, but I find myself returning to Janine's blog over and over for inspiration here at Paper Doll HQ. When I didn't quite understand Mark Forster's innovative series of task management systems (Autofocus and Superfocus), Janine had me covered. When clients have questions about organizing their genealogy research, Peace of Mind and Janine's other blog, Organize Your Family History, are my go-to resources. My favorite of Janine's posts will always be her gorgeous take on task management BINGO.
What I love most about Janine's posts is that they are smart, funny and straight to the point. She injects herself and her spirit into every post, so it's like getting a letter from a savvy, enthusiastic friend.
When I wrote a testimonial for her book, The Professional Organizer's Bible, I called her an iconoclast. But she's also the icon who created the original OnlineOrganizing.com web site that gave a start to so many of the current slate of professional organizing bloggers, myself included.
I like to think of Ramona as our fairy godmother in biker boots, and her blogs, Beyond Organized, Who Wants to Get Organized? and Living In a Tin Can (about her organized life in an RV), cycle through almost two decades of Ramona's experience in the organizing and productivity field, so you never know what's going to pop up.
Lest you think I'm only inspired by the ladies of organizing, be assured, I'm a regular reader of some fabulous fellas, as well.
Deron is an organizing expert who loves technology, and like Paper Doll, is a Mac user. If that weren't enough to make us fast friends, Deron writes LONG posts for his Bos Organization Blog. Really long. Like, longer than mine! Some are philosophical, like his How Organizing Can Help a Worried Mind. Others combine digital wisdom with organizing advice, like his No More Shoeboxes: Steal My Expense Tracking Workflow. Deron has even taken it upon himself to share his insights on the work of other bloggers and writers, such as in his PhD-level thesis treatment of another VIB winner (see below) in his A Detailed Summary of Brooks Duncan's Paperless Document Organization Guide.
But for inspiration, no productivity post has captivated me like Deron's 21 Quick Actions You Can Do Today To Change Your Digital Life Forever. I'm working my way through, and you should, too!
Can technology be inspiring? Can talking about going paperless be motivational? If Brooks, the man behind DocumentSnap is doing the talking, it sure can.
Technology moves quickly. There are either 73 different ways to achieve something you want to do, or no apparent way to do it at all. Brooks brings clarity to issues related to scanning, Dropbox, Evernote, Hazel, and all the other technology that helps you be more productive and less paper-cluttered.
What really delights me about Brooks' blog is that not only does he explain things I wish I knew more about, sometimes he answers questions I didn't even know I had, as Change Mac Default To Search The Current Folder did two weeks ago. It's already saved me from yelling at my computer countless times!
All of the above bloggers inspire me — to learn more about organizing, productivity and technology, to share knowledge with readers, and to keep growing as a professional organizer and as a blogger. I appreciate Janet giving me this award, but just as much, I'm grateful for the chance to share these special bloggers with you.
4 Responses