NAPO 2015 Expo: Magically Organize Your Writing with the Equil® Smartpen 2
We professional organizers are pretty easy to intrigue, but hard to impress. We like novelty, and you can hear our oooohs and aahhhs across the ballroom floor at the NAPO Organizing Conference and Expo when a vendor lengthens a folder tab, come out with a poly version of a product formerly only available in paper, or builds a better hanging folder.
But as much as we appreciate novelty, we're quick to note shortcomings as well. We're dismissive of features we can't see our clients actually needing, and we're dubious of also-rans — the third or fourth or fifth practically identical copy of a product or app that doesn't improve upon the original.
One of the products that caught Paper Doll's eye, and kept it focused, at this year's Expo is a hybrid, bringing two separate but related processes together. In the past, we've focused on paper hybrid office products:
In the above cases, we've looked at notebooks and notepads that work two ways. But what about a writing implement that can do double-duty?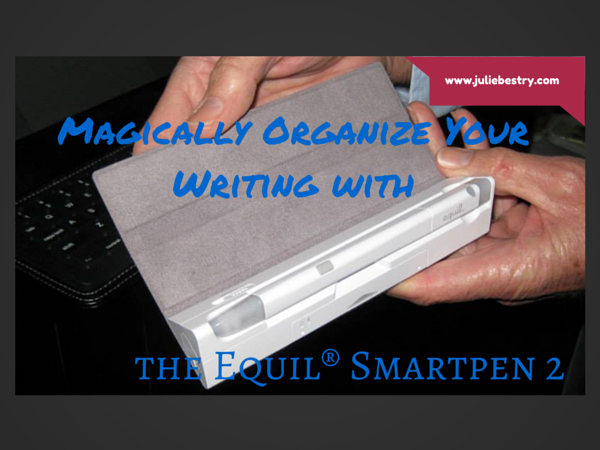 Equil® SMARTPEN 2
Friend of the blog, Smead, is known primarily for paper-related office products (e.g., folders, organizers, dividers, folios, etc.), and we'll get to the newest of them in an upcoming post. But recently, Smead has been acquiring interesting and useful tech and tech-ish products, like the MOS: Magnetic Organization System for cable and cord organizing, Stick N Find bluetooth trackers, and MOS Spring Cables for strong, tangle-free syncing, charging and playing audio.
The Equil® SMARTPEN 2 is the latest innovative acquisition, and it's a doozy. What does it do? The SMARTPEN 2 lets you:
Create handwritten notes, sketches and diagrams on real paper (whether that's a fancy Moleskine or a cocktail napkin). But it can also be used as a stylus to write and draw on your iPad, which the company claims it does with superior accuracy. (Paper Doll's drawing skills would be a poor test of this acuity, I assure you.)
Capture writing and doodlings and digitally transfer them to Windows, Mac, iOS and Android devices without scanning or snapping photos.
Save, modify and share the digital version of your notes (so you've got the original paper version, suitable for framing on your wall or locking in your safe deposit box, and the digital — even modified — version in the cloud or on your devices.
Oh, and that modification? It includes the ability to convert your handwriting into readable, searchable, editable printed text.
Share via email, Facebook, Twitter, and other social media, or upload to the cloud for saving and sharing to Evernote, Dropbox and iCloud.
Whatever you create with the Equil® SMARTPEN 2 syncs across all of your devices, so wherever you are, you'll be able to create anew or access what you've already written.
THE BASIC ELEMENTS
The Equil® SMARTPEN 2 looks like an Apple product. It's all white-on-white, and comes packaged in a streamlined charging cradle, a triangular base into which the two operational parts snap, and the case comes with a grey "wrap" (called a convenience case) similar to the iPad Smart Cover.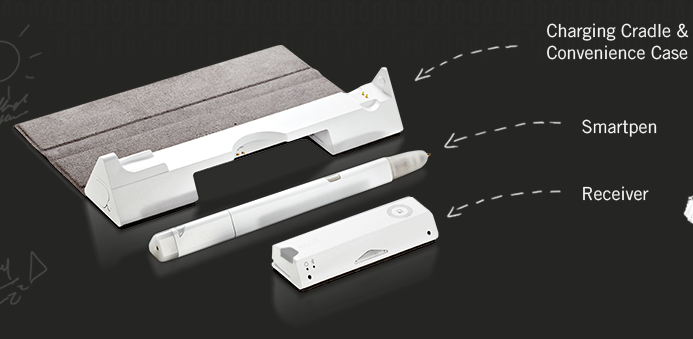 The Pen — This is a technology-"enabled" pen. That means it's a real pen, on its own, and uses regular ballpoint ink cartridges. It's pressure-sensitive, so it can capture every nuance of what you draw, and if you press heavily (and perhaps repeatedly), with insistence, the pen knows you're doing the equivalent of bolding your text and SHOUTING with intensity.

In order to save the battery life, the pen goes to sleep if you don't write for a while. One press of the small button atop the pen wakes it up, and that same button functions to alert the receiver to a "new page" (creating page breaks) and to let you go back and forth between saved pages of notes.
The charging cable includes one replacement ink cartridge.
The Receiver — At first glance, the 3″ W x 1/2″ H receiver device looks like a clip for a clipboard, and it fastens to the top of your notepad or paper in a similar manner. The pen and the receiver connect via magic (OK, infrared and radio frequency communication). The receiver determines the boundaries of the page and flashes a small red light to alert you when you're getting too close to the top or the bottom edge of what it can detect.
As you write with the pen, the receiver device saves your notes in the built-in memory.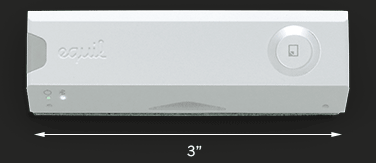 The receiver holds 10,000 pages of notes. When you reconnect your pen to your digital device, you automatically receive an alert about any new notes, which are ready to be imported.
You can digitize your notes in real time, but it doesn't matter if you're not connected to your phone or other device when you're in creation mode. When you are ready, at the touch of the button on the top of the receiver, whatever you've created can be uploaded from the device and imported to your computer, phone, or tablet. (Not your fancy watch, though. At least, not yet.)
The pen and receiver are rechargeable, and the specs claim you can write or draw for eight hours between charges. Just pop both the pen and receiver into the USB-compatible charging cradle. (The receiver has a battery life indicator and a charging indicator, so you shouldn't have any surprises.)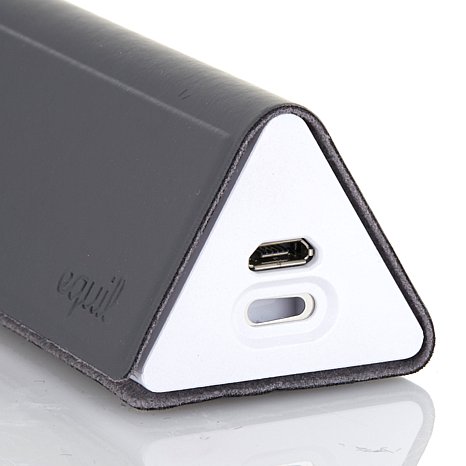 The SMARTPEN works with two free apps:
Equil Note — This app lets you save and organize any of the written notes you take with the SMARTPEN 2. Edit, enhance, and share them with friends and colleagues. Convert your handwriting to text for easy editing and sharing.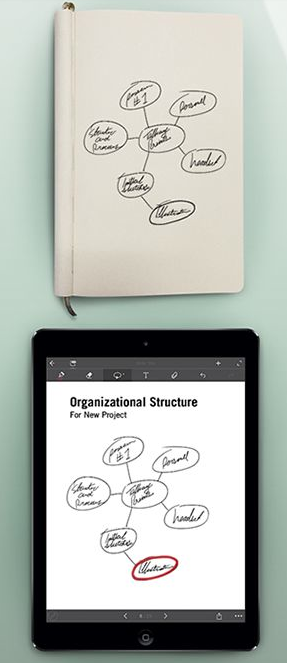 Equil Note has apps for iPhone, iPad, and Android mobile devices, as well as Mac and Windows for desktop use. It's available in English, French, Spanish, German, Italian, Portuguese, Russian, Chinese (Simplified and Traditional), Japanese, and Korean.
Equil Sketch — The sketch app lets you draw with a finer degree of control, and includes digital options like multiple brush styles and layering. You can start a picture on paper, and finesse it on the screen.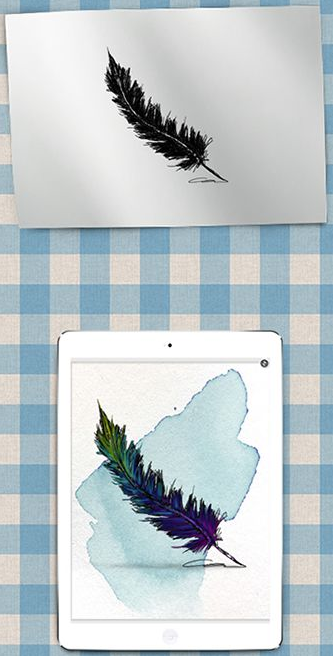 Through the apps, you can digitally choose from a variety of colors and pen tips, and up to 600 levels of pressure sensitivity, and then add more text and/or photos, digitally. You can also tag your notes so you can search and locate your content quickly.
The Equil Sketch app is only available for iPhone, iPad and Android digital devices (not desktop), and is compatible with all of the same languages as Equil Note, except for Korean, Portuguese, and Russian.
PRICE
The Equil® SMARTPEN 2 retails for $169.95 from the Equil shop, or for about $149 from Amazon, Apple and Best Buy. Access to the apps is free with a purchase of the pen.
THE FINE PRINT
There's glossy marketing, and then there's the occasional factual balloon pop.
Although the press materials reference doodling on a napkin, and the pen can capture notes on paper as small as a sticky note, the official specs say that the recommended paper size is 250mm x 330mm (9.85″ x 13″) or smaller — that's anything below Letter size (US standard) or A4 (UK standard) — and notes that things "may not work properly if the paper is too small for the receiver to clip on and may have writing recognition issues if the paper surface is rough. (i.e., cardboard)." So, don't plan to write on something the size of a postage stamp or your next summer camp care package.
Next, the Equil® SMARTPEN 2 communicates to your digital devices through bluetooth pairing — if you've ever used a bluetooth headset for your phone or a keyboard for your iPad, you know to prepare for some set-up time before you can get started. One note I found in the FAQ caused a slight pause: "Make sure to go through bluetooth pairing process each time you switch the devices you are using with Equil JOT." It's not entirely clear whether this means you have to pair the pen each time you switch from your tablet to your phone, or just the first time for each. FYI.
Finally, the SMARTPEN 2 measures 1/2″ around the thickest part of its triangular shape, slightly thicker than a traditional Sharpie. It tapers down as you get closer to the pressure-sensitive pen-tip. Still, if you're used to a slender, rounded pen, the grip of this might take some practice for creating fine detail.
Take a look at the Equil® SMARTPEN 2 in action.
THE COMPETITION
The Equil® SMARTPEN 2 isn't the first to combine writing on paper with writing on a digital device and making it all interactive. (Even the SMARTPEN 1, the first iteration, wasn't exactly first.) The Livescribe Smart Pen series (including the newest Livescribe 3, the Sky WiFi, and Echo, and older iterations) was the first to break out in this area, and for many years, I would gush when techie colleagues would show off their Livescribes. The Livescribe pens also had an embedded audio recorder, so you could tap a portion of your notes to hear what was being said contemporaneously with whatever you wrote. Pretty grand!
But the SMARTPEN 2 continues to have one advantage over the various Livescribe versions that can't be overlooked. You can use the Equil® SMARTPEN 2 with pretty much any type of paper or notebook, so you can stick to your preferred notebook style, but after all these years, the Livescribe options still require that you buy special digital paper notepads to work. Paper Doll doesn't know about you, but while I'm occasionally willing to shell out for a truly exceptional gadget, having to buy pricey notepads just so the pen can work is a deal-breaker for me.
WHO IS IT FOR?
Obviously, not everyone needs a smart pen. If you're fine with keeping handwritten notes and rarely need information in digital form, you can pass. If you spend your time sitting at a desk, fully Wi-Fi-enabled, or are good with the "thumby" thing, typing without a real keyboard, even when standing or walking, it may not be for you. The SMARTPEN 2 is ideal, however, for those who are on-the-go, often standing, or in rough-and-tumble surroundings. I'm thinking of my client who is usually up in a bucket truck, using his iPad to take notes but risking damage to his expensive gadget. Or camp counselors checking kids in for the summer and taking notes of parents' special requests. Engineers and architects, working on-site. Community physicians and nurses who don't have immediate access to electronic medical records and are taking notes on-the-fly.
With the handwriting recognition feature, particularly the ability to turn handwriting into text, and the ability to use regular paper, the Equil® SMARTPEN 2 is worth some attention.
I'd love to hear your thoughts.
One Response