Companies
Household
The Couponizer gives you the perfect materials and a great method for keeping track of all those coupons you wish you'd remember to use. Save money on purchases, save time searching for the right coupon, save yourself the headache of dealing with expired or mismatched coupons, and check out The Couponizer.
The Tote Buddy offers a creative, stylish way to organize all those drab canvas shopping bags that protect the environment but do nothing for your reputation as a chic, savvy shopper. Corral all of the canvas shopping bag clutter into a neat, systematic Tote Buddy.
Kids
If you've got kids, it's likely that you've got Lego's. And if you've got bare feet, you know what a pain those creative little Legoland toys can be. But fear not: help is on the way. Box-4-Blox is not merely a storage box, but a tiny miracle of sorting. Your child can just dump all the Legos into the top yellow section, attach the lid, and shake! The toys are magically sorted by size, keeping them neatly sorted and ready for play. If only we could do our taxes this easily!
Perhaps your family has had the same Scrabble® or Monopoly® board since the Eisenhower administration. The flimsy cardboard box has torn apart from years of coffee spills and tug-of-war games over who gets to read the rules. Word tiles or small hotels fall everywhere, and the bank gets filled with IOUs to make up for lost game money. GameSaver can come to the rescue with sturdy plastic containers specifically designed to organize and store board games. Each box comes with divided sections just the right size for common game boards, pieces, cards, and even play money. The lids snap tight so everything stays inside, and the divided sections keep your pieces in place. Not only do these ingenious containers make game set up fast and easy, but they also help to make game storage and clean-up time fun!
Papers/Office
Throughout my blog and various articles, you'll often see me refer to a Tickler File for gaining mastery over your action items and paperwork.
Staples® "Letter Size/Indexed EveryDay® File and Fast Sorter (1-31 & Jan-Dec)"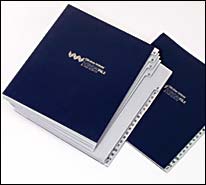 Not counting the stuff on your desk that doesn't belong there, the stuff that needs to be filed away, tossed or referred out to someone else, every loose paper on your desk tends to reflect a category that may as well appear as a blinking neon sign above your head: STUFF YOU HAVE TO DO!!!. There are presentations to plan, gifts to buy, orders to renew, clippings to read, letters to write, bills to pay, permission slips to sign, and so on.
The tickler is the ultimate reminder system – it keeps the ugly pileup of papers out of sight, while tickling your brain to keep things in the forefront of your mind, giving you confidence that you won't forget about worrisome or important issues.
Tickle Yourself Organized By Julie Bestry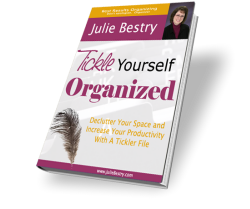 This special report, Tickle Yourself Organized, teaches all the tips and tricks you need to know to organize your papers, tasks and thoughts.
Learn five essential principles of getting organized, gain insight into the ways you may be sabotaging your efforts, and try out the practical, step-by-step guidelines for turning piles of clutter into neatly prioritized tasks that will become much easier to complete.
Gain control over all of the information and reminders in your life without letting anything fall through the cracks. Let this special report help you master your space and schedule.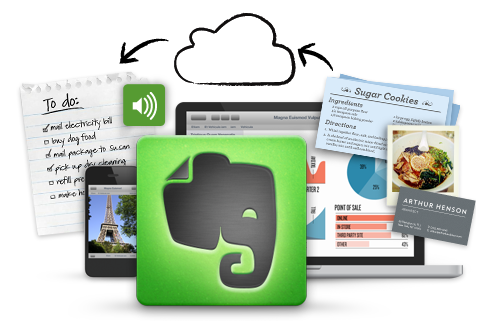 Evernote Basic
Evernote Plus
Evernote Premium
Evernote Business
Evernote is simply a superior service for organizing the thoughts, documents, photos, notes, and elements of your life and work. Start with my post, Understanding Evernote: What, Why, and How to get a sense of all ways in which you can streamline your digital life, eliminate your fluttering sticky notes, and spend your time doing your work and living your life instead of looking for lost information.
Save time and money, improve productivity and eliminate all of your clutter-related stress.
For other resources, please check out my Pinterest organizing pages and click on the links below: