Paper Doll's How To Organize Yourself to Write for NaNoWriMo 2017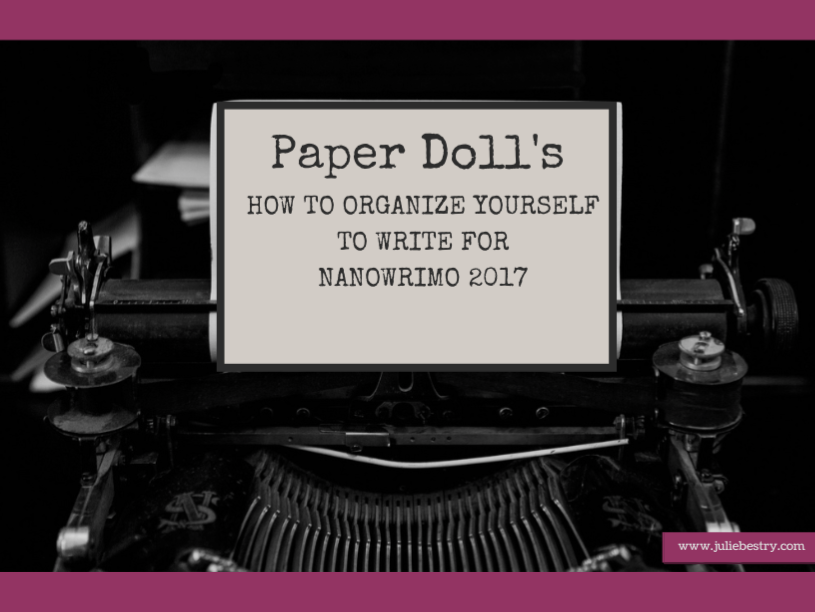 November is National Novel Writing Month, and for people in the know, that's NaNoWriMo. Starting November 1, 2017, the 19th annual celebration of the creative power of words begins. Participants will work toward the goal of writing a 50,000-word novel by 11:59 PM on November 30. As the website puts it, "Valuing enthusiasm, determination, and a deadline, NaNoWriMo is for anyone who has ever thought about writing a novel."
If you've ever wanted to write something big, but you've been challenged by time management or productivity issues, NaNoWriMo is your chance to commit to something big(ger than yourself) and get started. Yes, 50,000 words won't yield a complete novel, but the point is to get started creating. Write, don't edit. Write, don't format. Just write.
If you're like Paper Doll and prefer Shonda Rhimes to create your fictional world, there's no reason you non-fiction writers can't play along. There's Nina Amir's National Non-Fiction Writing Month 2017 (NaNonFiWriMo? Seriously?), which lacks NaNoWriMo's infrastructure, but gives you permission to get your non-fiction freak flag flying. More officially, NaNoWriMo rebels exist, participants who are writing something other than novels, from non-fiction to scripts to comic books.
Based on prior years, NaNoWriMo anticipates that 400,000 people will participate this year. What more could you need to feel like you're part of a movement? Oh, OK, here's a cool badge!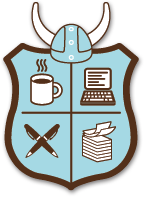 Getting started is simple:
Fill out your profile, "create" your novel (just name it) in the system, and select your region of the world so you can be notified of events in your area. (It's a worldwide extravaganza!) Starting November 1st, begin writing, and log your word count. As you go along, award yourself participation, writing, and achievement badges. (If you promise not to acquire too much clutter – I am a professional organizer, after all –  shop for some NaNoWriMo inspirational clothing and tchotchkes.)
Anytime from November 20th through the end of the month, paste your completed work in NaNoWriMo's word count validator and you "win!" What do you win? The right to say you completed NaNoWriMo 2017!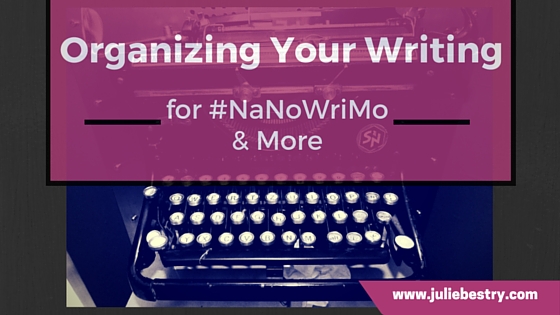 It's only been a few years since I wrote Organizing Your Writing for NaNoWriMo and More, where I provided the low-down on the program and offered advice for organizing yourself and your work. Start there to get caught up, but there's plenty more to come!
IDENTIFY YOUR GOAL
When I work with my organizing and productivity clients, I always start with the end in mind. Why do you want to be organized? For most people, organizing is a means to an end. People want to feel at ease when friends pop by unannounced. They want to feel confident when clients or managers visit their workspaces. They want to stop wasting time and money so they can spend their days doing things they value and spend their money on experiences that reflect their priorities.
So, take a moment to think about it. Why do you want to write?
For meaning – In Man's Search for Meaning, Viktor Frankl wrote, "Life is never made unbearable by circumstances, but only by lack of meaning and purpose." Sometimes the only way to make sense of the world is to create a world out of words. Find your meaning in writing.
For the joy of language – If you spend your days with toddlers, or grumbly, jargon-spewing, cubicle-dwelling grownups who act like toddlers, you may not get to use your SAT vocabulary or create "palaces of paragraphs" (to borrow a phrase from Lin-Manuel Miranda). Write for the joy of the words.
For fame and fortune – The writing life rarely brings financial fortune, but that doesn't mean it is without rewards. If being a big fish writer in a small pond of readers is enough for you, that may be reason enough.
For the opportunity to create a legacy – We get about 100 years, give or take. Outside of the legacy of our DNA in future generations, it can be difficult to find a way to make our mark on this big, blue marble. Whether it's one sentence or a whole book series, your words can only be eternal if they make it out of your head.

ORGANIZE YOUR INSPIRATION
So, you're generally inspired to write, but not necessarily to write for NaNoWriMo?
If you write in November, you'll have something exciting to talk about at Thanksgiving and over the holidays when people ask you what you've been up to this year.
When you're thinking about what you want to accomplish in 2018, you'll have your NaNoWriMo writing as the raw materials for your year. You can edit it and learn the steps for self-publishing or try for the path of traditional publishing. If you choose to write non-fiction, in addition to publishing, consider turning your book into a profitable video course or workshop series to support your own business or even a "side hustle."
Having a thirty-day challenge is a superior way to strengthen not only your writing muscles, but your discipline muscles. I participated in a fun thirty-day planking challenge with friends and fellow professional organizers this summer. Colleague Janine Adams wrote Recap of My 30-Day Challenges and talked a bit about mutual accountability and setting realistic goals. While I didn't get six-pack abs from planking, I felt stronger and healthier, and have recognized that I was much more disciplined and rigorous in other areas of my life as a result.
Kickstart those half-attempted writing projects that haunt you. You know the ones.
NaNoWriMo offers stellar writing resources to help you grow as a writer, including pep talks from popular writers like John Green, Roxane Gay, Dean Koontz, and Neil Gaiman.
Participants get discounts for all sorts of sponsor products and services. (Saving money organizes your finances!) Prepare to be impressed with the author-oriented discounts (and some prizes), including:
ORGANIZE YOUR WRITING TIME
Chances are, you have to work. You have to eat. You probably should sleep and exercise. It will be hard to make it to the end of November, healthy and solvent, otherwise. So when will you write?
Someday is not a day on the calendar. Later is not a spot on the clock. If you're going to write, write right now. Write tomorrow. And the next day. But you need to find some sacrosanct portion of your day when your work or your other responsibilities won't seep in and take "just one minute" of your time. How can you carve time in your day? Brainstorm a list of options:
Get up an hour earlier. (This wouldn't write for Paper Doll. I don't do mornings.)
Stay up an hour later.
Shorten your workout (but don't give it up altogether) or trade going to the gym for an at-home workout to reduce your commute time. (Seriously, don't stop working out. Your brain will percolate with story ideas while you're running, riding, kickboxing, and yes, even when you're doing downward-facing dog.)
Skip some TV time. Not prime-time – that's just crazy talk, and we're in November Sweeps! But DVR those shows that you only watch because you're waiting for the show you really like.
Trade child-watching time this month for hours next month. There are parents who will really need free time before the holidays; let them have your kids for an hour a day in November!
Write at your desk for an hour after work, once everyone else leaves. If you have trouble getting yourself to sit down to write, why not write while you're already sitting? You'll avoid rush-hour traffic and can enjoy the evening knowing you've already written.
Once you know when you're going to write, you need to know what you're going to write about when you put your tush in the chair (assuming you won't be using a standing desk). Start the month with an outline of your book using these tips from K.M Weiland. Remember, you don't have to write the story in order – you can even write the end before the beginning. Just have a written roadmap so you know which route you're going to take or which landmarks you're going to hit on any given day. (For more on creating a roadmap, once again, I direct you to my 2015 post on NaNoWriMo.)
ELIMINATE THE DISTRACTIONS
What #NaNoWriMo prep looks like: Uninstalling all the dumb games and distractions from your phone and deep-cleaning your apartment.

— Stephanie Gildart (@seliza_gildart) October 29, 2017
Don't turn eliminating distractions into a distraction. Too many clear-the-decks tasks turn into busy work that allows you to procrastinate on your actual writing. It's fine if you want to sharpen your pencils, clean and organize your desk, or install all of your software upgrades, but the key is to separate your preparation time (whether that's pre-November, or just pre-"The Time I Said I'd Sit Down To Write" Time) from your writing time.
CHART YOUR PROGRESS
It helps to have the "Big Picture" literally within view so you can see your progress. The brilliant Dave Seah has been creating a NaNoWriMo Word-Counting Calendar since 2012. In Seah's words:
The theory is pretty simple: To maintain a good pace, you need to write 1667 words a day to meet your 50,000-word count. Every day, write-in the number of words you wrote in the word count box for each day, and then fill-in the pyramid of 10 boxes, each corresponding to 250 words.
As the days go by, the amount of filled-in boxes will show you at-a-glance where your GREAT days were, and also the less-great days where you had to do something important like cook Thanksgiving dinner. Annotate the calendar as necessary! It's designed to help you feel good about the progress you do make.
Seah's calendar includes periodic reminders to back up your work, and a progress column for totaling your weekly words and comparing them against the benchmarks for that 50,000-word goal.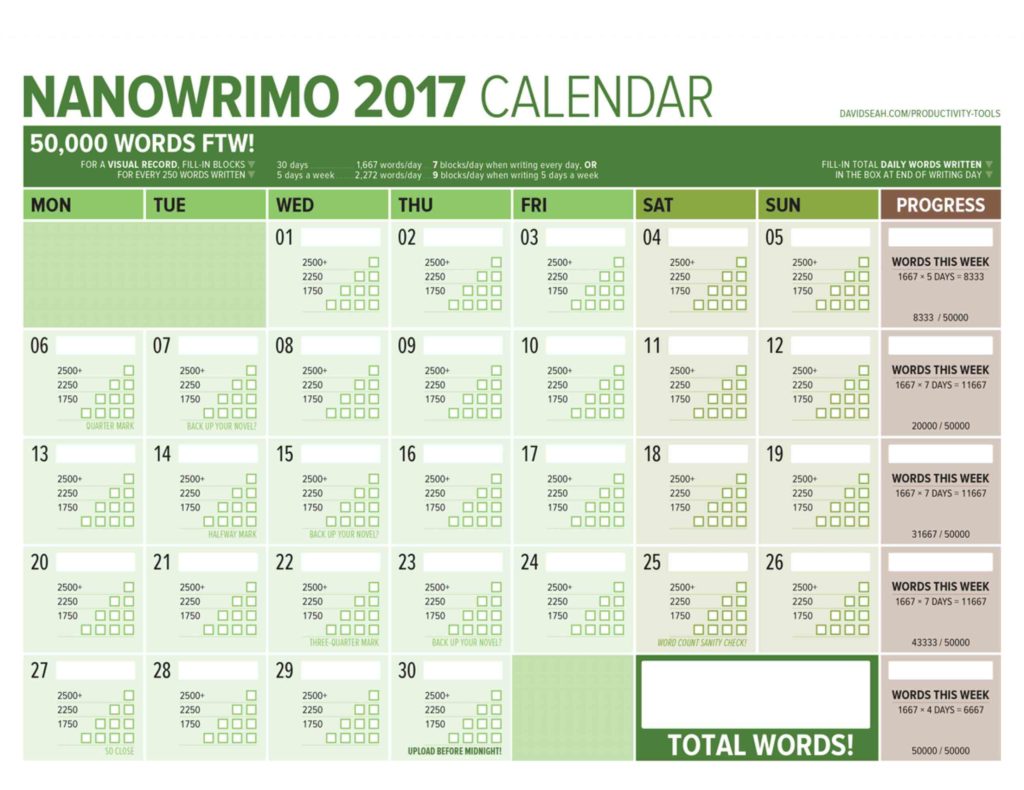 ©2017 Dave Seah, Investigative Designer
Read more about his 2017 calendar, download and print the standard version, or if you want something truly glorious, head to Seah's Patreon page for options to purchase a variety of colorful versions (now including purple). For a small monthly patronage of even $1, you get access to the word counting calendar in all of the colors, a 5,000-word version for anyone taking part in NaNoWriMo's Young Writer's Program, and Seah's other great digital creations, like the 365-day version of his deservedly-beloved Emergent Task Planner.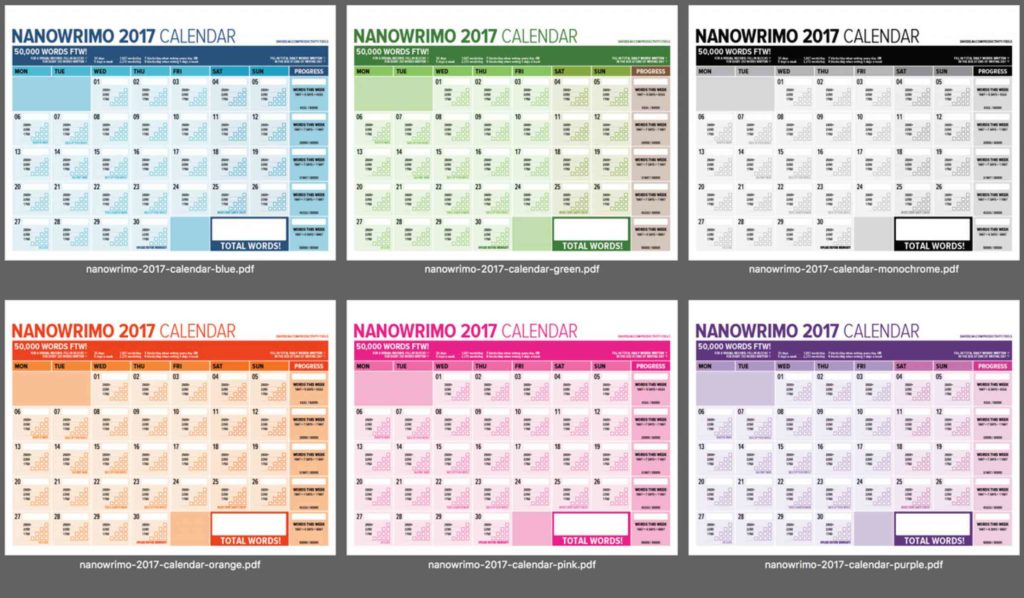 ©2017 Dave Seah, Investigative Designer
SEEK HELP WHEN YOU FEEL OVERWHELMED
It's practically impossible to stay organized when you're overwhelmed, and overwhelm usually comes from too many sensory inputs at once. In professional organizing, we have a saying, "When everything's important, then nothing is." You have to prioritize.
In November, your priority is writing. NaNoWriMo's participant forums offer assistance on everything from naming your characters to spelling and grammar to doctoring plots. There are "genre lounges" for whatever you write about, whether it's adventure or literary fiction or young adult. And NaNoWriMo has dozens of other forums for finding your tribe.
During writing time, focus on your writing. But in those quiet moments when you begin to doubt your creativity, find a cheerleader. Todd Brison, author of the forthcoming The Unstoppable Creative, has a YouTube broadcast called Friday Finish. Here's one of his recent episodes, where he talked about one of my favorite topics, how to beat procrastination.
If your dreams are bigger than writing just one month a year, perhaps the whole writing/publishing/ marketing process overwhelms you. That's where a really good coach comes in – to help you organize all of the facts, prioritize the tasks, and guide you through the process. I'd recommend Alexa Bigwarfe, an expert in print layout and e-book conversion, author coaching, and book launch marketing. I originally "met" Alexa when I watched her presentation for the stellar Indie Author Fringe Conference, where she was talking about accountability coaching for authors:
Next, I took Alexa's Just Write It! 30 Day Challenge, an email course for writing accountability. (You might want to try it concurrently with NaNoWriMo, for an extra boost!)
I'm just finishing Alexa's three-month coaching and accountability program for writers. What I really appreciated was that Alexa skipped the fluff and focused on practical advice (about writing, marketing, and publishing), and provided a bounty of resources. Alexa is launching Write.Publish.Sell Academy, a membership program with monthly training, education, encouragement, and accountability for authors. (Frugal gal that I am, I'm impressed with the low cost and no-contract approach). Check it out.
NANOWRIMOMO
I'm an organizer and a writer, but I'm not a writing coach. I'm planning on using November to work on my own writing, and I know my accountability gets strengthened when I want to be there for others. So, for the next month, in addition to the regular Paper Doll posts, I'll be publishing NaNoWriMo Monday posts, or NaNoWriMoMo for short. OK, it's not that short. But the posts will be shorter than usual, with just a few motivational links, technological tools for keeping writers organized, and articles and advice I'll be curating just for you. Happy November!