Justick by Smead: Vertical Organizing Powered By Balloon Magic
Remember the first time you ever saw someone rub a balloon on his head and then stick the balloon to the wall? You were perhaps four or five years old, and it probably seemed like magic. At some point you learned it was static electricity, but if you're being honest, doesn't it still seem like magic?
Well, Smead's newest answer to solving paper clutter with vertical storage pretty much runs on balloon magic.
JUSTICK BY SMEAD ELECTRO BULLETIN BOARDS
Last year, at the NAPO2016 conference in Atlanta, we got a sneak preview of the Justick by Smead collection, but this year in Pittsburgh, we got our official introduction to their new display boards. We viewed a desktop copyholder, the kind of item you'd usually use for displaying documents to give you easy access while typing at your computer. But look more closely at the Justick — and take a moment to appreciate the adorable tot on the left, the daughter of Smead's Associate Marketing Manager Leiann Thompson. (Paper Doll is sending a shout-out to Leiann, soon to welcome tot #2 into the world!)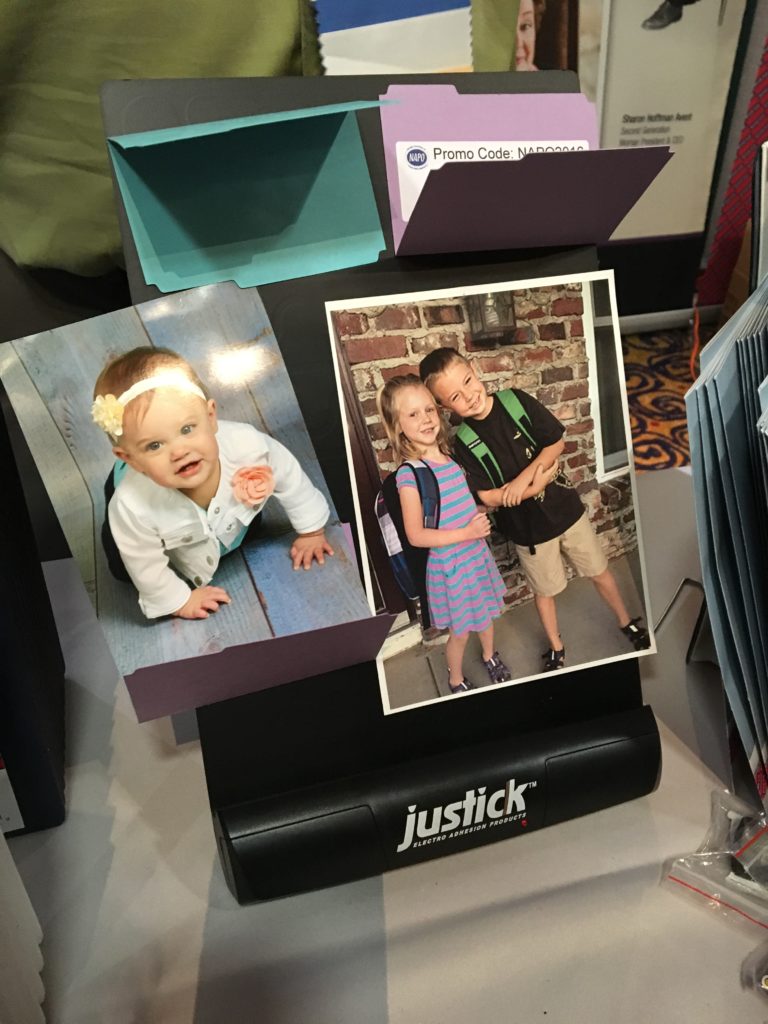 Can you tell that there's nothing holding the photos to the copyholder? The photos and doodads adhere to the Justick as if by magic. Rather than needing push-pins, glue, magnets, tape, or that sticky roly-poly stuff used to hang posters, Smead has developed an advanced type of bulletin board that allows you to organize things vertically — using nothing but the power of static electricity!
OK, officially, it's electro-adhesion surface technology.
Justick's technology keeps in place whatever you put on the board: photos, memorabilia, reminder notices, business cards, phone lists, illustrations, training material, etc., and does so vertically. And no, you don't have to rub anything on your head to get it to stick.
The electrical energy behind the Justick boards is powered by four AA batteries, or you can use an optional AC adapter if you'd rather keep it plugged in. Justick products have modern aluminum frames and frameless styles, and there are a variety of display solutions within three main categories:
Electro Bulletin Boards
Dry-Erase Boards with Clear Overlays
Commercial Communication Solutions
Justick Frameless Wall Strip Display
Start by hanging this simple, black, unobtrusive, 48″ W x 8″ H strip on your wall.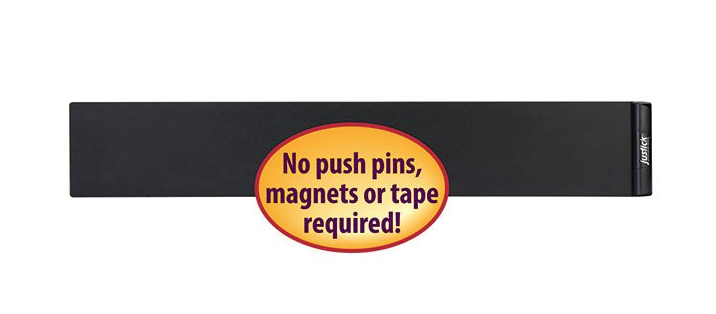 Next, grab anything you'd like to keep in front of your face, but off of your desk. Your toddler's newest artwork? Up it goes. The business cards for the people you need to call this week? Display them in columns or rows. Birthday cards? Motivational photos of yoga positions? Whatever you'd like to see on your wall, without having to find studs, poke holes, or make anything sticky.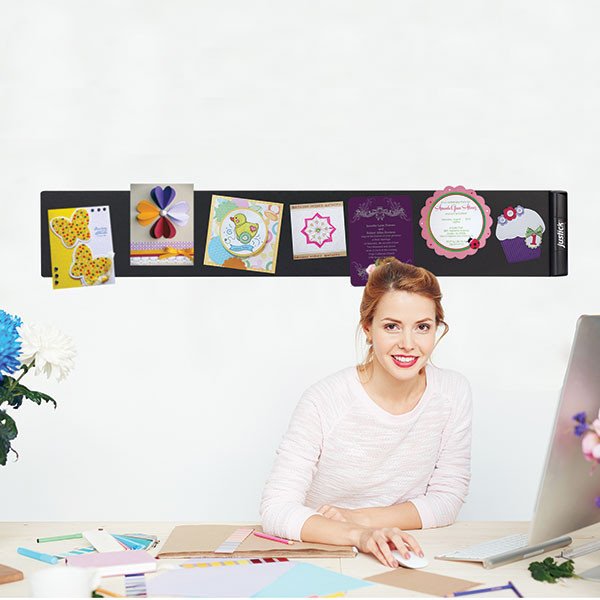 The Justick Frameless Wall Strip Display retails for $79.99 on Amazon, myOrganized.life and Office Depot.
Justick Frameless Desktop Organizer/Copyholder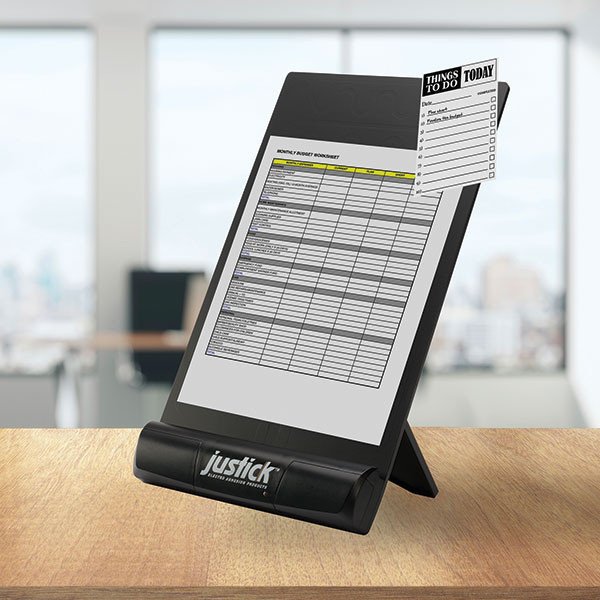 Ever since the days of the typing pool, there has been a need to stand papers vertically while doing your typing. Invariably someone gives you a printout or handwritten document when you'd prefer an email or link to Evernote, and it's up to you to get the information into digital form. Arraying a document vertically makes it easier to move your eye from the paper to the screen and back again vs. having to keep looking down at your desk.
The neato-keen thing about the Justick version is that you can stick multiple items on at once — so you can keep multiple ad hoc (documents, contracts, to-do lists, etc.) items and more permanent ones (cheat sheets, department codes, etc.) on the same page. Paper Doll tested this out — things really do stick where you put them and, unlike balloon-style static electric power, they do not start sliding down to the floor or desk as time goes on.
The Frameless Desktop Organizer/Copyholder is black, measures 8″ W x 11″ H and is priced at $34.99 at Amazon, myOrganized.life, and Office Depot.
Justick Frameless Mini Electro Bulletin Board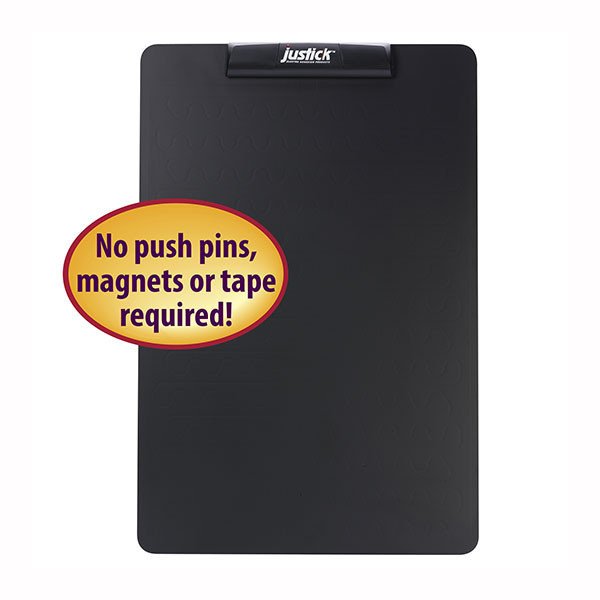 The "mini" bulletin board measures 16″ W x 24″ H, so it isn't all that small except in comparison to its siblings, but it's perfect for vertically displaying essential papers in homes and small offices.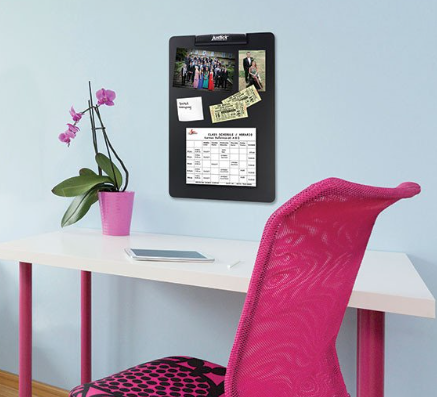 The mini runs $69.99 at myOrganized.life and Amazon.
Justick also has three versions of their framed full-sized electro bulletin boards. The boards for all have modern black styling, and both the standard and premium framed versions are three feet wide by two feet high, suitable for larger home offices and small businesses. The larger premium version, four feet wide by three feet high, is more suitable for larger businesses with ample display space.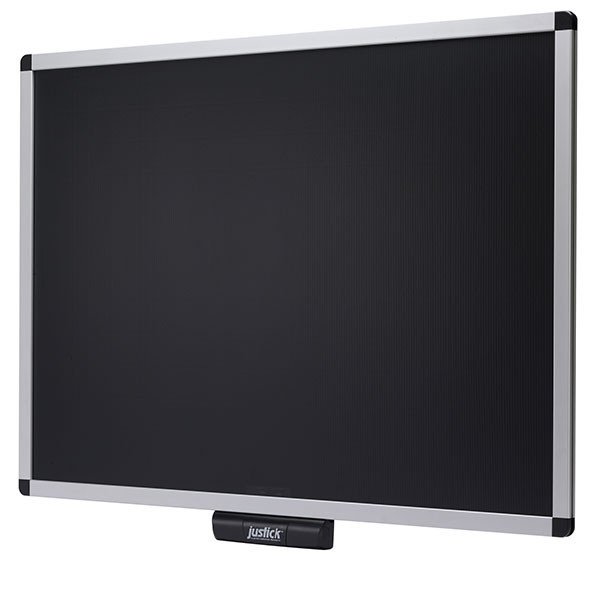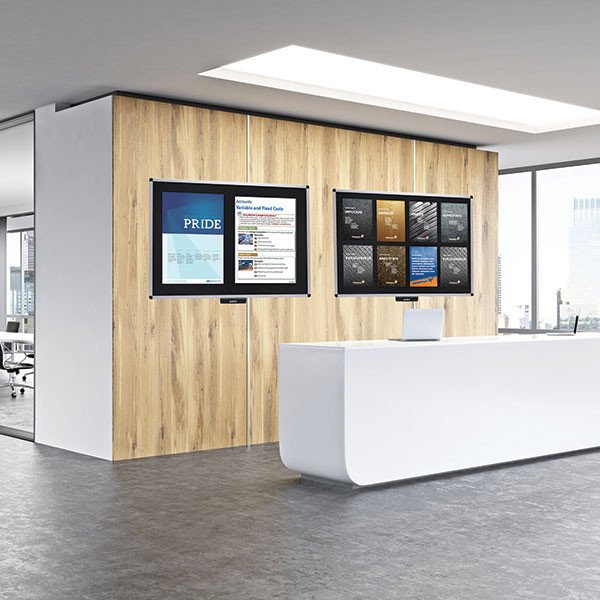 JUSTICK ELECTRO DRY-ERASE BOARDS WITH CLEAR OVERLAY
As discussed above, Justick provides an innovative alternative to a fussy French board in your home or corkboard in your office. But what about when you want a dry-erase board? Do you have wall space enough for both? Happily, you don't need it, as Justick has also developed a combination electro-board with a clear dry-erase overlay, to serve both purposes.
As with the electro boards above, just install four AA batteries into the board, and the Justick electro surface technology transforms the surface from "zero adhesion" (that is, like any old "dumb wall") into a powerful force field able to attract photos, papers, business cards, calendars, and memorabilia.
Use either dry-erase or wet-erase markers on your board to "write, display, and interact" with three times the benefit of a traditional board. The durable plastic overlay provides a clear, brilliant surface that Smead says won't ghost or stain, creating a dynamic whiteboard experience with the utility of a bulletin board. However, as they say on the infomercials…
BUT WAIT, THERE'S MORE!
Smead has also developed Justick overlay board templates. Categories include:
Education (for teaching addition, alphabet tracing, telling time, cursive writing, and more)
Sports and Coaching (for teaching basketball, football, and hockey plays)
Family Activities (daily calendar for activities)
Home Management (grocery shopping planners, architectural design planning)
Scheduling and Management (Gantt charts, goal tracking, sales reporting, weekly/monthly/yearly and project planners, and more)
Medical Industry (hospital and clinic sign in/out, operating room schedules, patient information data for hospital rooms, etc.)
Restaurant Management Industry (layouts for the day's specials)
Got papers? Stick them up!
Got something you want to write or draw? Doodle it freehand or use a template! Get thee to it!
Whether you're doing a presentation for your biggest client or teaching your child that "M" is for "Mommy" by moving a photo of yourself next to where you're practicing the alphabet together, Justick has an option.
Justick Frameless Mini Dry-Erase Board with Clear Overlay
The Frameless Mini Dry-Erase Board comes in two versions, black or white, with a clear overlay. Both measure 16″ W x 24″ H and sell for $79.99 at Amazon and myOrganized.life.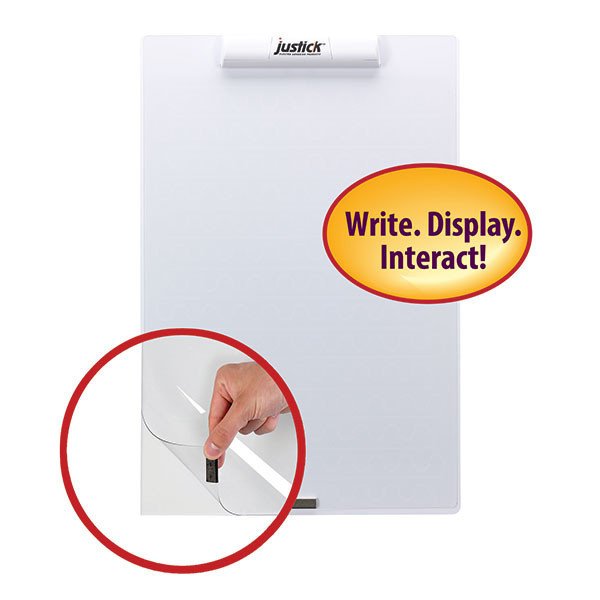 Premium Aluminum Frame Dry-Erase Boards with Clear Overlays
If you want something on a grander scale, for your home, school, business, or medical office, Justick has four full-sized dry-erase options, all with the same electro surface adhesion technology and erasable properties, in either black or white in each of two sizes, measuring 36″ W x 24″ H or  48″ W x 36″ H.
JUSTICK ELECTRO COMMERCIAL COMMUNICATION SOLUTIONS
In addition to home and office bulletin board and dry-erase solutions, Justick also has a line of commercial display products suitable for larger businesses, restaurants, hospitals, non-profits, and other locations.
3-Panel Table-Top Expo Display
Picture yourself at the fanciest, most grown-up version of a science fair and you have some sense of how this Justick 3-Panel Table-Top Expo display works. At 72″ W x 36″ H, it allows you to set up your displays for conferences, expos, and whatever corporate version of Show & Tell at which you need to make a big splash, without fear that breezes, un-sticky sticky tape or lost push-pins will cause trouble. It's priced at $399.99 at myOrganized.life (or $391.67 at Amazon) and can be carried securely in its own 36″ W x 27″ H nylon carrying bag ($99.99).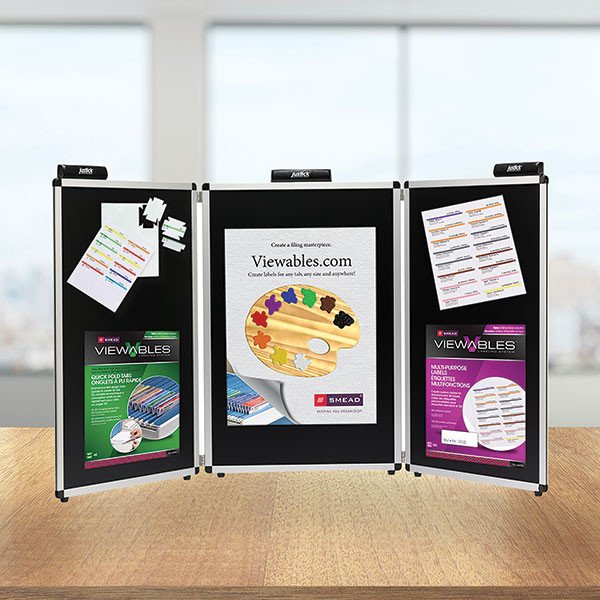 Lobby and Promotional Stands
Justick also makes a wide variety of lobby and promotional stands. They are all black with aluminum frames and have electro surface technology, but you can choose from standard or dry-erase versions for the lobby stands, and choose among single- and double-sided for the promotional stands, as well as a dry-erase version.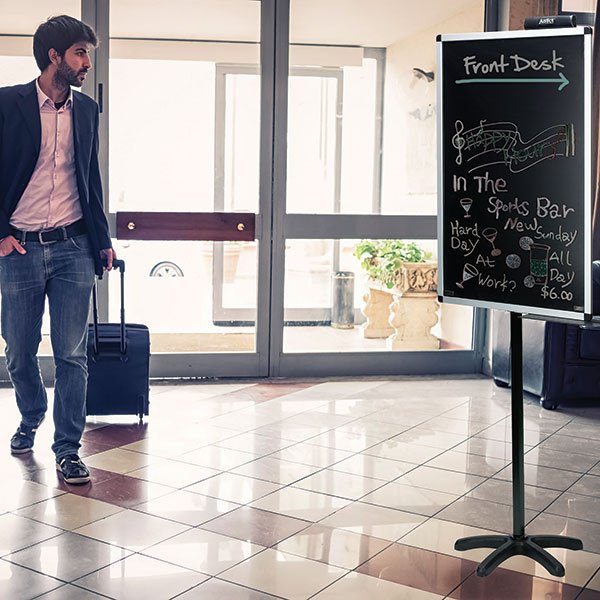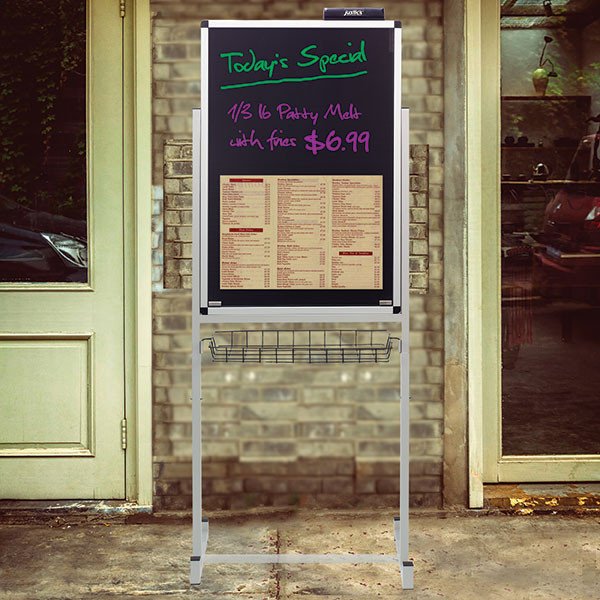 Certainly, some of the higher-end Justick products are more than one would need in a home or small office, and I'd like to see some technology for making the wall-affixed products even easier to display. (Hmm, how about a partnership between Smead's Justick and 3M's Command brand of hooks and adhesives?) I'd also love to see some colorful options for the smaller items for use in dorm rooms.
So, why are these Justick products so intriguing?
First, it's the balloon magic. The ability to make your papers and photos adhere to a vertical surface without having to rummage through your desk for thumbtacks or tape is an organizational advantage.
Second, for the dry-erase versions, it's advantageous to be able to mix (temporary) storage and dynamic writing.
Third, it's VERTICAL. As this blog has referenced previously, vertical storage is fabulous when your area is small, when your workspace is awkwardly laid out, and when you want to avoid building up clutter.
Of course, vertical clutter isn't completely impossible — I'm sure you've seen refrigerator doors with long-forgotten appointment card reminders, overdue notices, and invitations to events that have long-since past — all layered over one another until the door is almost double its original thickness. So, it's still important to cull and purge your papers on an ongoing basis, whether they're lying down or standing up.
Don't you just love balloon magic?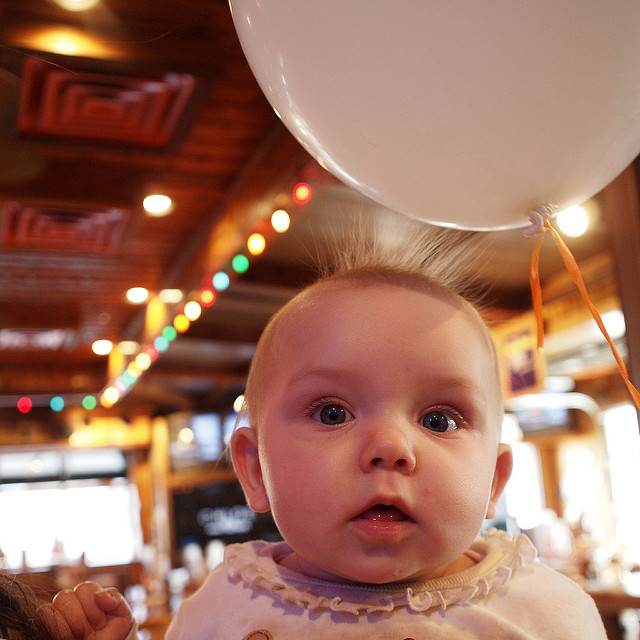 Photo of Bella+Balloon, courtesy of Pat David is licensed under Creative Commons 2.0