Paper Doll's NAPO 2017 Recap: New Twists on Time Timer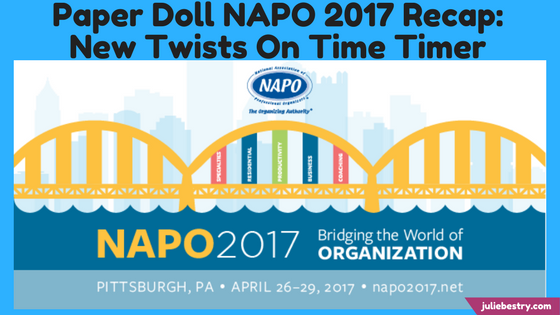 The concept of time management (as opposed to its practice) is simple: identify your priorities, spell out the tasks to complete, and focus on them for a period of time. When appropriate, transition to other tasks. Done!
But what if "time" is a fuzzy concept for you? Well, you wouldn't be the first. Not long after returning from NAPO 2017, I took one of Tara McGillicuddy's superb ADDClasses.com webinars, ADHD and Punctuality: Even You Can Learn to Be On Time with ADHD Coach Lynne Edris. Although I have an innate sense of the passage of time, possibly from my prior career working in television (where time is, literally, money), the issue of conceptualizing time in order to work productively with it is something that plagues many who seek help with organizing and productivity.
During the webinar, Edris talked about how some of the contributing characteristics of ADHD, including distractibility, impulsiveness, and hyper focus, impact time blindness, as defined by Dr. Russell Barkley.
WHAT DOES TIME LOOK LIKE? WHAT DOES TIME FEEL LIKE?
When you have a strong sense of time, you are aware of what time it is now, how much time you have left (to perform a task, or before you have to change gears and transition to a new task or location), and generally how quickly time appears to be passing. When your sense of time is wonky, your productivity can feel cursed.
I once had a client, a successful engineer, who overestimated how much time some tasks would take (causing him to procrastinate and avoid the labor) and underestimate how long others usually lasted (leading to double-booking as meetings ran long). As a test, I once encouraged him to work for fifteen minutes on a task he'd been avoiding, while I observed him. After eight minutes, he looked up, exasperated, certain that I had lost track of time and that far more than fifteen minutes had elapsed. Nope. Again at twelve minutes, he was sure either I or my timer was off. In terms of engineering, this client was a genius, but he had the conceptual sense of time of a pre-schooler. And he's not alone.
Of course, none of these factors are unique to those with ADHD. I think we have all experienced time dilation such that ten minutes in the final act of our favorite television show can speed along (darn you, Shonda Rhimes!) while ten minutes while waiting in the "little room" at the doctor's office, relentlessly bored and denied the ability to people-watch, drags by.
Learning how time works — mapping the representational to the reality — can also be problematic. For example, we know that digital time is harder for children to comprehend than analog time — and this can be the case for some adults, too. Take this anecdote about the author Douglas Adams:
In the early days of personal computers, he said, people got very excited that their spreadsheet programs could finally create pie charts. This was considered a revolutionary advance, because as everyone knows, a pie chart visually represents a part-whole relationship in a way that is immediately obvious—a way that, to be more specific, mere columns of numbers did not. Well, the hands of an analog timepiece form wedges that look very much like a pie chart, and like a pie chart, they represent a sort of part-whole relationship in a way that requires a bare minimum of mental effort to comprehend. Not so digital timepieces, which for all their precision say nothing about the relationship of one time of day to another.
It's just harder to conceptualize — visualize — the passing of time with digital clocks. They're merely numbers separated by colons. But the analog clock provides a clear visual distinction between moments — and this is the central advantage of one of the most popular time management tools the organizing and productivity industry has ever seen: Time Timer®.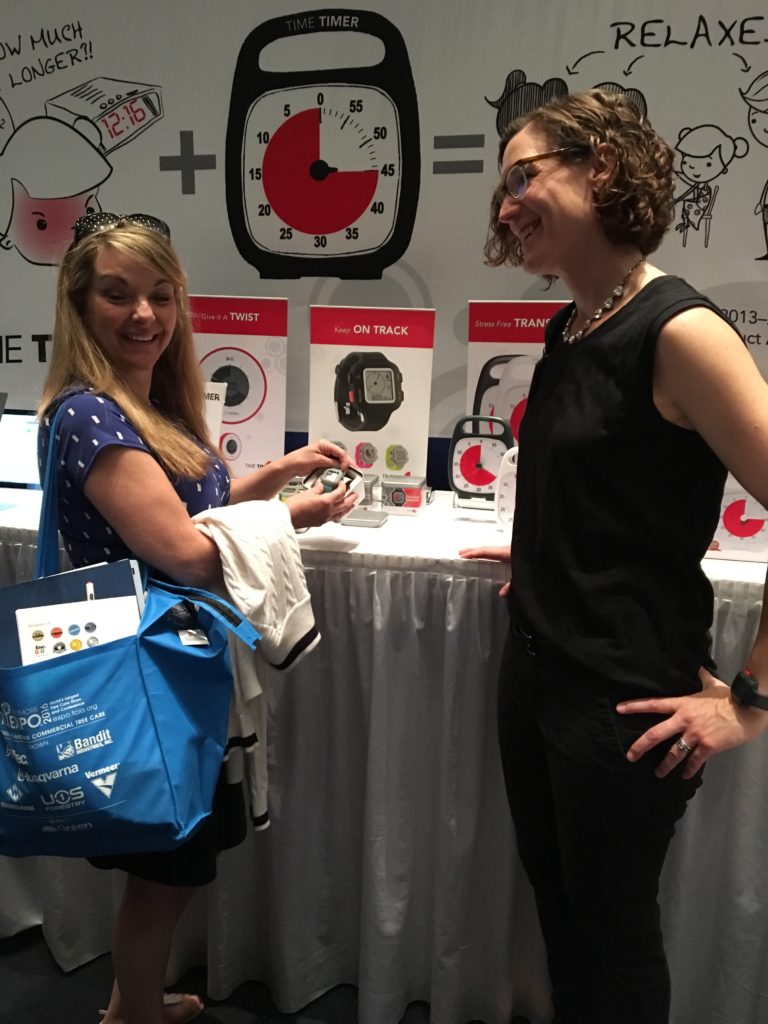 The original Time Timers were plastic, battery-operated, analog countdown clocks. Rather than a minute hand and second hand, Time Timers had red, circular cellophane-like discs that diminished in size (from a maximum of 360° coverage for an hour) until the time was up, and then the red portion disappeared (hiding behind the clock display) and a buzzer went off. Kids (and adults) using the Time Timer were able to get a sense of the "feel" of how time passed.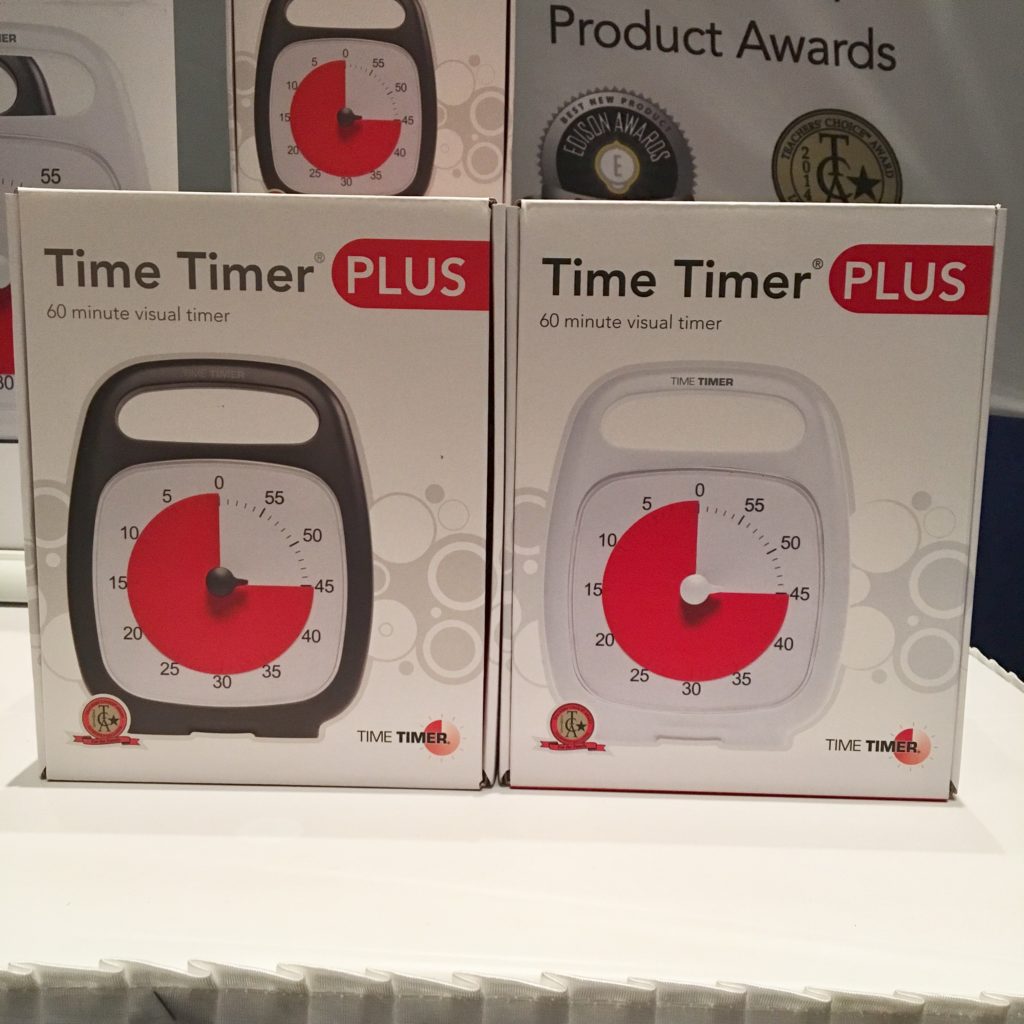 Paper Doll has covered Time Timer many times, most recently in our detailed coverage of NAPO 2016's Organizers' Choice Award Winners. But our friends at Time Timer know that time marches on, and so do they. Let's look at some new developments on the time front!
NEW DURATIONS — THE LONG AND THE SHORT OF IT
Historically, all of the Time Timers (the Plus with the quick-grab handle, the 3″, 8″, and 12″ handle-free versions, and the adorable and brightly colored little Mods) have all had one thing in common: they measured durations of up to 60 minutes. For children, and for anyone who has a general difficulty with visualizing time flowing, this makes sense — the Time Timer emulates how time elapses on a clock face.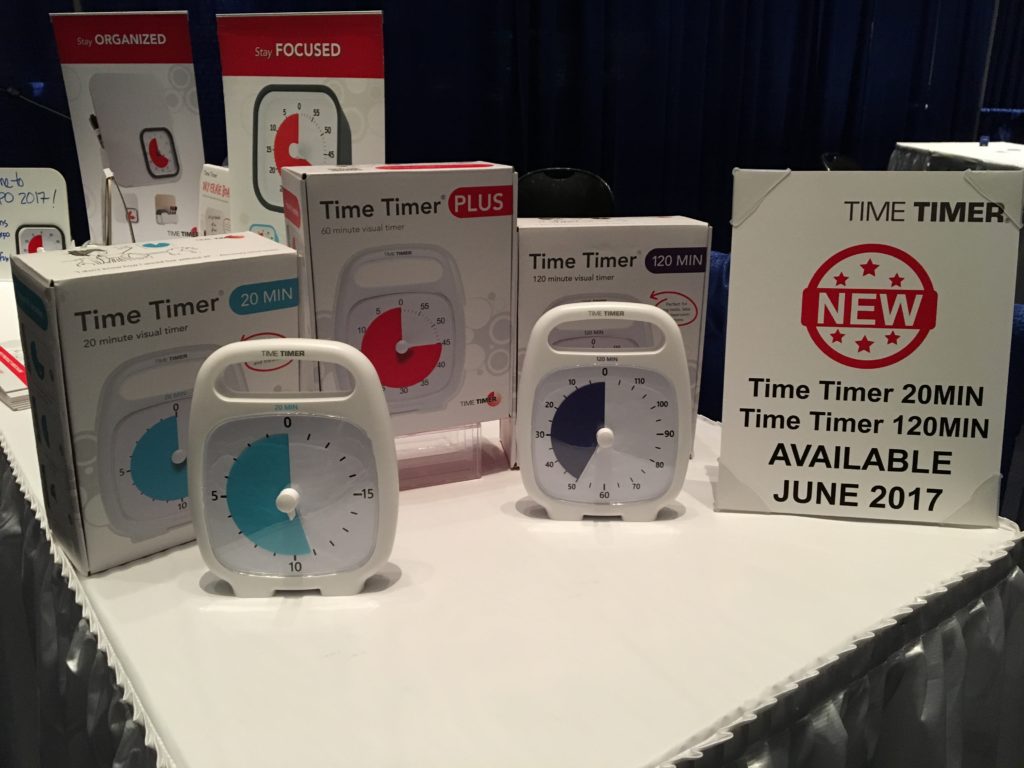 The two new versions of the Time Timer look like the traditional (white) Plus with the quick-grab handle, but have two new distinctive features. First, the new versions come in two different durations: 20 minutes and 120 minutes. Second, for the first time, instead of red, the time-elapsed disc is in new colors, robin's egg blue for the 20-minute timer and purple for the two-hour version.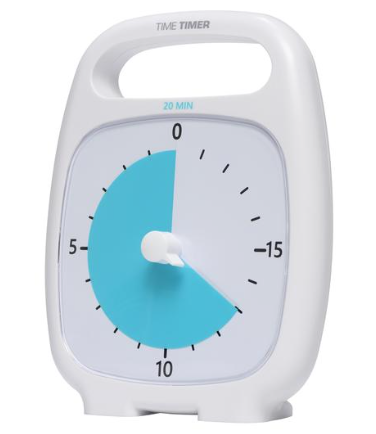 The 20-minute Time Timer is designed to offer a greater visual impact for shorter tasks like homework blocks and practicing musical instruments, as well as keeping on-task for workplace meeting agenda items. Because it doesn't emulate the hour-long clock face, it's definitely better suited for those who understand how time flows, but merely need visual reminders of its passage. I think it's an attractive addition to the line, but feel Time Timer missed a chance to capitalize on the productivity industry's love for the Pomodoro Technique and should have created a 25-minute timer.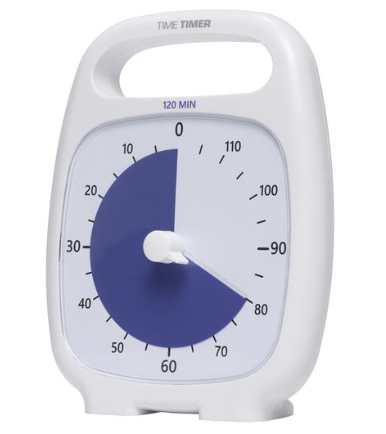 I can see the 120-minute version of the Time Timer working well for high school and college students taking timed practice tests and for keeping both adults and kids on-task for larger projects.
Both of the new versions run $38.95, use one AA battery, and have a volume control for the "done" tone. Both will be available as of June 2017.
THE BIG NEW TWIST
You know you're at a conference for professional organizers when you hear people squeal in delight from across the room — over a new timer shape! The hubbub of the expo this year was definitely, "Have you seen the Twist?" Chubby Checker would have been impressed!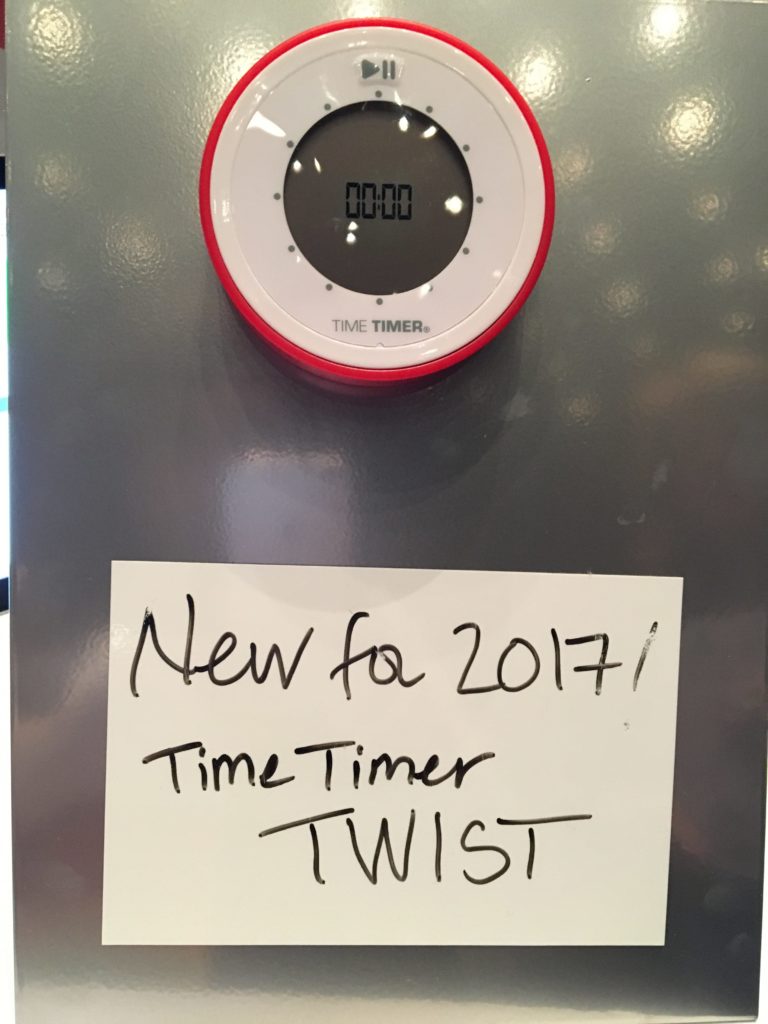 The first thing you notice is that this new Time Timer is round! As all other versions of the Time Timers could stand on their own, you might wonder how to ensure that you can see the face. Magnets, baby! The external ring is in the classic Time Timer red, while the ring around the face is white, with a grey central section for the time display.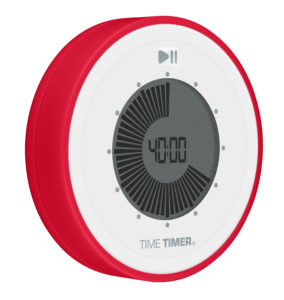 Set this unique timer for up to 90-minute durations by turning the outer ring. Verify the timer digitally, but watch it count down in an analog format — silently, of course, like all other Time Timers. Then stick it on your fridge or filing cabinet for an elegant way to visualize the passage of time.
THERE'S AN APP FOR THAT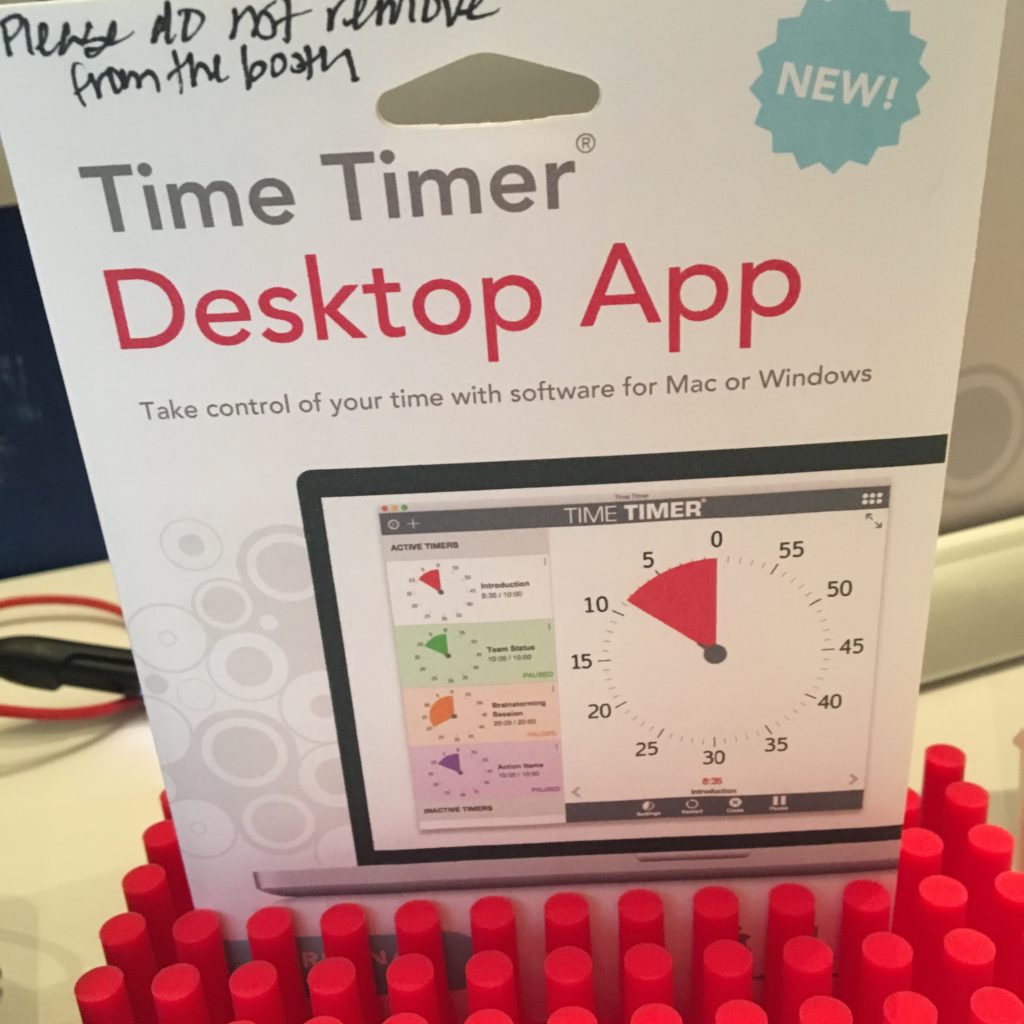 Fans of Time Timers were delighted a few years ago when the iPhone and Android apps were launched, and the multi-color Time Timer iPad app wasn't far behind. With all three, you can customize your countdown timers, save and name them for re-use, change colors, create alert options, and more. What was missing was a desktop app — until now.
The Time Timer Desktop App comes in eight languages: English, Danish, Dutch, French, German, Japanese, Portuguese, and Spanish. It's compatible with Mac and Windows, and sells for $19.95.
OH, WILL YOU LOOK AT THE TIME?!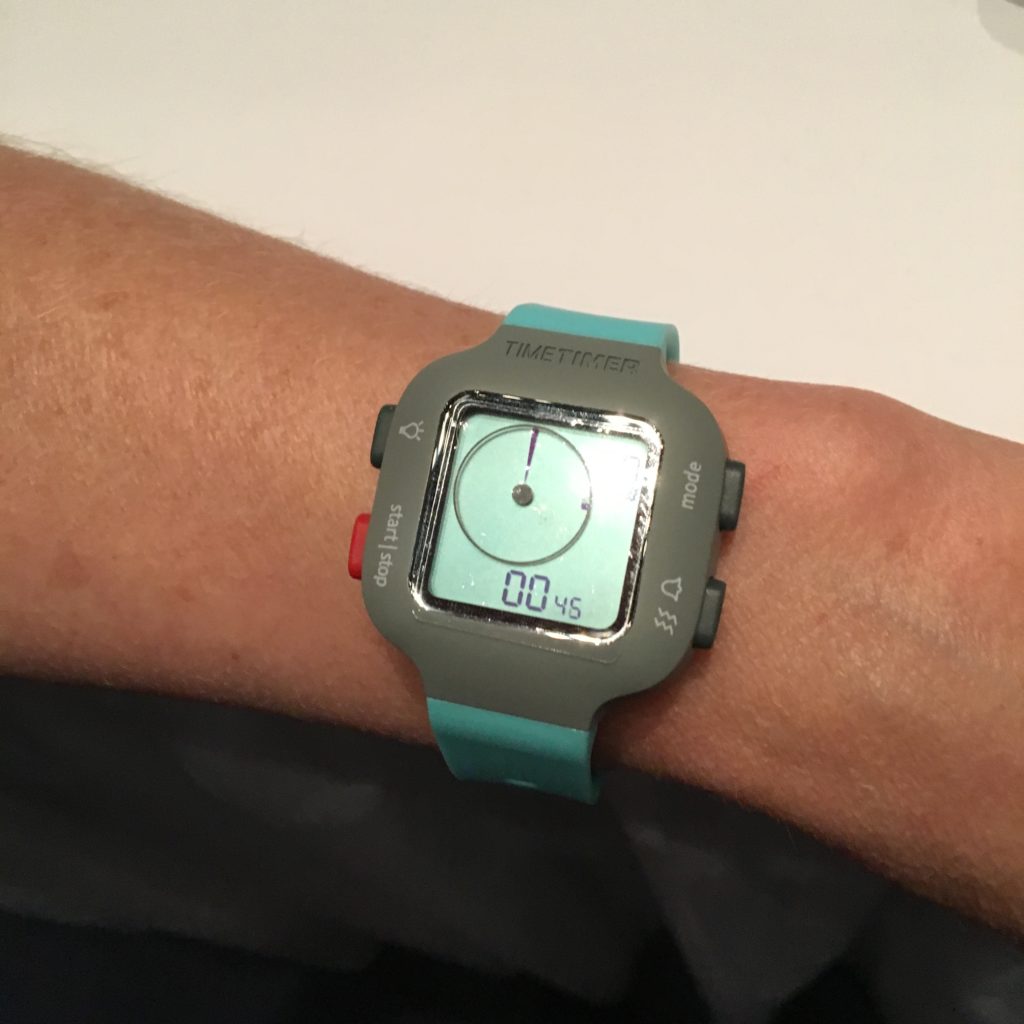 In addition to a wide variety of timers, apps, and watches loved by most organizers, there's a special place in Paper Doll's heart for one particular Time Time accessory: the Time Timer Dry Erase Board.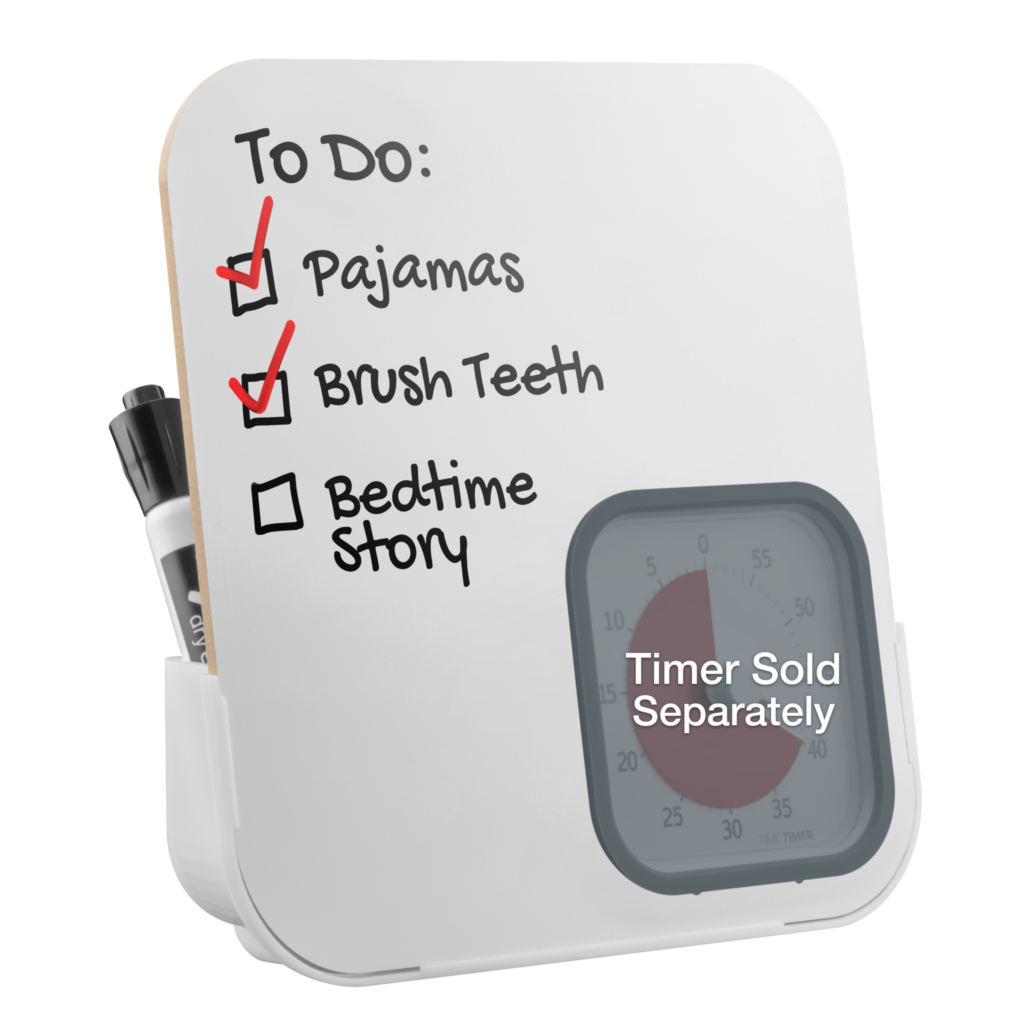 This small, desktop-suitable, dry-erase board has a cut-out space perfect for my favorite Time Timer, the Mod (with the Berry cover). Heather Rogers, Time Timer's VP of Marketing and Operations, illustrates the advantages of the board, which runs $18.95, below.
(Now they just need a magnetic Twist/dry-erase combo!)
THE ADVANTAGES OF VISUALIZING TIME
Even people who are adept at managing time, in general, can be led astray due to excitement or adrenaline. At my NAPO-Georgia meetings, a modern Time Timer is on display to ensure that speakers maintain focus and keep to the schedule. At a recent committee meeting, we used a classic Time Timer to ensure nobody had to be the bad guy and cut off overenthusiastic participants. Time Timer's website notes a variety of uses of their products in different realms, including:
At Work
Maximize efficiency with LEAN manufacturing principles—time is money!
Keep meetings on track at a glance, giving everyone equal time to participate.
Creatives: generate ideas more quickly through timed brainstorming.
Healthcare: keep schedules moving and effectively manage time spent with patients and clients.
Sales: deliver succinct, impressive presentations without the "mental math" of how much time remains.
At School
Teach the concept of time and learn to visualize time as a measurement: What does "5 minutes" really mean?
Manage transitions in (and out of) the classroom.
Transition "ownership," allowing educators to be children's ally, not the "enforcer" of the classroom schedule.
Keep students calm, focused, and aware of time during practice and while conducting timed standardized tests to satisfy state standards.
At Home
Ease and manage daily routines: morning, dinner, cleanup, bath & bedtime.
Monitor turns and time for homework, computer use, instrument practice and play time.
Manage time-outs: help children calm down and watch frustration fade as the red disk vanishes.
Encourage punctuality: when the red disk disappears, we'll go!
Organize: keep track of valuable time and break large, overwhelming projects into small, manageable 10-minute activities.
Do you use a Time Timer? Is there a version you'd like them to make? Share in the comments.