Paper Doll Doubles Down on Downsizing: Chattanooga-area Event
In this space, we usually talk about organizing paper, information, and finances. Of course, we often dig deeply into the intellectual and emotional reasons why we keep clutter, and how we can best arrange what's left. But if you spend any time peeking behind the curtain here at Best Results Organizing (that's Paper Doll HQ to you blog readers), you know that my services and expertise extend beyond on the realm of paper and information.
Over the past few years, one arm of my business has focused on helping individuals and couples downsize to prepare for the next stages in their lives. Sometimes, this is just clearing the decks to make room for more of the fun stuff of retirement. Other times, it's in preparation for a move — to a smaller home or senior living. This has included a variety of speaking engagements, including the following upcoming presentation.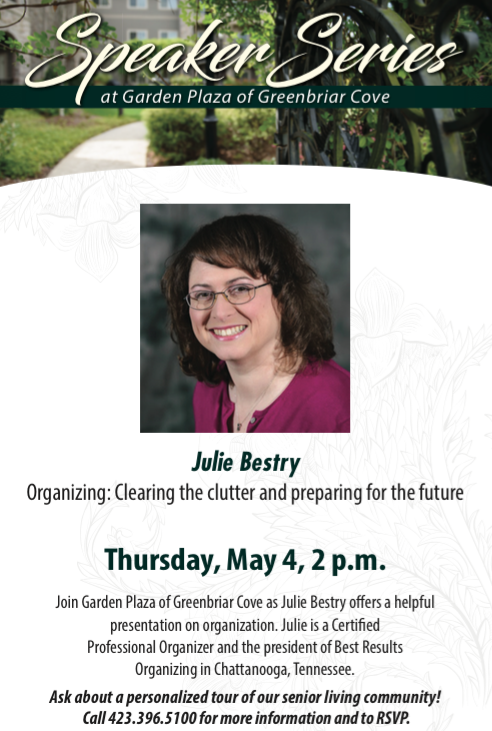 If you find yourself in the Chattanooga, Tennessee or North Georgia area, please consider attending. The presentation will cover:
All the reasons why it's so difficult to let go of things, even things we know we don't need and won't use
How to understand the three types of relative value of the things you might downsize — sentimental value, financial value, and practical value
What goes into determining marketability of the items you might want to sell, including rarity, age, and condition, and why not everything "old" is an antique, and not everything collected is a "collectible"
Strategies for coping with the stresses of downsizing
How to choose where downsized items should go when they leave your home
and much more…
So, if you are starting to think about downsizing for the next stage in your life, and you're in Paper Doll's general geographic area, please call Garden Plaza to RSVP.
Of course, that's not all that's going on for Paper Doll. I'm spending this week in Pittsburgh with my fabulous colleagues at the National Association of Professional Organizers Annual Conference and Expo. I'm looking forward to telling you about all the organizing wonders I see and what we learn in our classes.