Paper Doll's Tax Time 2017: Shredding Advice and Free Shredding Coupons
Americans had a few extra days to file their taxes this year. The usual April 15th deadline that so many of us dread fell on a Saturday. Normally, the deadline would be pushed to the following Monday, but because April 17th is Emancipation Day, a legal holiday in Washington, DC, tax returns were granted another reprieve, until April 18th.
But what about a reprieve from all of the paper clutter that results from preparing your taxes? Have you completed your federal and state (and perhaps local/municipal) returns only to find that you are being crowded out of your workspace by a mountainous "to shred" pile?
Tax time is the perfect opportunity to clear out your file folders, your desk drawers, your purses, wallets and pockets, and to shred all those random receipts and documents that you don't need to support your tax returns. Why? To protect your identity!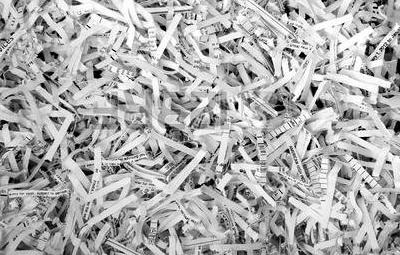 Of course, if you don't know what you need to keep vs. what you should shred, Paper Doll has you covered with Do I Have To Keep This Piece of Paper?
DO-IT-YOURSELF
Shredding isn't difficult, but it's also not much fun.
OK, it's not much fun for most people, Weird Al aside. But it can be made convenient.
In most cases, consistent use of a medium-sized shredder for your home office or small business should suffice to keep the backlog at bay and keep your papers from piling up in between tax seasons. If you don't yet have a shredder or are in the market for a new one, some of the basic things to consider are:
Capacity 

— There are three key criteria:
1) How many sheets of paper can you feed at one time? While shredders are generally rated by the number of sheets shredded simultaneously, Paper Doll believes many manufacturers are a bit too optimistic in self-reporting. Aim for the highest capacity shredder in your budget range.
2) How much paper can you load in any session without the motor pooping out on you? This won't generally be listed on the box, so take some time to read user reviews at Amazon and ConsumerSearch.
3) What else can you shred besides paper? While not everyone will have a need to destroy CDs/DVDs, the shredder you select should, at the very least, be able to handle stapled paper and expired credit cards.
Ease of Use

 — The main concerns are an adequate-width feeder and an easy-to-empty receptacle or bin. The nicest shredders have a removable bin that slides out like a drawer or tips out like a laundry chute, but these tend to be more expensive than the budget versions, where the shredding mechanism lifts off to reveal a metal or rubber receptacle. Avoid the low-rent shredders that only provide a mechanism to set atop a trash can — these are usually ill-fitting, poorly balanced and lead to a flurry of shreds on your carpet, which furry animals and tiny humans will spread far and wide.
Features

 — Any decent shredder should have an auto-start function, such that as long as your shredder is turned on, you should be able to insert documents to shred. A "forward" function keeps the motor running whether you are shredding or not. The "reverse" function is important for helping you clear paper jams quickly, especially when you feel immediate friction and realize you're trying to shred too much paper at once.
Aesthetics — While the design of a shredder shouldn't be your main concern, an overly noisy or ugly shredder may be a deal breaker. Whenever possible, test a friend's shredder or ask a sales associate to help you test a floor model. The noise a shredder makes isn't exactly pleasant, but some have more vibration or grinding than others.
Shred Size and Shape — You want a cross-cut or micro-cut shredder. The rare old-style strip-cut shredders offer less protection against prying eyes. Cross-cut shredders reduce your paper to squiggles. Micro-cut shredders pulverize papers even more finely, but may be overkill (in terms of both function and cost) for personal use.
Shredder Size — There's no polite way to say this: size matters. Clients purchase desktop mini-shredders in hopes that the small size and convenience of easier access will make them more inclined to routinely shred junk mail. However, I find most desktop shredders lack the

gravitas

 needed to handle daily work. The feeders tend to be too small for ease of usability — usually about 5″ wide, while typical mail is 8 1/2″ wide. Even smaller paper generally has to be folded in order to fit into desktop feeders. Perhaps

Paper Doll

 is spoiled, but the ability to shred a short stack of paper without having to fold or spindle in order to mutilate is essential. Mini-shredders are not designed for power-shredding, but even applying relaxed standards, they still tend to overheat quickly, either from lumpy paper gumming up the works or over-exhaustion. A mini-shredder is a lot like an Easy-Bake® Oven. Yes, it can do what it promises, but would you cook Thanksgiving dinner without a full-sized oven?
SHREDDING SERVICES
You know how important it is to shred the paper that you no longer need for tax, legal or proof-of-ownership purposes, because merely tossing them in the trash could make you ripe for identity theft. But you also know that once your shred pile is as tall as the youngest of your tax-deductible dependents, your personal shredder is going to wimp out before you get through everything.
Of course, you may not have the time, space, or shredding firepower to shred your own documents. If that's the case, there are a wide variety of companies that offer document destruction services nationwide, including Shred-It, Iron Mountain, Shred Nations, and Pro-Shred. If you need help finding shredding services in your areas, you can turn to the National Association for Information Destruction. The NAID's interactive map will locate shredding companies nearest to you. Just type in your geographic location (or keep clicking the plus sign to get a close-up of your area.)
In addition to shredding specialists, you can pay to have your paper shred retail locations like FedEx Office, the UPS Store, Staples, and Office Depot/Office Max. Prices range from 99 cents per pound, upward.
Office Depot/Office Max is offering a coupon for up to 5 pounds of free document shredding from now through April 29, 2017.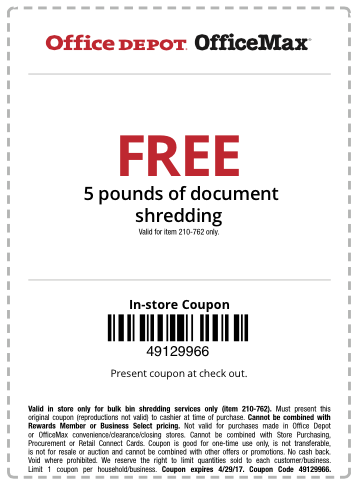 This photo is just a facsimile. So, click on the above link, print it out, clip it, gather up your shredding and get that pile of paper clutter out of your office (or off your kitchen table).
Staples also has a coupon — for 2 pounds of free shredding with code 23733. You'll have to click the link to locate the coupon on the resulting page and print it or send it to your mobile device.. Please note that this coupon expires April 22, 2017.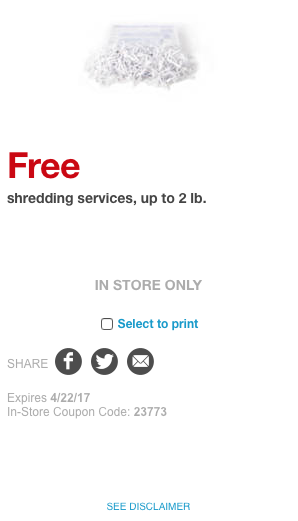 FREE SHREDDING OPTIONS
Various universities, government agencies, and community groups partner with shredding companies throughout the year for events billed as shred-a-thons and shred days. Be sure to Google one of these terms and your city or town name to find events near you. Many are held in mid-to-late April, so don't delay.
See? It doesn't have to be so taxing, after all. Declutter, protect your identity, and save money!