Organize Your Days With a Little Color
We're a week into the new year, and while some of you have your calendars or planners fully updated with all of your recurring appointments and items scheduled long ago, others of you have been trying to make do with that 13th month in your calendar while you decide what to do next. And perhaps, part of that search is how to make your days a little more colorful?
Paper Doll doesn't doodle. I'm not visually artistic. I didn't like coloring when I was little, and honestly, trying to figure out whether two colors go together, or making sure I'm coloring inside the lines, is stress-producing for me. But from the coloring tables at NAPO2016 to Smead's SuperTab® Coloring Folders, I see many of you have embraced coloring, and you've got some support from research in the mental health and neurological communities:
Why Coloring Relieves Stress (And Is A Perfect Activity for Introverts)
10 Therapeutic Benefits of Coloring Books for Adults
Drawing, Art Therapy, And Stress Relief: What Research Says About Drawing Pictures for Stress Relief
The Science Behind Adult Coloring Books Explains Why They're So Therapeutic
Given all of this, it stands to reason that it's the coloring, not the book, per se, that is the key to stress relief, so it's interesting to see how coloring being incorporated into other activities, such as the aforementioned Smead Coloring Folders, can improve the organizing experience.
Tasks, schedules, and appointments often make people stressed, so it's no surprise that some enterprising calendar and planner designers would find a way to blend the precision of scheduling with the freedom and stress-reliving properties of adult coloring books. Today, we're going to look at a few that might tickle your coloring fancy while helping you organize your days.
Franklin Covey Living Color Planner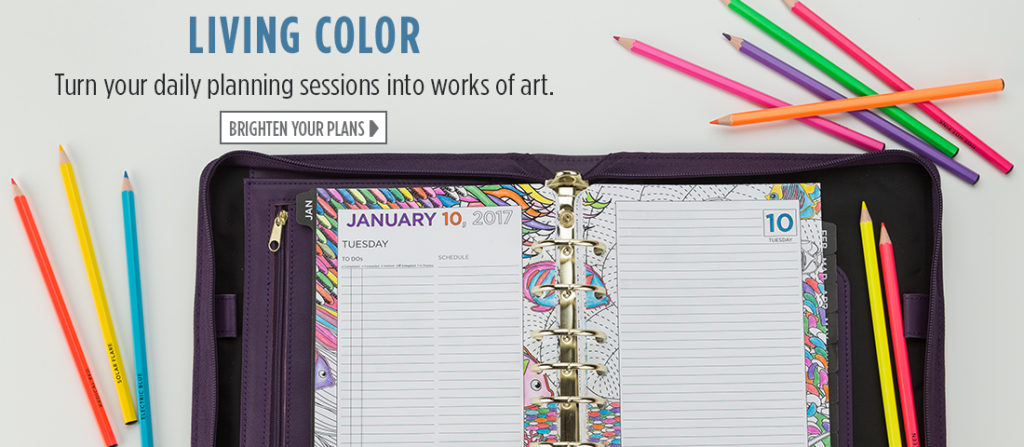 These ring-bound, two-page-a-day Franklin Covey pages come in Compact (4.25″ W x 6.75″ H x 0.5″ D) or Classic (5.50″ W x 8.50″ H x 0.5″ D), on 70# paper, with the monthly tabs included. They are available at Amazon in Classic and Compact for about $48 (for you Amazon Prime people) and directly from Franklin-Covey for about $44.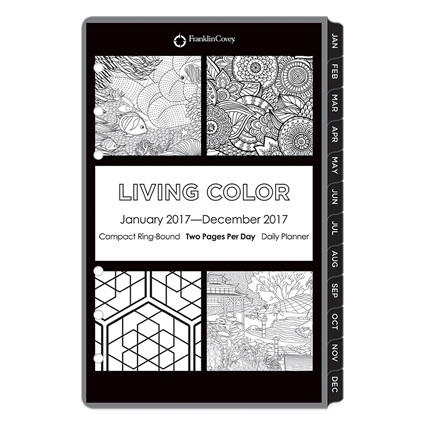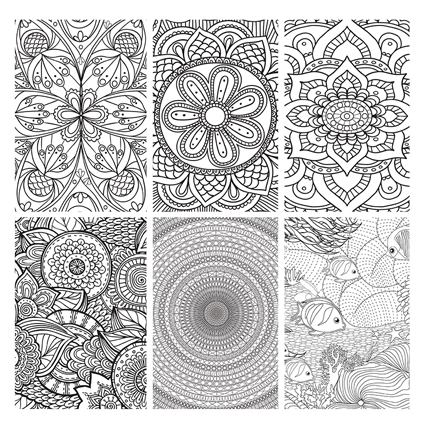 Of course, If you've already bought your ringed Franklin Planner for the year, don't fret. Franklin-Covey has the coloring-loving early birds covered.
Franklin-Covey Coloring Page Packs
The coloring page packs, available directly from Franklin-Covey, come in two ring-bound sizes, Compact ($8) and Classic ($9), with a wide variety of black-and-white designs on the 32-sheet packs. The pages are printed on the same heavier, 70# paper as the Living Color Planner, but note that designs appear on only one side, while the reverse pages are blank.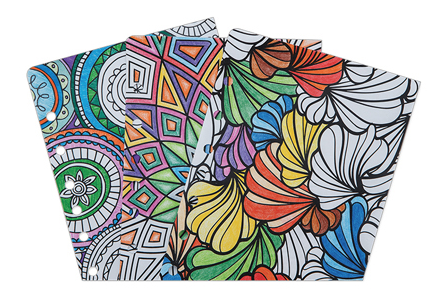 At-A-Glance FloraDoodle Premium Weekly/Monthly Planner
Mead's At-A-Glance line includes a variety of delightful FloraDoodle-themed items, including pocket planners, wall and desk planners, and monthly/weekly planner in multiple sizes.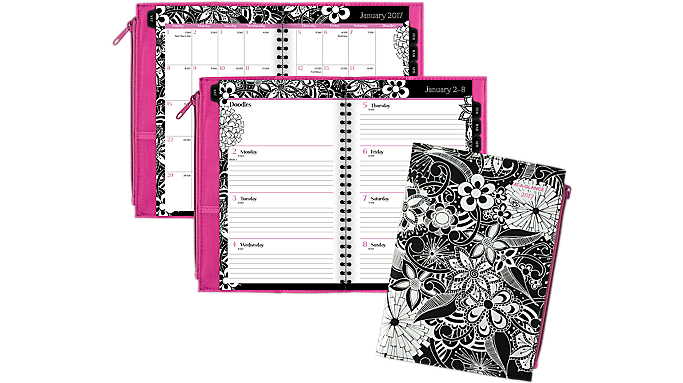 The wire-bound FloraDoodle planner has a flexible, pink, reusable (and removable) canvas cover with a zipper pocket for storage, and features a black and white design with a hand-drawn look. The individual page designs "feature white flowers on a black backdrop with a scribble look where flowers, petals, and squiggles lay overtop one another for a one of a kind pattern."
Every page of the FloraDoodle planner displays black borders with a white flower pattern across the top for coloring. The two-page monthly pages are tabbed for easy navigation and include unruled daily blocks, as well as doodle space and past/future month reference calendars to manage upcoming events. The two-page per week weekly spreads provide an equal amount of ruled planning space for each day (Monday – Sunday) for recording daily tasks. Each weekly section begins with a blank space for doodling and drawing.
The FloraDoodle Weekly/Monthly Planner's special pages include a holiday list, a three-year reference calendar, an overall event calendar, contact pages, note pages and planning pages for the following year.
Items from the FloraDoodle line are available directly from At-A-Glance, and at Staples, Shoplet, and other stationery vendors and at Target.com (but not in stores), and range from $7-29.
Color Drawing Schedule Academic Planners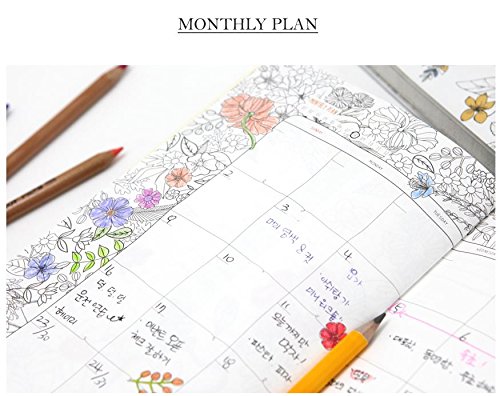 This academic planner is a little more loosey-goosey than the professional planners above, with un-dated pages so the user can begin at any point in time. Each coloring planner measures 5.1″ X 7.4″ and consist of monthly and weekly pages, accounting pages, a blank notes section and a checklist section for recording tasks.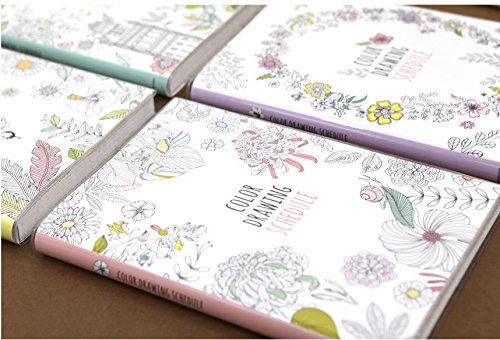 Each planner comes with a protective PVC cover to preserve durability, and two different coloring covers. (Note: While there are four different coloring cover versions, random coloring covers are shipped, so it is not possible to accurately predict and purchase a complete set.) Each planner runs under $10 at Amazon.
A related product in the same family is the Color Therapy Planner, sold at Cool Pencil Case for $12.50. The product description is almost identical except that specific "soothing colors" may be ordered: soft mint green, powder blue, rose pink, and mellow yellow.
For those looking for less of a robust planner set and more of a straightforward calendar or desk pad, you might like:
Fantastic Cities 2017 Wall Calendar by Steve McDonald ($7.50)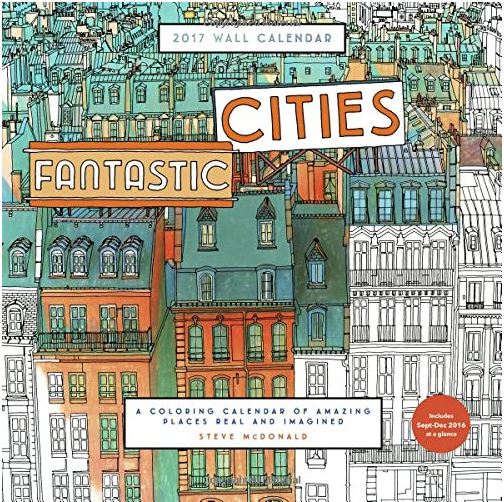 Blueline Botanica 2017 Mini Desk Pad Calendar ($6-$16)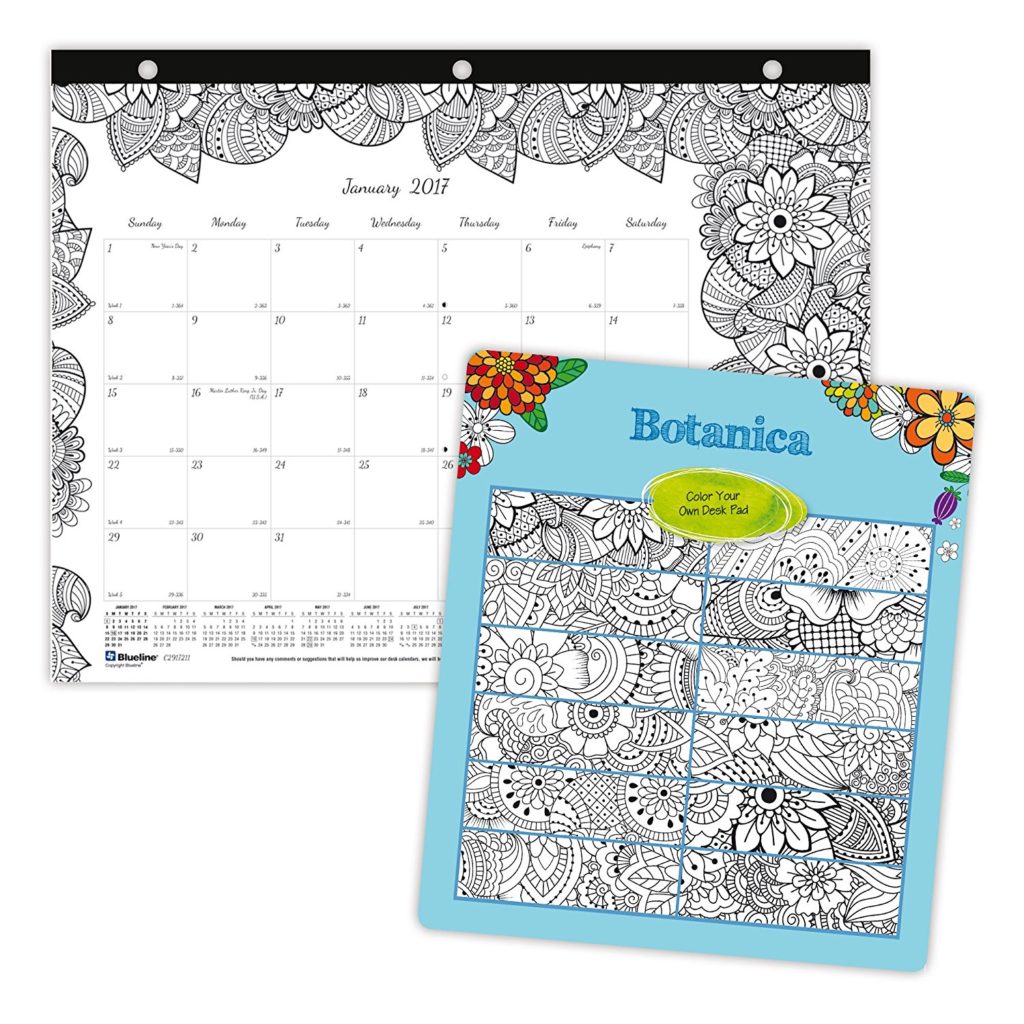 Joanna Basford Coloring Desk Calendar ($17)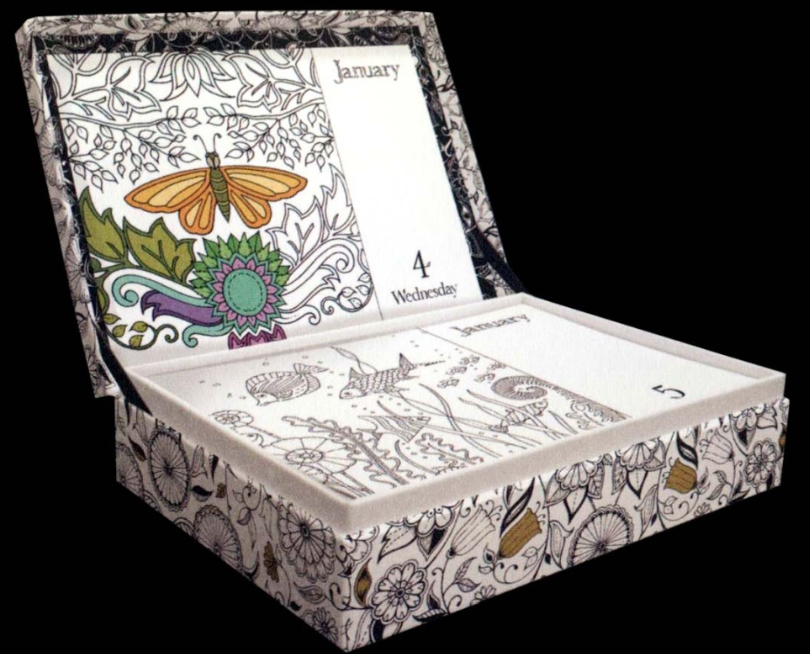 For fans of Johanna Basford, a superstar in the adult coloring realm, this 2017 calendar includes drawings from her Sea Garden, Enchanted Forest, and Lost Ocean coloring books, and comes with a keepsake box for storage. (Paper Doll's editorial note: Saved coloring pages easily become clutter, so do consider setting the box of colored pages free after the end of the year.)
For more coloring calendars, check out Cleverpedia's blog post, The Best Adult Coloring Calendars for 2017 for a gorgeous array of colorful planning options.
For more on how to pick the right calendar or planner for your needs, you might like to review Pick Your Planner 2015: Paper Doll Rounds Up the (Un)Usual Suspects.
Whatever calendars you use, whether paper or digital, Paper Doll believes that commitment to your system is the key to success. If coloring your appointment pages helps you keep your commitment, then, by all means, make your days colorful!