Paper Doll Organizes Boxing Day Downton Abbey-style with Give Back Box®
You've got boxes, right? After a weekend of giving and receiving gifts, you're likely surrounded by boxes. Everywhere you turn, boxes. It's practically a Day of Boxing! Well, actually…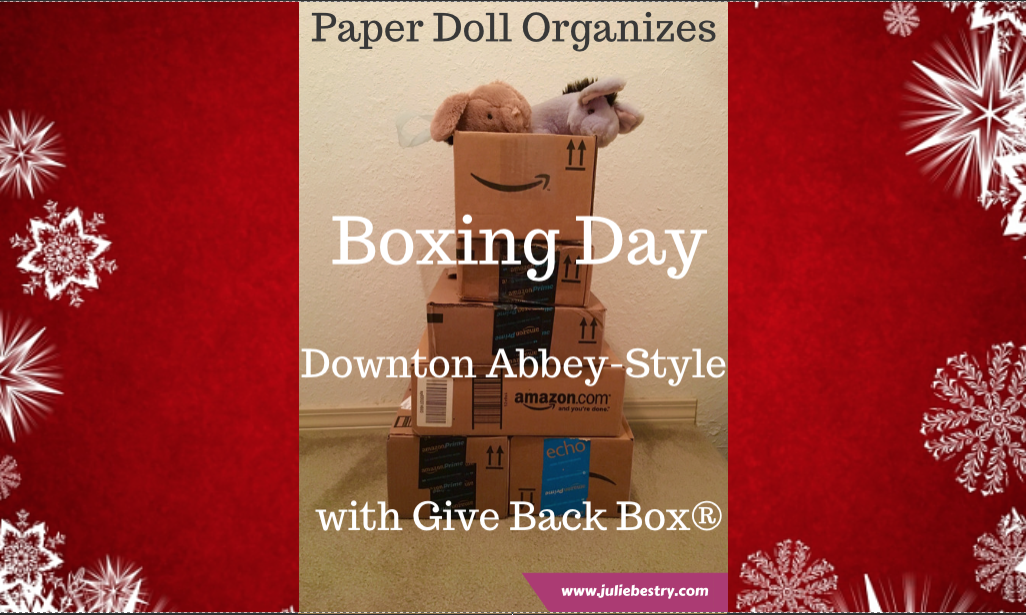 Boxing Day, observed on December 26th, the day after Christmas (and this year, the second day of Hanukkah), is a holiday popularly celebrated in the UK and various Commonwealth nations, many of which used to be British colonies. The history of the holiday is complex and widely debated, but traditionally, servants and tradespeople were given Christmas boxes on the day after Christmas, when they were granted leave to visit their own families and did not have to work. How very Downton Abbey of them.
Before you move along to another post, affecting a posh accent and saying, "I'm going upstairs to take off my hat," I'd like to suggest a much more rewarding way to observe Boxing Day.
Give Back Box®, through a partnership with Amazon, Overstock.com, Ann Taylor, REI Co-Op, and more than a dozen other retailers, has found a solution that allows you to encourage yourself to pare down your excess possessions, bless others with donations of your largesse, and get those cardboard shipping boxes out of your house, all in one fell swoop.

THE MISSION STATEMENT
The purpose of Give Back Box® is to provide an effortless and convenient method of donating your used household items. Give Back Box not only provides an easy way to be part of a truly good cause, it also allows cardboard boxes a second life by recycling them and keeping them away from landfills to help improve our environment. So this is an all-round CSR & Sustainability solution that costs you literally nothing.
THE PROCESS
Take your Amazon (or any other retail partner's box), and empty out the goodies you've received. (You can also use a plain cardboard box, if you like.)
Fill the box with donations of clothing, shoes, and various household goods. But please, no liquids, electronics, ammunition, or fragile or hazardous things! (And do check the pockets for any train tickets that might prove you innocent of murder.) Then seal up the package.
Print a free pre-paid shipping label from Give Back Box's site and affix it to the box. The cost is covered by Give Back Box's partner retailers, most of whom have special Give Back Box pages on their sites, too.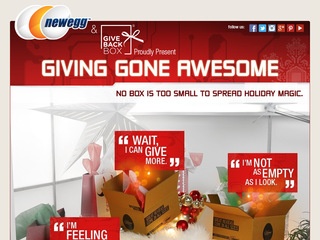 There's no weight limit, so you can fill the box to the brim — and print as many labels as you need.
Now, just send the package to Goodwill via UPS or the United States Postal Service at any UPS Store or post office, all at no cost to you. You can even request a free USPS pick-up of your package at your home, if the weather outside is not so delightful and you'd rather lounge about and have your lady's maid, Anna, serve your meals in bed.
THE BENEFITS
Give Back Box box has a variety of benefits — personal, social, economic, and environmental.
You'll make donations more often — You know you're busy. You know your house is full of things you don't use, don't wear, or don't want. (Honestly, what was Aunt Rosamund thinking?) You want to donate more things and more often, but the truth is that every time you find something in your home that you want to donate, you set it aside and forget about it. Maybe you have a donation station in your home, with the pile getting bigger and bigger, but it practically takes an act of Congress to get the donations out of your house, into your car, and to whatever non-profit you choose.
By making it free and convenient, Give Back Box prompts you to think about what you can let go of every single time you receive a box from one of their partner retailers.
Boom! There's your habit! Get a box of stuff? Give a box of stuff!
That's good for you, and it's good for all the work that Goodwill does, providing job training and putting people to work in the local community. And people who want and need what you no longer have space or time to manage reap the benefits, too!
It's also sustainable. About 30 million tons of retailers' cardboard box material is zooming around the earth each year. By following the principles of "reduce, reuse, and recycle," Give Back Box and its partners are helping you clean out your house and helping us all clean up the environment.
Even the Dowager Countess would be excited!
Still have questions? Read through the Give Back Box page of frequently asked questions, and check out this little video.
2 Responses