Paper Doll & Smead Talk Paper vs. Digital Organizing: It's Not Either/Or
Recently, I sat down again with John Hunt for Smead's excellent video podcast series, Keeping You Organized. We wanted to get to the heart of that question, "Which is better, paper or digital organizing?" But as we got into it, I was able to explain my view, that it's really a false dichotomy.
There are so many things we have to organize — our academic notes and research, our to do lists, our appointments, our thoughts — in order to keep our heads afloat. Even the fun things in our lives, like the books we read, can be overwhelming if we don't have a way to organize the collections so we can enjoy and remember what we've read. And would you believe certain marketing messages — which impact our pocketbooks and those little green pieces of paper — can have a greater or lesser effect depending on whether they come on the page or the screen?
Sometimes, the decision over whether to go paper vs. digital is aesthetic — we like the feel of paper, or the glossy nature of a screen. But I've found that emotions play the largest role in how we choose a platform.
The problem we professional organizers often see is that people have anxiety around this whole issue of paper vs. digital. Some people feel anxious about not moving their whole lives to the cloud — digital task lists, calendars, ebooks, phone books — they're afraid they will seem out of touch if they don't eschew paper and embrace everything digital. Meanwhile, just as there is a backlash against modernity with hipsters and music purists preferring vinyl, there are those who will only relinquish their Moleskines when you pry them from their cold, dead hands. But it doesn't have to be like this!
In my discussion with John, we talk about all the different situations, and the different types of learning styles and personality types, for which organizing by paper, or digitally, or through a combination of the two, might work best.
Take a look:
If you visit the source, you can watch us right at Smead's Keeping You Organized podcast page or download the show as an audio podcast to listen while walk or work. While you're there, peruse other episodes in the multi-year series, including some with me, your Paper Doll: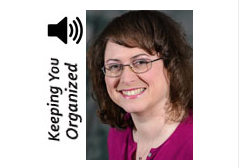 Podcast 041: Secrets to Organizing a Small Business
Podcast 108: Fears that Keep You from Getting Organized
Finally, John and I had SO MUCH to discuss (because when does Paper Doll ever run out of words?) that there's a second whole video podcast on the way, where we continue the conversation. How's that for organizing a holiday gift for you readers and viewers?