Up Filer: A New Vertical Filing Solution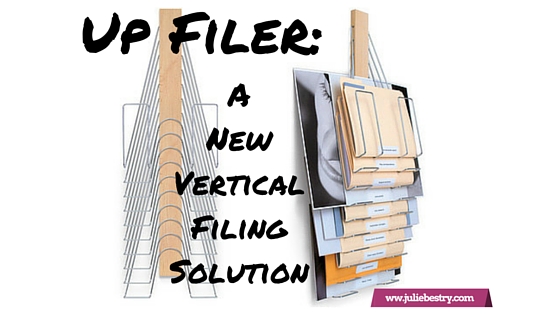 Got paper?
Of course you do. And most of your papers for your life and work probably live in some typical places: standing up in file folders in desk-top file boxes or step risers, or hidden away in filing cabinet drawers, or flat on your desk (and maybe piled all around it), with whatever is larger and/or on top obscuring whatever is below.
If you have lots of flat, non-bulky paper items, perhaps you've invested in a flat filing cabinet, with a variety of drawers to allow art projects, historical documents, and architectural designs nap in relative obscurity, often ignored or forgotten.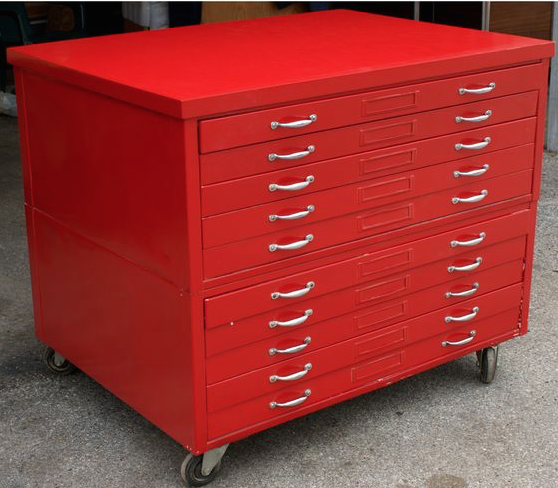 Or maybe you've embraced the vertical approach with creativity — have you piled a bunch of related papers on a series of clipboards and hung them on your wall?
@2013 ASpareAndAPairDIY.com
The problem is that many people find that it's fairly hard to gain purchase on your projects when they are hidden away. If you're in a communal office setting, sharing resources and working on projects requires that everyone can have access without having to knock on Joe's door and interrupt a meeting (or his tearful third-fight-of-the-week with his sweetheart) just to get the updated specs on the current blueprints. While it may seem like more and more of what we do is digital, there is still so much flat, tangible stuff and it needs to be easily stored and fairly accessible.
A new solution from Denver-based Westerville Design is a cross between a file step-riser and an on-the-wall clipboard, with a dash of the old-fashioned library newspaper rack and a soupçon of inventiveness.

The Up Filer™ Original Vertical Wall File
Each Up Filer™ unit has ten nickel-plated steel hangers designed to hold whatever flat content you need to keep off your desk, like:
file folders
blueprints
design layouts
photos
newspapers (remember those?)
The central spine of the Up Filer™ is made of solid maple hardwood, and the full size of the contraption, spine and hangers, combined, is 11.5″ wide x 34.5″ high x 2.5″ deep (29.2cm x 87.6cm x 6.3cm).
You don't have to limit yourself to uniform height, weight, or thickness of papers or folders. Westerville says both the thickness of the content and the width can vary greatly (though they've not provided maximum measurements). The site notes that the height of the content depends on the thickness, but can measure up to approximately 16.5″ (42 cm) depending on the thickness (just as when too-thick file folders tend to stand a bit too tall in a hanging folder, beyond a certain point).
The Up Filer™ Original runs $149.99 and comes with a 60-day money-back guarantee.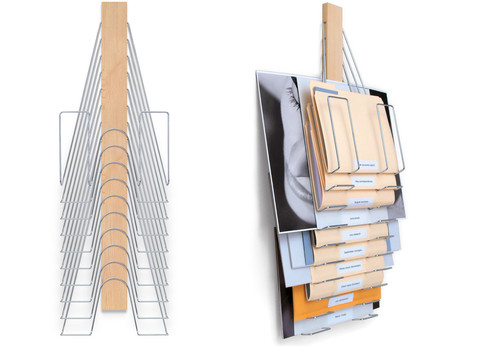 If you're looking for something with similar capabilities but a little more panache, Westerville Design has you covered.
The Up Filer™ Bamboo Vertical Wall File
The Bamboo version conforms to the same measurements and specifications as the original version, but adds environmentally friendly sustainability with style, and you can select one of three colors (arranged from lightest to darkest)
Natural
Light Caramel
Caramel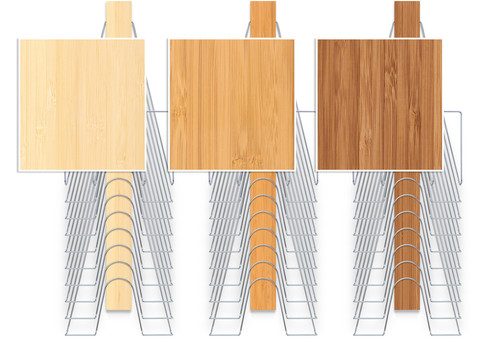 The Up Filer™ Bamboo runs $169.99.
Westerville Design is currently offering free shipping on both versions of the Up Filer™ to customers in the United States and Canada.
Why is the Up Filer™ better for some flat paper and storage displays?
It doesn't matter how small or large an item is — the design ensures that it won't obscure what's behind it, and it won't be obscured by what's on top of it.
The Up Filer™ saves precious horizontal space and makes use of the always-forgotten-but-so-magical vertical space. The Up Filer™ is wall-mounted, so your flat items get up and out-of-the-way of your workspace.
It's easy. The spine of the Up Filer™ holds the hangers, and the pivoting hanger design makes it simple to remove or add items. Just lift a hanger to pop something new into the system or grab what you need.
The Up Filer™ system is designed so you put labels at the bottom of each item. It may be unusual at first to see labels at the bottom, but it lets you quickly scan your eyes down the center and see everything at a glance. Nothing will be hidden or forgotten.
In the words of the people of Westerville Design:
It quickly became obvious that it wasn't just good for designers but would be perfect for engineers, architects, fine artists, teachers or anyone who needs a filing system that keeps all the important stuff visible and at your fingertips.
Not having been able to examine the Up Filer™ up-close-and-personal, my sense of the drawbacks is limited to a few key items:
The price is pretty up there. Granted, a flat file cabinet is even pricier, but most people and businesses are more likely to opt for a less gorgeous and more cost-conscious storage+display solution.
Installation/mounting shouldn't be difficult, but if you're all thumbs, or have a cubicle, or your home office walls are really just flimsy sheet rock, the stability of this solution may not be adequate.
Capacity is limited. Each unit has only ten hangers, and thus holds only ten "items," albeit those that can get fatter or larger than what you can put in a filing cabinet or on a desk-stop step riser.
To get a sense of how the Up Filer™ works, peek at this short (and silent — seriously, none of that common plinking ukulele soundtrack) video.
Of course, if you like vertical paper storage solutions, the Up Filer™ isn't your only option. At first, I recalled the Rackit File, a wall-mounted hanging file solution I reviewed back in 2011 in Paper Doll Adjusts the Vertical Hold: Space Saving Filing Solutions. (And, of course, that post is full of more portable approaches to vertical filing.)
So, readers, on the up-and-up — would you give the Up Filer™ a try?