NAPO 2015: Wardrobe Organizing, Whether You're Haute Couture or Low Maintenance
Longtime readers of this blog know that it's a rarity for me to venture into discussing closets and wardrobes. Paper Doll's corner of the organizing blogosphere is definitely better suited to paper and productivity clientele than that of fabulous fashionistas, but I'd be remiss in my recapping of the NAPO 2015 Annual Conference and Organizing Expo if I did not share the word about some of the new and returning vendors specializing in organizing clothing and accessories.
Today, we'll be looking at services for readers with Red Carpet wardrobes and products for those with down-to-earth accessories.
GARDE ROBE®
The word garderobe is French for wardrobe, but Garde Robe® takes that concept a step beyond, delivering what they call a luxury wardrobe storage and valet service. This is no put-winter-clothes-in-a-plastic-tub-and-stick-it-in-the-attic effort.

Garde Robe offers a wide variety of high-end services, including:
Climate-controlled luxury storage in air-purified storage lofts
Wardrobe archiving for couture wardrobes
Seasonal storage for off-season clothing, footwear and accessories
Professional wardrobe photography and cataloging where each garment is photographed and inventoried with descriptions detailing the style number, year, season, line, fabric, size, and item type.
A Cyber-Closet app, enabling clients to view and manage stored collections in a personalized online catalog — 24/7 — and select individual garments or an entire wardrobe for delivery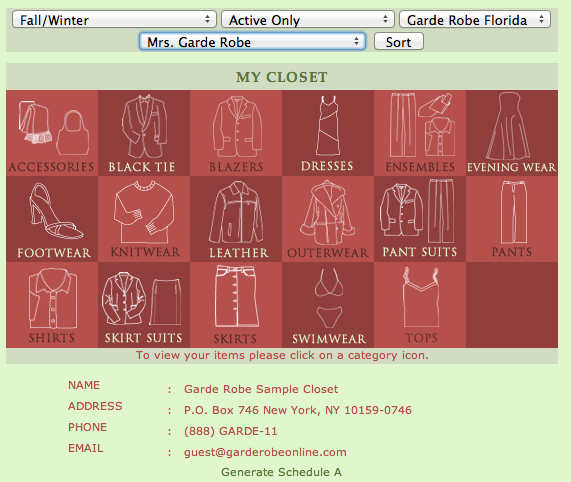 Luggage-packing and worldwide delivery to second homes, vacation destinations and work locales
"White-glove" pick-up and ready-to-wear delivery service
Expert garment care, repair and alterations
Whether you're a CEO or a celebrity or just someone with refined tastes and accessories to match, you can have your wardrobe stored, inventoried, maintained, and delivered to you, wherever you are (or plan to be).
Garde Robe also has a wide array of specialty services, like "museum-quality" preservation of one-of-a-kind and/or delicate garments such as vintage and couture wardrobe pieces, charitable donation assistance, at-home (or at-hotel) tailoring, image consulting, personal shopping and more.
With lofts and offices located in New York, California, Las Vegas, Florida and services available worldwide, Garde Robe's services are designed to help a wide variety of prospective clients:
City residents and condo owners who lack adequate closet space or a suitable storage environment (in terms of air quality, humidity, temperature, etc.) for their year-round and special-event wardrobe items
Multi-homeowners and jet-setters requiring worldwide access to their wardrobe and accessories, wherever work (or life) may take them
Travelers who prefer a luggage-free travel experience (and, I mean, who wouldn't?)
Personal stylists, wardrobe archivists, personal assistants, professional organizers, and other residential staffers who work with clients like those described above
Check out the site to get pricing information.
CASH IN MY BAG™
What if your problem is not that you live and work in too many fabulous places to keep your wardrobe available (and in perfect condition) at a moment's notice? What if you merely have a bounty of designer items of which you're no longer enamored? You could schlep your designer handbags, accessories, jewelry, watches, and shoes to a consignment store, but then you'd have to wait to see when (or even if) your items might sell.

That's where Cash In My Bag comes in — in what's called the pre-owned luxury market. Instead of waiting for consignment, this service offers a simple, straightforward process for recouping some of the money spent on high-end goodies.
Complete Cash In My Bag's short online form, with drop-down menus to identify the designer, category (e.g., handbags, shoes, etc.), condition, age, and if applicable, date code or serial number. Describe your items & upload pictures. Tell them if you're able to include an original box, a receipt, original tags, an authenticity code, and/or a dust bag.
Within two business days, a Cash In My Bag luxury expert emails back a customized preliminary quote.
Package your items and use the pre-paid and insured UPS shipping labels provided with your quote. (Insured shipping is at no cost to you.)
Once Cash In My Bag receives your shipment, their appraisers inspect the items to verify authenticity and review their condition. Based on this appraisal, they email (or text, if you prefer) a final quote.
Agree to sell, or if you decline, Cash In My Bag will ship your items back at no cost to you. If you accept the final quote, they will mail out a check within 24 hours.
Cash In My Bag pays sellers up-front; there's no waiting for a resale, as with consignment, and they promise to pay top market prices. Because each item is researched to ensure high payouts, and because they only buy authentic designer merchandise, Cash In My Bag provides guidance for verifying authenticity, and charges a $20 return fee for any inauthentic item sent for resale.
Check out the full list of designers whose items Cash In My Bag purchases. So, if your closet is too hard to dust (ahh-choo) with so many Jimmy Choos, or you're having trouble choosing between (Ralph) Lauren and (Yves Saint) Laurent, there's an alternative to consignment. If your Alexander McQueen is no longer making you feel so royal, or you feel like the devil in Prada, or a bad breakup left you Fendi-ing off the advances of a boorish beau, Givenchi (bless you!) Cash In My Bag a try.
PURSE PERFECTOR
Whether your bag is haute couture or a beat-up backpack, sometimes the issue is just a matter of keeping your keys and phone and tissues and cosmetics from falling into a lint-y pile at the bottom of an echoey well. NAPO Corporate Associate Member and Conference & Expo stalwart Purse Perfector offers an easy alternative to that bottom-of-the-purse mess.

Just load up your Purse Perfector purse organizer with your daily essentials and drop the whole kit-and-kaboodle into your purse, gym bag, or diaper bag. Each Purse Perfector is sectioned and a bit of a shape-shifter to suit your needs as the day goes on.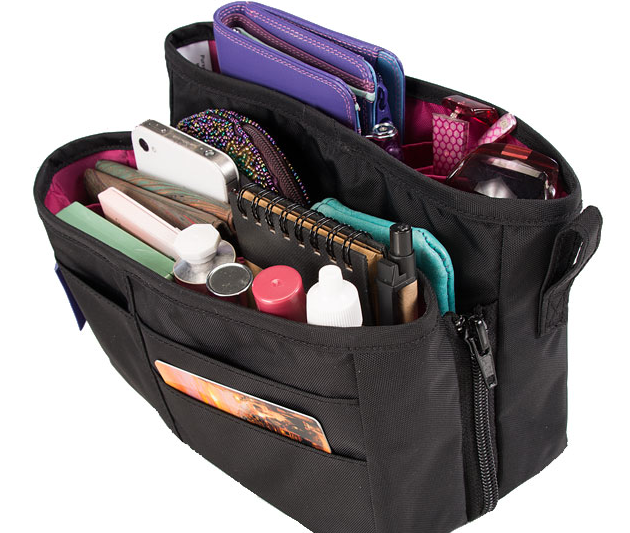 Each Purse Perfector is made of hand-tailored, high-grade, durable nylon, and has eight tailored pockets, one long center pocket and four flat card pockets for credit, debit or loyalty cards. A zipper joins the two sides of the Purse Perfector to create a long, center pocket suitable for fitting a wallet-size checkbook or other essentials. Unzip entirely, and you get two separate organizers to use in a divided bag, a thinner side-by-side profile for inside a large-pocket bag, or use just one when you're carrying a teeny purse.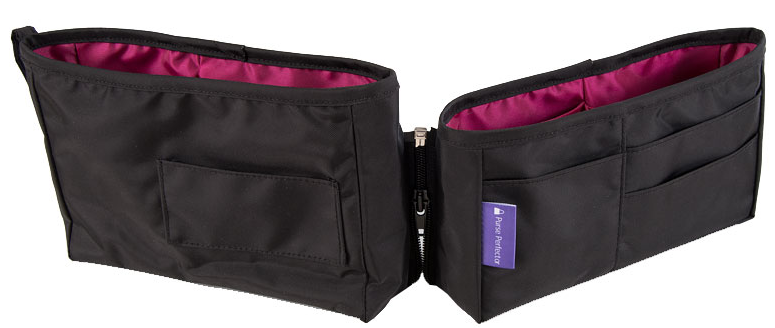 The tall section works best for wallets, pens and highlighters, and sunglasses or reading glasses, while the shorter section works best for compact items like phones, cameras, lipsticks, hand sanitizers and notepads. The rear of the taller section has a small pocket suitable for hotel keycards or business cards.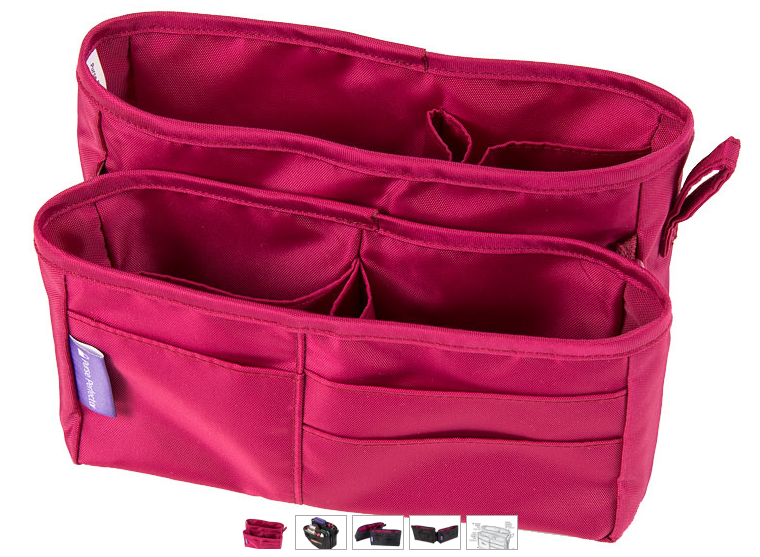 The flat bottom of the Purse Perfector keeps it stable for an easy stand-up review of the contents before you zip, unzip, or relocate the organizer to a different bag.
The machine-washable Purse Perfector comes in Medium (in Berry, Sand, Black with Silver, and Black with Berry) for $44.95, and Large (in Sand, Silver Sage, Navy with Silver, Black with Silver, and Black with Berry) for $49.95, and may be purchased directly from the Purse Perfector website and from the Purse Perfector section of Amazon.
PLIIO®
Finally, no review of the NAPO 2015 Expo's wardrobe offerings would be complete without a mention of friend-of-the-blog Pliio®, which innovated the idea of filing clothing, vertically, instead of piling them.

I've reviewed Pliio extensively as recently as last year's post, NAPO2014: Fashion-Forward Organizing Solutions, so if you're not yet converted to the wonders of Pliio, take a moment to check out that post, watch some video, and to learn about the amazing little inserts that help you file your clothes.
However, in addition to the well-known Filers that enable organized, vertically filed clothes:

Pliio has also introduced Clothing Pilers that let those who prefer stacked clothes to filed ones enjoy the tidy, uniform wardrobe organization Pliio fans know and love. Instead of folding in thirds like the Filer, the Piler folds clothing in half.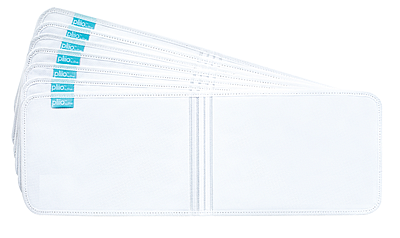 Just fold long- and short-sleeved T-shirts, golf shirts, tops and sweaters around a Clothing Piler as shown below. Pliio Clothing Pilers fit on shelves with depths of 11″ or more. As most closets have 12″ or greater upper shelves, and custom-built shelving tends to be 14″ deep, the Piler is suitable for most shelves. As with the classic Clothing Filers, clothes kept organized with the Clothing Pilers also work great for travel.

The Clothing Pilers currently comes in Medium (8″ W x 17″ L x 1/4″ D) and fit youth sizes 8-10 through adult XL. The Large (10″ W x 17″ L x 1/4″ D) is soon to be in production, and will fit most sizes from adult XS – XXXL. Both should also be suitable for folding light pants, PJs, scarves and dresses. For more details, view the Pliio product page.
Pliio Clothing Filers are available in the U.S. and Canada via Bed, Bath & Beyond, QVC, and The Shopping Channel, in Small ($6.99 for a set of 7) and Medium ($19.99 for a set of 20). The Clothing Pilers are sold at Bed, Bath & Beyond for $19.99 for a set of 7.
Whether you're fashion-forward or typically-in-T's, there's always a workable strategy for keeping your wardrobe accessible and organized. If you're having difficulty maintaining your closets the way you'd like, a NAPO-affiliated professional organizer is only a click away.
6 Responses