NAPO2014: Our Friends at Smead Are on the Up and Up!
Longtime readers of Paper Doll know that I've always championed vertical organizing tools. Up is where it's at!
Sometimes, that has meant making use of vertical space to an expansive degree. For example, we have previously looked at The Container Store's Translucent Cascading Letter File Tote, as well as a variety of other "tall, flat" solutions in Paper Doll Adjusts the Vertical Hold: Space-Saving File Solutions.
At this year's NAPO Expo, Smead introduced the Cascading Wall Organizer (illustrated, in action, in my NAPO 2014 Conference Recap a few posts ago). The space-saving, vertical organizing tool keeps folders off of your desk and lets you make use of wall space. If you've got a corner office, desk space might not be at a premium, but if your office is merely in the corner (of the kitchen, or the classroom), or your office is a different hotel room every night, you know how difficult it can be to keep everything together when there's no place to put it.
When open, the expanding interior displays six removable, letter-sized, straight-cut folder pockets, each of which holds up to 25 sheets of paper. The cascading base and pockets are made of durable, acid-free, tear-proof and moisture-resistant polypropylene. There's a clear pocket affixed to the front for extra storage of documents, calendar pages or motivational quotes and photos, and a looped extension at the top of the organizer to enable easy hanging.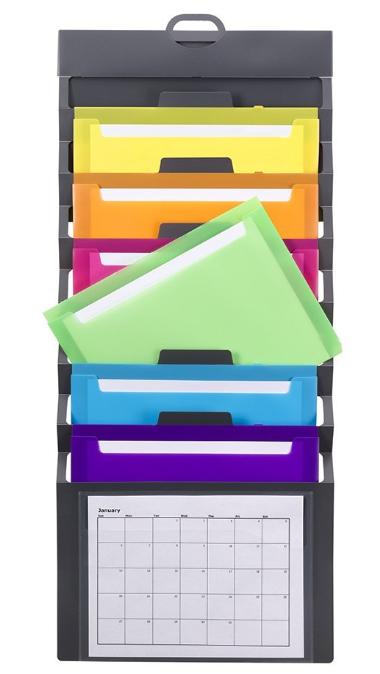 When closed, the Cascading Wall Organizer measures 14 1/4″ wide x 10 5/8″ high, and looks much like a portfolio case. An elastic cord closure holds documents securely when you and your collapsed organizer are mobile.
The Cascading Wall Organizer comes in two styles, grey with brightly colored pockets (as shown expanded, above),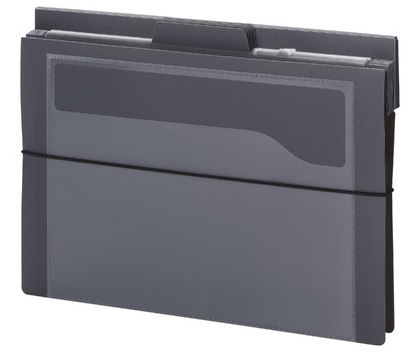 and grey with neutral (varying shades of white/grey) pockets. A blank label sheet is included in the set.
The Smead Cascading Wall Organizer is new and not yet widely available, but can currently be found for about $17 at Amazon.
Video about it:
STAND UP AND CHEER IN THE STADIUM
Of course, not all the vertical office supplies we want will need to take that much vertical space. Sometimes, we're find with using our desktops or other flat surfaces, but we just want our files to stand up, like good little soldiers, but with a narrower profile than usual.
Last year, after the NAPO2013 Conference and Expo, I shared my excitement in New Smead Organized Up™ Folders Stand At Attention, about vertically arrayed file folders designed to work ideally with backpacks. The tentpole of that new Smead line was the Organized Up™ heavyweight vertical file folders, but the "upstanding" line also included Organized Up™ MO Vertical File Cases, and StackIt one-pocket folders and three-pocket organizers.
Smead has now expanded (no pun intended) the Organized Up™ line with the Organized Up™ Vertical Stadium File for use with the heavyweight vertical file folders. It's like the original Smead Stadium File that I reviewed in 2010, but it allows you to organize and file documents upright, in the same way you print, read and shuffle them. Each of the Vertical Stadium File's three double-capacity, tiered pockets expands to 1 3/4″ and is fixed in place, riser-style, so files always stay visible and never sink down or get lost.
The Vertical Stadium File comes in two color schemes. The Nutmeg version includes six heavyweight vertical Earth Tone Folders (two each of Leek, Nutmeg and Stonewash Blue per package), while the Peridot Stadium File has the Bright Folders (two each of Fuchsia, Orange and Peridot per package). In the interest of full disclosure, I stand by my original contentions that other than the Fuchsia, these are not loveliest colors Smead could have chosen (though I'll admit the Stonewash Blue has grown on me).
As a reminder, the Organized Up™ letter-sized folders are constructed of a durable, heavyweight material and are open on the top and right, but closed on the bottom and left sides for added security. The folders are dual-tabbed so they can be used both vertically (with the Organized Up™ Vertical Stadium File, and in backpacks and in narrow drawers) and horizontally, for traditional use. Each folder expands to hold up to 25 sheets of paper.
The Smead Vertical Stadium File runs about $18 at Amazon and specialty office supply stores.
WHAT'S UP ON CAMPUS?
Later in the summer, and closer to back-to-school time, we'll be exploring Smead's Campus.org line of university-oriented school supplies. But one of their new products particularly stood out for today's theme.
Last year, we reviewed the red-rope style vertical paper storage solutions in Upright Expansion: Pendaflex® Vertical Reinforced Expanding Wallets and Files.  Pendaflex's vertical approach was definitely a variation on the norm for expanding wallets, and the primary color options were refreshing, but Smead has developed an alternative for fans of poly vs. paper.
The Campus.org Vertical Step Index Expanding File comes in three colors: dark grey, lime green and purple. (I'm beginning to think someone in the Smead R&D line has a penchant for unusual shades of green for the office supply palette.)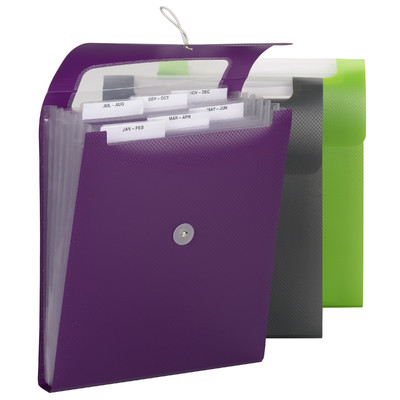 This letter-sized polypropylene organizer measures 1 1/2″ deep x 10.2″ wide  x 12 1/2″ high and has an embossed (nubby) exterior. The poly casing and pocket material is both rip-proof and water resistant, and is arranged riser-style, or stepped, so the rear files aren't hidden. To keep documents safe when you're on-the-go or up-in-the-air (even if your backpack isn't fully secure and in its own locked-and-upright position), the Vertical Step Index Expanding File has a top flap as well as an elastic cord closure. Each file includes preprinted and blank tab inserts for indexing and customizing your contents.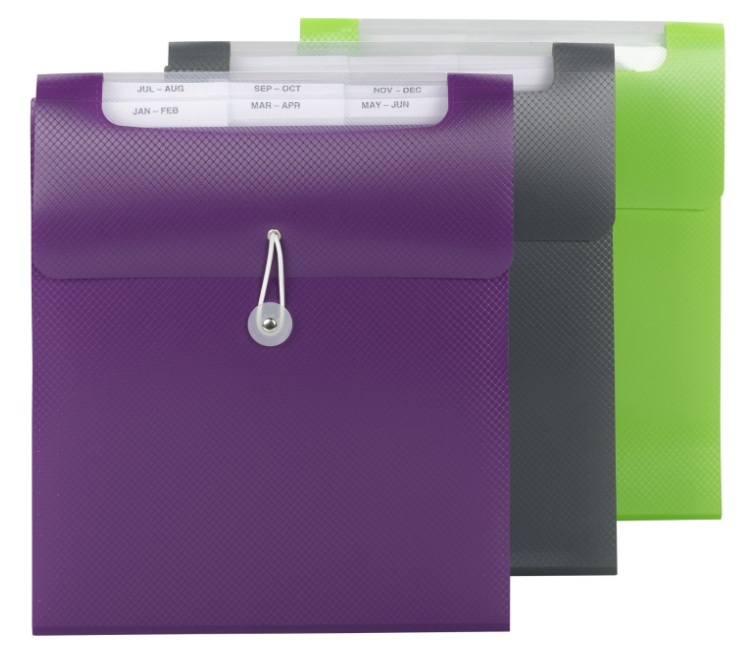 Speaking of closure and contents, this expanding file has something particularly innovative. The foldover flap has a clear window, so you can see the tiered tabs of the pockets without ever opening up the file. Thus, although you might color-code your documents or notes, if you prefer to keep everything in one color combination, you can still see the labeled tabs of any of multiple expanding files at one glance and know your contents without opening each file.
The Campus.org Vertical Step Index Expanding File runs about $8 at Amazon.
UP, UP AND (CARRIED) AWAY
For Paper Doll, it's easy to get excited about novel approaches, like vertical file storage (or the horizontal clipboards we talked about last month). But novelty doesn't mean suitability in every case. When dealing with your papers, no single solution works for everyone. For some people, horizontal makes the landscape gorgeous, while for others, the portrait of a happy user means vertical supplies. For some, color variety is inspiring, while others prefer uniformity to maintain focus. We are each our own special snowflakes, so feel confident that the only office supplies you need are the ones that fit your requirements.
Until next time, when we'll be looking at more attention-getting and practical organizing products from this year's NAPO Expo, your Paper Doll promises to stay on the up and up!