Upright Expansion: Pendaflex® Vertical Reinforced Expanding Wallets and Files
Last time, when we delved into the "stand up" Smead Organized Up file folders, we talked about the advantages of vertical file folders. Organized Up's bright folders were a bold stroke in Smead's bevy of novel filing goodies, but this year's National Association of Professional Organizers Annual Conference and Expo also had a sleeper product in the category of adjusting your vertical hold. (Paper Doll is suddenly aware that the term "vertical hold" is now wholly out of date. Let us pause while creaky bones gear up for the next paragraph.)
Perhaps lost in the haze and delight over new Esselte/Ampad products like the SimpleSort and Versa Crossover Notebook, a not-quite-as snazzy but no less hardworking product struggled to get attention. If Smead's Organized Up folders were colorful social climbers, Esselte's Pendaflex® line delivered two worker-bee classic products with updated styling:  Vertical Reinforced Expanding Wallets and Files.
Normally, when you put papers into expanding folders, they're horizontally arrayed, which means you have to reach into each section, pull out a stack of papers, turn them 90° and search for what you need. It's not a world-ending problem, but it diminishes efficiency.

Pendaflex® Vertical Reinforced Expanding Wallet
Vertical alignment means that you can quickly let your fingers do the walking and assess files in the orientation in which you read your papers. With the Pendaflex® Reinforced Expanding Wallets, your documents are already standing at attention, ready for your perusal. And let's face it — the main identifying characteristics of any document (logos, titles, dates) are most likely going to be found at the top.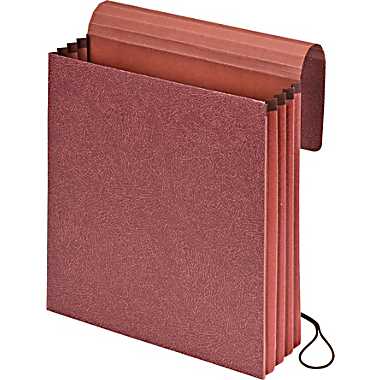 Each wallet is one interior, acid-free, letter-sized pocket, expandable up to 3 1/2″, made of 10% recycled fiber and 10% post-consumer fiber. Rip-proof reinforced gussets keep the tops of the accordion-style expanding sides firmly attached. A scored flap with a hardy elastic closure lets you protect your documents as the wallet's contents expand, keeping them safe from prying eyes and secure from accidental up-ending when your life simulates a bad comedy.
The expanding wallets are ideal for transporting papers in backpacks, enabling students to isolate and pull out the appropriate papers without having to remove the wallet from the pack and flip it vertically (as is necessary with standard accordion-style wallets).
In case you'd prefer something a little more pizazzified than the accordion-style default of attorney-friendly "redrope" red fiber material, the Vertical Reinforced Expanding Wallets also come in bright red, blue and yellow.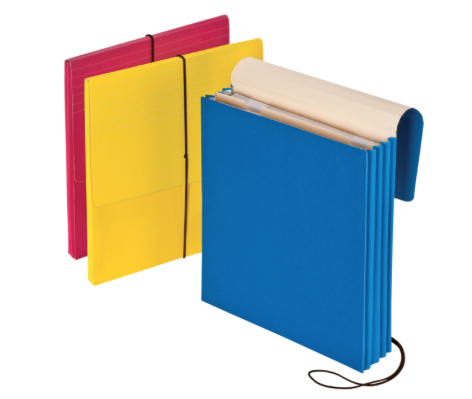 Pendaflex® Vertical Reinforced Expanding File
If the wallets are workhorses, the expanding files should be celebrities. That vertical orientation makes it easy to file and access papers, and the same full-size, scored flap with elastic closure and rip-resistant gussets keep this letter-sized tough guy going strong. But unlike the wallets, the expanding files are no mere expanding empty shell.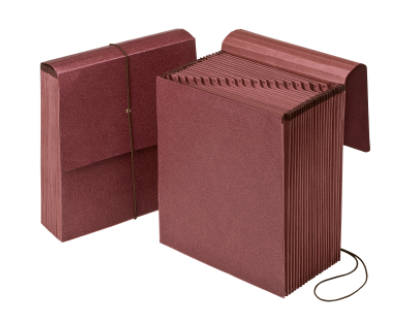 The Pendaflex® Reinforced Expanding Files come in three varieties:
Alpha (A-Z) with 21 pockets
Daily (1-31) with 31 pockets
Monthly (January – December) with 12 pockets
Unfortunately, redrope is all you get, at least for now.
Whether you're trying to tote client files or homework, create a vertical, fully-enclosed tickler file, or keep track of a year's worth of lesson plans or club activities, Pendaflex® has you covered.